Asghar Farhadi explains why going to Tehran to shoot Iran's foreign-language Oscar entry The Salesman was a return home in more ways than one.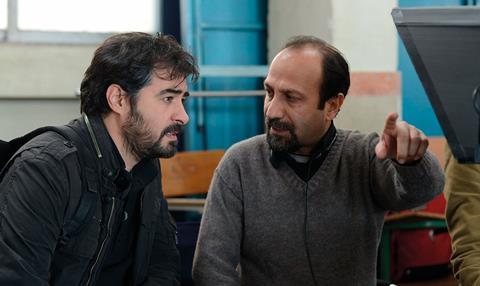 Asghar Farhadi was gearing up to shoot a Spanish-language feature starring Penelope Cruz and Javier Bardem when he abruptly postponed the production and returned to his native Iran to make The Salesman at the end of 2015.
"It was actually a very unexpected and instinctual decision. We'd even set the locations but then I decided I really wanted to come back to make a film here," Farhadi explains from Tehran.
Since making history by winning Iran its first ever foreign-language Academy Award for A Separation in 2012, Farhadi ended up working mainly away from his native country. He followed that film with the Paris-shot, French-language The Past, which won Bérénice Bejo a best actress prize at Cannes in 2013, and was nominated for a Golden Globe. The untitled Cruz and Bardem project would have kept him away from home for even longer.
"I felt it would be too hard to spend another three years out of Iran to make a film. I asked the cast and the producers if they could wait," he says. The move paid off. When The Salesman premiered in Competition at Cannes in May, Farhadi won the prize for best screenplay while Shahab Hosseini clinched best actor. Continuing its high-profile trajectory, the title is now Iran's submission to the 2017 Academy Awards.
Dramatic relationships
Like A Separation and most of Farhadi's work before and since, the dynamics of an unsettled couple lie at the heart of the drama in The Salesman. Long-time collaborators Taraneh Alidoosti and Hosseini co-star as a thespian couple whose relationship begins to crumble following a chain of unfortunate events on the eve of a Tehran production of Arthur Miller's Death Of A Salesman, in which they are both involved.
Farhadi says that he unconsciously always comes back to the theme of relationships in his writing. "It's just the way my writing goes," he says. "I don't have a problem with this. There is something ancient and primeval about the couple's relationship, which at the same time is ever-changing as it is overlaid with new contemporary problems.
"A couple's relationship opens up a lot of possibilities and opportunities when it comes to telling a story," he adds. "The relationship between a man and wife is like an ocean, you can always find new areas to explore."
The decision to set the film partly against the backdrop of a theatre production grew out of Farhadi's desire to return to his earlier theatrical roots. "I started out in theatre and I've always wanted to get back into it. I'm always so wrapped up in film-making that it never happens, so I've tried to get close to theatre through cinema," he says. "I had this image in my mind for a very long time of a theatre as the lighting design was being conceived. I thought it could make an excellent opening scene, with the light shining on different bits of the theatre in the same way as my films shine light on different relationships at different times so that eventually the audience ends up seeing the whole."
The idea of weaving Death Of A Salesman into the main action came later, after Farhadi saw parallels between the play's characters of Willy and Linda Loman and an elderly couple that appear at the end of the film.
"As I was writing the screenplay, I was trying to figure out what play the characters would be performing. I went back and read a lot of plays, especially ones I'd read when I was younger and worked in the theatre. When I got to Death Of A Salesman and read it for the umpteenth time, I realised there were parallels and that the play was a mirror of what I was writing," says Farhadi.
With The Salesman out of the way, Farhadi has now returned to the screenplay for his Spanish project, which is being produced by Pedro and Agustin Almodovar's Madrid-based El Deseo and long-time collaborator Alexandre Mallet-Guy at Memento Films.
The film-maker will not reveal any fresh details except that the film revolves around a couple, and Cruz and Bardem should still be on board. "If I finish my screenplay in time and I feel satisfied with it, then they will be the principal characters," he says.