Best known for broader, more comedic performances, Paul Walter Hauser shows his range with subtly dramatic work in Clint Eastwood's Richard Jewell. The actor talks to Screen about his highest-profile role to date.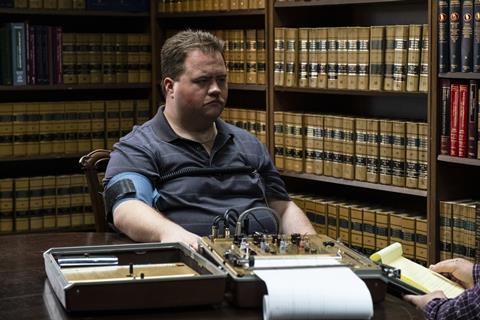 Some people may be surprised by Paul Walter Hauser's quietly powerful performance in Clint Eastwood's fact-based drama Richard Jewell. The actor is known for lighter or less-nuanced supporting roles in the likes of sitcom It's Always Sunny In Philadelphia, streaming series Cobra Kai and features I, Tonya, Late Night and BlacKkKlansman.
And Hauser himself, who has a background in improv com­edy, admits that playing the title character in Eastwood's film was "way more of a challenge. A lot of those things I've done are kind of bigger in scope and I get to play and be comedic," he says. "This was me having to strip it all down. Some actors are really good at showing the ugly and the real and almost embarrassing themselves while in character, and I was trying to lean into that."
With a script by Billy Ray (Captain Phillips) based on a Vanity Fair article about the case, Richard Jewell is the true story of a security guard who found a bomb planted at the 1996 Atlanta Olympic Games minutes before the device was due to explode. Jewell's swift actions saved many lives and for a few days made the wannabe policeman a hero — until news leaked that, thanks to over­zealous profiling, he was the FBI's main suspect and became vilified by the press and public.
The film focuses on Jewell trying to clear his name and protect his devoted mother Bobi (Kathy Bates), by turning to anti-establishment attorney Watson Bryant (Sam Rockwell) for help.
Preparing to play Jewell (who died of heart failure in 2007), Hauser bulked up physically, studied TV clips from the time — as well as footage of Jewell's interrogation by the FBI — and met the real Bryant and Bobi.
He also called on his own midwestern upbringing to help him catch Jewell's southern sensibility and play the character as "someone grounded in their value systems, grounded in their family dynamic and their sense of purpose. I didn't want to play him dimwitted. He was actually razor-sharp when it came to his occupational prowess. The problem was he was too aggressive and he cared too much. And that's maybe the number-one thing that I relate to with Richard — I've been hurt before and made mistakes because I cared too much, in my career, in my life."
True to his reputation as an efficient but laissez-faire director, Eastwood, Hauser reports, gave him a pretty free rein. "There were definitely moments when I wanted more direction, but only to validate my choices," the actor explains. "And his silence was often validation, because he wasn't redirecting. So I really loved his directing style. His sense of improvisation is what I grew up with. Every role I've ever gotten, I've improvised unapologetically.
"He allowed me to do what I do in his world and I didn't realise that's how he worked. It was really nice to have a giant sense of freedom amid the responsibility of telling the story."
Controversial depiction
That responsibility can be heavy with a fact-based project, and while Hauser has received nothing but praise for his work, the Warner Bros film itself has sparked some controversy — with The Atlanta Journal-Constitution (AJC) newspaper claiming, among other things, that its late reporter Kathy Scruggs (played on screen by Olivia Wilde) is "reduced to a sex-trading object" in Eastwood's depiction of events. (Warner Bros has responded that the paper's claims are "baseless".)
Responding to criticism of the film from AJC's editor, Hauser defends the portrayal of Scruggs. "The reality is that there was context within the character's lifestyle that some if not all of what we portrayed is true," he says. "And Billy Ray and the folks who made the movie stood by that character choice, and Olivia Wilde did a really good job portraying it."
A scene where Scruggs appears to be suggesting a sexual quid pro quo to get information out of Jon Hamm's FBI agent is "actually a pretty reasonable moment", Hauser adds. "In the hands of a lesser filmmaker, that would be a postcoital, 'we're-buttoning-our-shirt-and-walking-out-of-the-bedroom' scene.
"To sort of discount an entire film for one moment, I think, is really odd," says Hauser of criticism the scene caused. "I would never do that to somebody else's film, as an audience member."
Though its box-office prospects are uncertain after a lower-than-expected $5m North American opening weekend in mid-December, Richard Jewell — which premiered at AFI Fest in Los Angeles in November — has already earned Hauser the National Board of Review's breakthrough performance award.
The prize will mark the start of a busy phase in the career of the 33-year-old actor, who over the past year has shot three other features — two reuniting him with directors he has worked with previously — that are now awaiting release: indie thriller Silk Road; Disney's Cruella, a live-action prequel to 101 Dalmatians set for a May 2021 release starring Emma Stone, with I, Tonya's Craig Gillespie directing; and Netflix's Da 5 Bloods, a Vietnam veteran drama starring Chadwick Boseman from BlacKkKlansman director Spike Lee.
Reality check
Determined "not to become too career-obsessed", Hauser believes he can keep doing both lighter roles and heavier dramas as his career progresses. "I don't think I ever really have to choose," he maintains. "I'll probably just keep doing whatever comes across my proverbial desk that looks cool."
And he does not feel pressure to turn the attention brought to him by Richard Jewell into a professional springboard.
"You have to remember that Hollywood and filmmaking is its own bubble, and you've got to hold on loosely even though you have great intentions for all these big things," he says. "I'm trying to be laid-back and have a sense of reality amid all the surreality that's taken over my career."