As part of Screen's Perspectives on 2020 series, the Seoul-based sales company executive tells Screen how she came to appreciate the quality-of-life benefits of being grounded from international travel.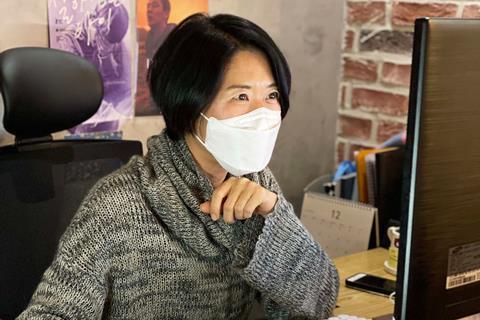 As the director of international business at Korean sales agent Finecut, Yunjeong Kim started the year as expected with a trip to Europe for the Berlinale. On her return she practised social distancing in her Seoul office when the coronavirus pandemic was still in its early days. She has since run the whole quarantine gamut, working from home when outbreaks worsened in South Korea and going back to the office while wearing a mask.
Kim has been with Korea's leading independent sales agency Finecut since 2001, when it was known as Cineclick Asia. She started out handling sales and marketing for seminal Korean films such as Park Chan-wook's Oldboy, Kim Jee-woon's A Tale Of Two Sisters and Bong Joon Ho's The Host.
A regular participant at the world's top festivals, Finecut had Im Sang-soo's Heaven: To The Land Of Happiness in Cannes' official selection this year.
What is your most memorable moment of 2020?
In relation to work, at the end of June when we had the first Cannes virtual market and we were all awkward and new to it but were meeting again after such a long time. Let's be frank — we [on the festival and market circuit] see each other more often than relatives. And we hadn't been able to ask after one another face-to-face for months. I remember those moments when I realised we could find a way to still talk about films and our lives, and that it would last.
How have you adapted your working style to stay productive and sane during 2020?
It's actually easier to have control over my productivity these days. For those of us who do business internationally, there were factors outside of our control such as time zones and long-haul flights. In the past, you would be tired for two to three days before and after a business trip, but now you can be more clear-headed and have more autonomy.
Although we have not had to work from home for so long [in Korea], it made us start making better use of new technology, making use of collaborative programs and apps for efficiency, and I think this will be more helpful later on. When we can go on business trips again, we can use these tools to communicate with the team back in the office.
What changes of 2020 would you like to see continue in 2021?
Personally, after so many years operating on this fixed calendar of business travel, I was finally able to start having some continuous hobbies outside of work. My quality of life has improved because it's so refreshing and restorative. I've started learning the piano again after 30 years. I used to draw before, too, but I was always missing classes to go to festivals. I'm getting online lessons now and not missing a single one, and I think that can continue.
Audience habits have undoubtedly changed this year. Do you think this will have a long-term impact?
Cinemas will have to think about new ways to offer not just good content, but new experiences. It might be a fragmentary phenomenon, but these days you can't tell if people are going to the cinema to see the film or to see the merchandise related to the film. Back in the day, all you could get was a pamphlet or poster, but nowadays they have button pins, stickers, photo tickets [plastic tickets that can be customised with photos and phrases].
People 'certify' their cinema visits on social media with pictures and now it's not just about which film you came to see, but what merch you got in your photos, too. The experience of going to see a film becomes more than just seeing the film. I think people want that sort of diversified experience.
What excites you about the future of this industry?
It's such a multifaceted and dynamic industry going through so many changes, and the fact it seems to require new experiences, new tensions, new adjustments and diverse endeavours is exciting to me in the long term.
In the short term, the thought of a [Covid-19] remedy and vaccine so that we can meet with friends again soon is what excites me because at the same time that we are business partners, many of us have become friends. When we're in video meetings, we give each other virtual hugs and kisses, but I hope we can meet again and do that for real soon.
Our Perspectives on 2020 series sees key figures from across the international industry landscape share their experiences during the pandemic year and their thoughts on the future. See below for more interviews in the series: