Data analytics helped Netflix brew up its hit show House Of Cards, but as a useful industry tool it's still in its infancy. Nikki Baughan explores the potential of data for other broadcasters, exhibitors and studios.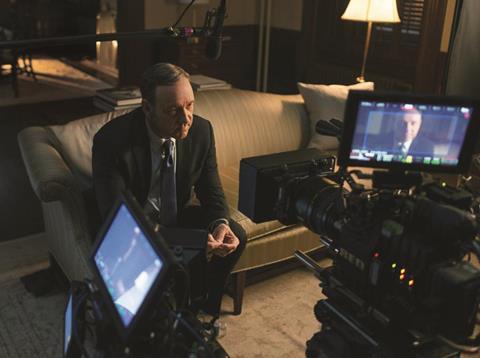 "Nobody knows anything," goes that famous quote from screenwriter William Goldman, which has come to define the traditionally indefinable nature of the film business. "Not one person in the entire motion picture field knows for a certainty what's going to work," he went on to say - a sentiment that feels as resonant now as it did three decades ago, particularly as the frantic pace of technological advancement, and the seismic shift in audience viewing habits, has not only levelled the playing field but changed the very nature of the game. With audiences now demanding instant access to content, on increasingly smaller screens, the industry is having to fight for their attention with upgrades to digital, 3D and now immersive 4D cinema.
"It's still a learning curve. Everyone is still trying to figure out how to market in the world of social media."

Paul Dergarabedian, Rentrak
But the bright side is that this changing behaviour is also providing the industry with the tools it needs to satisfy their demands. The increasing availability and specificity of data from an ever-more outspoken audience is being used across the entertainment sector to shape marketing, scheduling and even content creation itself. One prolific - and the most renowned - user of such big data is Netflix, whose millions of global users offer a constant stream of viewing information to capture and analyse. This informs Netflix's operating and advertising procedures, but also its commissioning of original content.
Famously, its mega-hit House Of Cards was born directly out of data that revealed those users who most enjoyed the original UK political series also responded positively to projects involving director David Fincher and actor Kevin Spacey. Bingo.
Big data
This ultra-targeted approach is certain to become commonplace in commissioning and scheduling. "Data is going to play a huge role in content scheduling," says Showtime Analytics product owner Jolyon Spurling, who provides analytics services, solutions and technologies to the cinema industry. "Not necessarily for the big release pictures, but more so on alternative content and small release pictures. And exhibitors will become more creative in programming decisions using their customer profile data."
For Rentrak's senior media analyst Paul Dergarabedian, who measures audience data across international cinema, VoD, TV and social-media platforms both pre- and post-release, the future of data lies in specific content creation. "Right now, a lot of this information is very broad but, as it evolves, it's going to get to the point where it's very granular," he says. "To anyone who is relying on the public to make them successful, this is invaluable. The irony is that everyone gives it up automatically; we love to instantaneously say, 'I loved Mad Max and I want the whole world to know it.' If there are 50,000 people doing that, all of a sudden that's a trend. That's information you can bank on."
"Third-party mobile app companies are now offering new killer engagement capabilities."

Jolyon Spurling, Showtime Analytics
The growing importance of big data is intrinsically linked with the explosion of social media; even for the likes of Netflix or Amazon, outfits with their own complex algorithms, platforms such as Twitter and Facebook are an essential data goldmine. "There is no better way to put your finger on the pulse of what people are saying than via the social-media platforms," says Dergarabedian. "Five years ago, studios and producers were basically flying blind in terms of knowing how their movie was resonating in the run-up to release, with no ability to course correct on an ongoing basis, and bracing for impact to see what was going to happen on opening weekend.
"Now it's all out there, but it does have to be harnessed in a way that's meaningful. Just saying, 'Oh, there were 1,000 tweets about Jurassic World,' doesn't really tell you anything. But now we can understand specifically what the conversation is about, and whether it is positive or negative."
Social media is an immediate and easily accessible source of data, but it isn't the only tool available to analysts: point of sale (POS), customer databases and loyalty programmes also play their part. "The concern I have is that social media simply measures sentiment, and that can be misleading," says Movio's senior consultant Sarah Lewthwaite, who works with exhibitors to maximise the value of their customer information.
"What a customer is actually doing in social media - what film trailers they are watching on YouTube or what film news they are retweeting - are more powerful indicators of interest. I would still only use this to help enrich a customer's overall profile, however, and would never recommend using social media as the sole source of insight."
Wider picture
Spurling agrees that the larger the number of data sources, the more overarching and useable the information. "Data integration is key for successful analytics," he says. "The reality for clients is that the number of systems where they can get data is growing each year. If you look at the trade-show floor at CinemaCon, a huge number of third-party mobile app companies are now offering new killer engagement capabilities.
"They are all great tools with good data," Spurling continues, "but how do you bring all this together with what you already have and give a 360-degree view? We create off-the-shelf connections to all major data sources, from POS systems and mobile applications to third-party systems like payroll and social media. The majority of these are pre-built in the data marketplace and have the major advantage of already being collected and structured together. When social-media sources are integrated with your other data, like POS, you can track the success of a digital campaign right through to percentage uplift in actual sales or the impact a negative piece of publicity has on admissions."
"If data can help film studios develop strong content and cinema chains put more bums in seats, then our entire industry will win."

Sarah Lewthwaite, Movio consultant
While there may be an ever-growing number of data sources, the end goal for its use remains unchanging: to turn a profit, whether at the traditional box office, or via VoD or TV platforms. And for those working in this space, it needn't be the guessing game of Goldman's era.
"It's still a learning curve," says Dergarabedian of the industry's attempts to utilise effectively the power of big data. "Everyone is still trying to figure out how to market in the world of social media, how to harness the power of the social conversation, and processing the tools and knowledge to do so will be key going forward."
"We look at the film industry as a wider value chain with many stakeholders from exhibition and advertising agencies to suppliers and distributors," says Spurling, who recently launched Showtime's Guided Analytics Platform (GAP) to enable exhibitors to better analyse vital operational data. "The cinema sector has so much data available but, in comparison to its competitor mediums, provides a very basic, infrequent amount back to the necessary third parties. We see a great opportunity to connect all of the dots between the data collected by exhibition and other interested parties, and believe that a data revolution is required to maximise the potential of the industry," he adds.
For Lewthwaite, this increased collaboration is also essential; earlier this year, she helped launch Movio Media, which allows film studios and exhibitors throughout North America to share audience data, and so improve and target marketing campaigns. "The early results have been positive," she says. "It is helping cinema chains to monetise their customer data in a new way, while providing film studios with unprecedented insight into actual audience behaviours.
"With nearly 600 films released in the UK alone last year, data has never been more important for cinema chains looking to increase customer frequency," Lewthwaite concludes. "But the industry is still trying to figure out how to harness its potential. If data can help film studios develop strong content and cinema chains put more bums in seats, then our entire industry will win."