Husband-and-wife directing team make their feature debut with Arwad, the story of a man who returns to the Syrian island where he grew up and the decisions that impact the women in his life.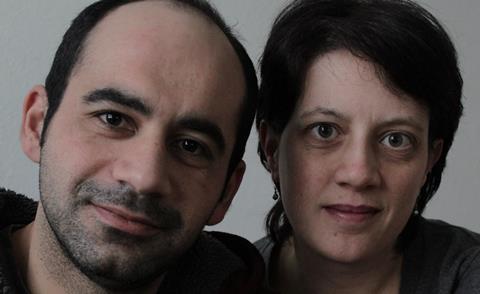 Arwad is a small island off the coast of Syria, home to less than 5,000 people and a place that takes just 10 minutes to walk around. Arwad is also the title of a deeply moving film about fractured identity, loss, betrayal and escape.
The feature revolves around Ali, played with no small amount of strength, charm and vulnerability by Ramzi Choukair. Following the death of his mother in Montreal, Ali is hit with a profound sense of nostalgia that puts a wedge between him and his wife, Gabrielle (Julie McCelmens).
He returns to his home on Arwad to reconnect with his roots, accompanied by his mistress, Marie (Fanny Mallette). But when events take an unexpected turn, the two women in Ali's life are put on a collision course.
"Childhood isn't a physical place – it is just a memory and that's irreversible," says writer and co-director Samer Najari. "It is a film about a man who cannot face his problems so he goes back. But it's just an illusion."
Born in Moscow to a Syrian father and a Lebanese mother, Najari moved to Canada in 1994 and now lives in Montreal with his wife and co-director Dominique Chila.
Chila says: "The main story comes from a woman that Samer used to know from Arwad. When she died, there were three generations at the funeral in Montreal – the widower that spoke Arabic, her sons that spoke French and Arabic and their children who didn't speak any Arabic at all.
"The tragedy of losing a culture struck Samer. It's a loss he feels too because our children don't speak Arabic."
Scripted in 2009, Najari went to Syria the following year and location scouted Arwad. But the uprising in Syria at the beginning of 2011 made filming impossible.
"We aimed to move the shoot in Lebanon but it was also unstable and risky there so we ended up shooting in Medea, Tunisia, with Syrian refugees playing the residents of Arwad," explains Najari.
The real island is seen near the beginning of the film but this is a piece of post-production magic, created from a photograph taken while location scouting.
Lead actor Choukair was discovered just a few months before shooting began in July 2012. "We started looking in Montreal, expanded that to all of Canada and then took our search to Lebanon," says Najari of the hunt for their lead.
"We convinced Samer to travel home via Paris so he could see Ramzi," says Chila. "He performed a monologue from the script on camera and it was really moving."
"I know immediately he was the one," adds Najari.
Made by Productions Unite Centrale, with producer Galile Marion-Gauvin, the final scene of the film was shot first before production moved to Tunisia in the summer of 2012. Scenes in Montreal were the last to be filmed, just before Christmas 2012.
On set, Najari handles the technical image while Chila deals with art direction and costumes. "I'm abstract concepts, she handles the details," Najari explains.
"And we both deal with actors and mise-en-scene together," adds Chila, finishing his sentence.
Arwad debuted in October at Montreal's Festival du Nouveau Cinema, where it played in competition, and had its European premiere in Rotterdam last night (Jan 28), where it is playing in the Tiger competition.
Distribution and international sales are handled by Funfilm Distribution and it will receive a theatrical release in Canada on February 7.
While Arwad completely circumvents any mention of politics, despite being made during a time of violence in Syria, Najari adds that he hopes to return to the country when peace has been declared.
"Arwad is neither a political film, nor is it a film about Syria," he adds. "My intentions while writing the script were to discuss the bittersweet journey of integrating a new society.
"Moreover, the large-scale devastation of the war in Syria has paralyzed me. I hope to one day do a project on the Syrian revolution, but first I have to be able to take a step back so I can convey my personal views artistically."