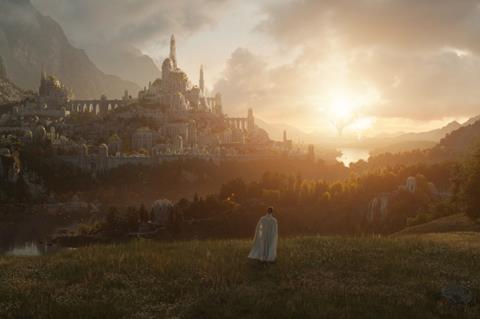 Amazon Studios will shoot season two of its untitled The Lord Of The Rings original series in the UK.
The studio said on Thursday (August 12) the move was in line with its strategy of expanding the production footprint and investing in studio spaces in the UK, where it is shooting season two of Good Omens, as well as The Power.
Pre-production on season two of the J.R.R. Tolkien fantasy adaptation will start in the UK in 2022 concurrent with post-production on the first season in New Zealand, which is expected to end in June 2022.
Principal photography on the first season wrapped recently in New Zealand and the show is scheduled to premiere on Prime Video in more than 240 countries on September 2, 2022.
Little is known about the plot of the series, which focuses on a character ensemble who live during Tolkien's Second Age of Middle-earth's history thousands of years before events depicted in The Hobbit and The Lord Of The Rings books. The first season opens in a time of relative peace, however evil is returning to the land.
"We want to thank the people and the government of New Zealand for their hospitality and dedication and for providing The Lord Of The Rings series with an incredible place to begin this epic journey," said Vernon Sanders, VP and co-head of TV, Amazon Studios. "We are grateful to the New Zealand Film Commission, the Ministry of Business, Innovation and Employment, Tourism New Zealand, Auckland Unlimited, and others for their tremendous collaboration that supported the New Zealand film sector and the local economy during the production of season one."
"As we look to relocate the production to the UK, we do not intend to actively pursue the season one MoU five percent financial uplift with the New Zealand government or preserve the terms around that agreement, however we respectfully defer to our partners and will remain in close consultation with them around next steps," said Albert Cheng, COO & co-head of TV, Amazon Studios.
Showrunners and executive producers J.D. Payne and Patrick McKay lead the series alongside executive producers Lindsey Weber, Callum Greene, J.A. Bayona, Belén Atienza, Justin Doble, Jason Cahill, Gennifer Hutchison, Bruce Richmond, and Sharon Tal Yguado.
Wayne Che Yip is co-executive producer and directs with Bayona and Charlotte Brändström. Christopher Newman is a producer and Ron Ames is a co-producer.