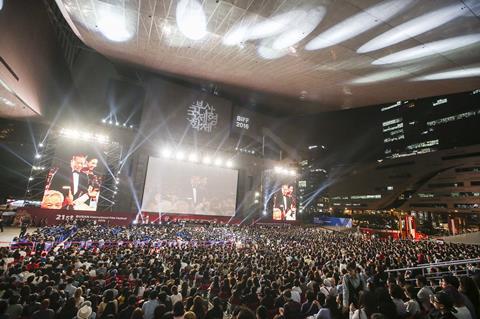 The 22nd Busan International Film Festival (BIFF) wrapped over the weekend with attendance up 17% from last year to record 192,991 admissions.
The top New Currents Awards went to Kim Uiseok's After My Death from Korea and Mohsen Gharaei's Blockage from Iran in a ceremony held Saturday, October 21.
Headed by Oliver Stone, the New Currents jury lauded the two films as "outstanding" stating: "In After My Death, we saw a cross section of Korean society wherein teenage schoolgirls are gripped with despair and a suicide mentality. In its details of everyday life, Blockage shocked us with its presentation of hardship in the working class of Teheran. Both films are tightly scripted and display vivid detail and excellent craftsmanship."
The beleaguered festival says it has "recuperated its position as a hub of Asian cinema" with support from local and international guests audiences.
The rise in attendance includes increased admissions for Cinekids programmes, retrospective and special programmes, and sold-out Open Cinema screenings for films such as Guillermo Del Toro's The Shape Of Water and Tsukikawa Sho's Let Me Eat Your Pancreas.
The Asian Film Market also saw a 14% rise compared to last year with 1,583 participants. They came from 658 companies from 45 countries. The event held 73 market screenings of 68 films - 43 of which were market premieres - from 14 countries and 41 countries. The market also had 207 films in online screenings, of which 172 were official BIFF selections.
Full Awards List
New Currents Award
After My Death (S. Korea) dir. Kim Uiseok
Blockage (Iran) dir. Mohsen Gharaei
Kim Jiseok Award
Malila: The Farewell Flower (Thailand) dir. Anucha Boonyawatana
The Scythian Lamb (Japan) dir. Yoshida Daihachi
BIFF Mecenat Award
Korea: Soseongri, dir. Park Baeil
Asia: Sennan Asbestos Disaster (Japan) dir. Hara Kazuo
Sonje Award
Korea: A Hand-written Poster (Korea) dir. Kwak Eunmi
Asia: Madonna (Indonesia) dir. Sinung Winahyoko
Actor & Actress of the Year Awards
Actor of the Year: Park Jonghwan / Hit the Night (Korea)
Actress of the Year: Jeon Yeobeen / After My Death (Korea)
KNN Award
End of Summer (China) dir. Zhou Quan
Busan Bank Award
Pulse (Australia) dir. Stevie Cruz-Martin
Citizen Critics' Award
Possible Faces (Korea) dir. Lee Kanghyun
Vision - Director's Award
February (S. Korea) dir. Kim Joonghyun
Hit the Night (S. Korea) dir. Jeong Gayoung
CGV Arthouse Award
Microhabitat (S. Korea) dir. Jeon Gowoon
Busan Cinephile Award
A Free Man (Germany) dir. Andreas Hartmann
NETPAC (Network for the Promotion of Asian Cinema) Award
February (S. Korea) dir. Kim Joonghyun
FIPRESCI (Fédération Internationale de la Presse Cinématographique) Award
Last Child (S. Korea) dir. Shin Dongseok
Asian Filmmaker of the Year Award
Suzuki Seijun, director (Japan)
Korean Cinema Award
Christoph Terhechte, head of Berlin International Film Festival Forum (Germany)