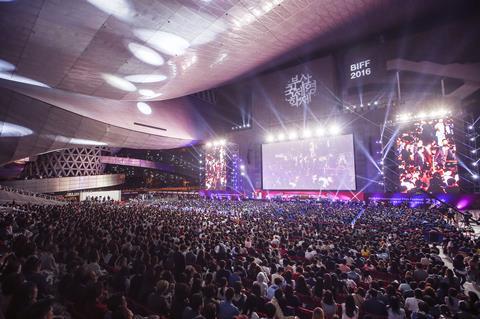 This was always going to be an odd edition of the Busan International Film Festival (BIFF) – its persecution by South Korea's former right-wing government has been well documented; festival chiefs Kim Dong-ho and Kang Soo-youn said they would step down at the end of this edition; and the festival is still reeling from the death of deputy director Kim Ji-seok, who was responsible for Asian programming.
Outside the film world, political tensions continue to rumble away on the Korean peninsula and between South Korea and China. Some US and other international guests are thought to have stayed away from BIFF due to concerns over the escalating war of words between North Korea and US president Donald Trump. Chinese delegates were down in number as Beijing continues to ban Korean content due to its displeasure over US-South Korean missile defence system THAAD.
Despite all the obstacles, the organisers of BIFF, and accompanying industry platform Asian Film Market, managed to pull off a relatively successful if low-key edition of the festival. The New Currents competition was reasonably strong, and while there were no standouts among the world premieres across various sections, there were no major disappointments either.
The loss of Kim Ji-seok, who died of a heart attack at Cannes this year, hung heavily over the festival. A memorial service was held on Sunday (October 15) that was attended by around 400 industry figures, including leading filmmakers such as Mohsen Makhmalbaf, Tan Chui Mui and Hirokazu Kore-eda. During the memorial, Kim was posthumously awarded the Bogwan Order of Cultural Merit by Minister of Culture, Sports and Tourism, Do Jongwhan.
But although the festival took place without incident, questions are still hanging over its future. No announcement was made about succession plans, following the departure of Kim Dong-ho and Kang Soo-youn, and the issue is not likely to be addressed until the festival's annual board meeting in February next year. Sections of the local industry are still demanding an apology from Busan mayor Seo Byung-soo, who triggered BIFF's woes by objecting to the screening of documentary The Truth Shall Not Sink With Sewol, and former festival director Lee Yong-kwan is appealing embezzlement charges.
However, the festival can take solace from the words of Korea's recently-elected president Moon Jae-in, who spoke in support of its independence on a visit to Busan on Sunday. "It pained me to hear that BIFF has shrunk due to political influences," said Moon, who is the first sitting Korean president to visit the festival during its 22-year history. "Even now, many film industry personnel are not participating. I hope it will be able to restore its former glory and develop into a more prominent international film festival."
When asked how that aim could be achieved, Moon said: "I promise to provide as much support as possible without interfering, and trust the festival's organisation entirely to filmmakers' freedom and independence."
Business as usual
Meanwhile, attendance at the Asian Film Market (October 14-17) appeared to be on par with last year, which was also a troubled year for BIFF. According to organisers, the market drew 1,583 participants and 658 companies from 45 countries. Sellers said they were busy with pre-arranged meetings, although there wasn't much foot traffic or walk-ins. And while the numbers of Chinese buyers were down, buyers from Korea, Japan, Hong Kong and Taiwan were out in force.
Overall the market is maintaining its position in a crowded autumn festival calendar, which also includes MIPCOM, TIFFCOM and the American Film Market (AFM). Many of the European sales agents left early to attend Rome. But Asian and European sellers said they would continue to attend Busan. "It's a great market to wrap up summer issues, sell current titles and Asian premieres, as well as prepare Asian clients for AFM," said Picture Tree International's Andreas Rothbauer.
Derek Lui of Denmark's Level K, also attending under the European Film Promotion (EFP) umbrella, said: "During the AFM, buyers tend to be more focused on bigger titles that they have to bid on. But in Busan they have more time to understand and learn about your projects – especially for European films."
Among Korean sellers, Lotte Entertainment and M-Line Distribution launched new titles but some other companies said they were waiting for AFM. Overall, the Korean participation was muted – no big parties as in the past – partly due to sensitivities over local industry boycotts of the festival.
Seoul-based sales agent Finecut sold Lee Won-tae's Man Of Will to Taiwan (AV-Jet) and the Philippines (Viva). Viva also took Kim Soon-mo's Home, which premiered in BIFF's Vision section, and Kim Jin-mook's True Fiction. Finecut also sold Toronto title The Poet And The Boy to Altered Innocence for the US.
In addition to sales booths and the long-established Asian Project Market, the Asian Film Market hosted E-IP Pitching and Book To Film events; seminars on VR and copyright protection; and a locations expo. Busan award winners, including recipients of inaugural Kim Ji-seok Award, will be announced at the closing of the festival tomorrow night (October 21).