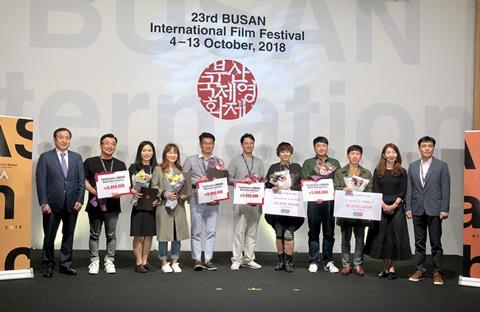 Busan's Asian Film Market held its Entertainment Intellectual Property (E-IP) Market awards ceremony today (October 8) with the top New Creator Awards going to Han Jisu's novel The Sixth Wife and Haewon's story Good Job.
Book To Film and E-IP Market introduced a total of 29 official selections this year. Organisers said they had more than 500 film and TV industry professionals from Korea as well as the US, China, Hong Kong and Taiwan.
Sponsored for a second year by Korean investor-distributor Next Entertainment World (NEW), the New Creator Awards go to one project each from the Book To Film selection and E-IP Pitching selection. Each winner gets an $8,830 (KW10m) cash prize.
Mystery romance The Sixth Wife took the New Creator Award in the Book To Film section. Published by Goraebang, award-winning novelist Han Jisu's tale is about a man who discovers he has been left a huge inheritance by a woman he has never met and starts to investigate with clues leading him to his sixth "wife" on a virtual reality website.
Crime thriller Good Job, presented by All That Story in the E-IP Pitching section, took the New Creator Award in that category. Previously a scriptwriter on Lim Jin-seung's Outdoor Begins, Haewon penned Good Job as a story about two unlucky job-seekers in their twenties who end up working for a shady crime scenes clean-up company.
ToryComics Awards
Korea-based global web comics platform ToryComics – which provides web comic services in 12 different languages to 141 countries including Indonesia, Turkey, India and the Philippines – has become a new award sponsor at Busan this year, giving out cash prizes of $4,420 (KW5m) each to four projects from the Book To Film and E-IP Pitching selections.
In the Book To Film section, the ToryComics Award went to Seo Eun Chae's fantasy romance A Week Before I Die, published by Goldenbough.
In the E-IP Pitching section, the ToryComics Award went to Lee Yun Kyun's action sci-fi web comic Delivery Knight published by Toomics, Yoon Seonyoung's school-bullying action story Land Of Silence from Toonplus, and mystery occult web comic The Devil from Toyou's Dream, with story by Meen and art by Keun bit.
Audience Awards
Voted on by professionals who attended the pitching events, the E-IP Audience Award for a Book To Film project went to Jang Min-hye's mystery thriller The Insect, published by Gozknock ENT.
The E-IP Audience Award for a project in the E-IP Pitching section, also voted on by attendees, went to Suo's mystery thriller story Devil School from content development company Youthmeans.
Opening on October 6, the Asian Film Market has one more day of meetings at the end of which the Asian Project Market awards will be given out (October 9).