Ahead of its world premiere at IFF Panama on April 12, the director tells Jeremy Kay why Kenke is more than a 'silly stoner film that promotes the use of cannabis.'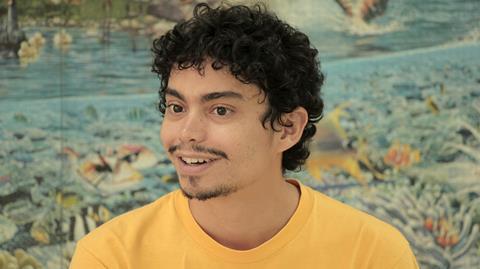 Kenke was part of the Primera Mirada works-in-progress line-up at the festival last year.
Where did the idea for your film come from?
Panamá is a country well known for its economic prosperity but very few are aware of its disadvantages in cultural development and lack of critical thinking among its citizens. As the politics around cannabis started to chance around the world, I couldn't help notice that in my country the consumption of this plant was still very frowned upon. The irony is that a large number of Panamanians share this habit in secret. This struck me as a very funny situation. Then I decided to translate this situation into a screenplay and later on it became the movie Kenke.
What do you hope people take away from it?
Before watching the film, people always think of it as a silly stoner film that promotes the use of cannabis. But I think of it as a story that invites you to live and let live. I hope the film will help people understand the importance of respecting everyone's individual space.
What is the budget?
The film's budget is around $25,0000 USD, but this movie was practically made with no money. The film is a co-production between two production companies, Mente Pública (Panamá) and Best Picture System (Guatemala). Both companies contributed with crew members and equipment for both, the shoot and the post-production stage. A lot of people volunteered to help us once they heard what the movie was about, including most of the actors in the film.
Where did the financing come from?
As I stated before, most of the resources for the film came from the production companies involved, Mente Pública and Best Picture System.
Where and when did you shoot?
The film was shot entirely in Panama City (Republic of Panamá) in September 2014. The post-production took place during the first semester of 2015 and was released in local theatres in September 2015.
Who are your influences?
I'm very influenced by 1970s film directors such as Sidney Lumet, Stanley Kubrick, Nicholas Roeg, Luis Buñuel, and Alejandro Jodorwsky. I'm also very much influenced by 1970s punk rock culture.
Where did you train or study film?
For three years I attended the International School of Film and Television in San Antonio de los Baños, Cuba.
What is the film industry infrastructure like in Panama?
Very weak. Historically, Panamá is one the countries with less film production in the region. In over 60 years we have produced less than 20 feature-length films, between fiction and documentary. In the past few years there has been an increase in independent film production thanks to the accessibility of new technologies.
However, we still lack cultural policies that help local film-makers develop their projects. The recently created National Film Direction (DICINE) is currently more focused on bringing big productions from other countries and has not made much effort to help local independent projects. This is a situation that must change soon if we want to have a solid infrastructure for film-making in Panamá.
What are you working on next?
I'm developing a documentary called Guararé. It's a movie about my father's hometown in rural Panamá.