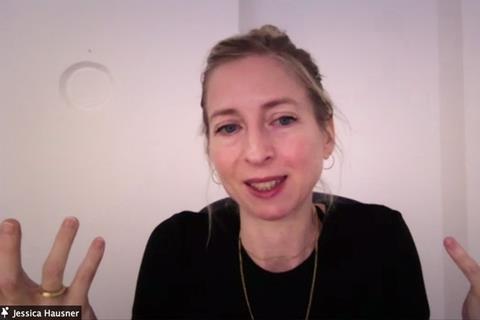 French director Houda Benyamina's All For One and Austrian Jessica Hausner's Club Zero are two of the 37 European co-productions set to receive of a share of Eurimage's latest round of funding, totalling €9.1m ($10.3).
Benyamina's All For One will receive €500,000 ($563,550), the largest share of funding, The co-production between France (Haut et Court, Easy Tiger) and Belgium (Versus Production) is the second feature from from Benyamina, whose debut Divines won the Caméra d'Or in Cannes 2016. Her latest title is a Three Muskateers-style adventure, with a female focus.
Hausner's English-language Club Zero has received €450 000 ($507,195) of funding, and is an English-language co-production between Austria (Hausner's Coop99 Essential Filmproduktion)), Germany (Essential Filmproduktion), France (Societe Parisienne de Production) and the UK (Club Zero Ltd).
It is about a group of young people who form a cult together with a teacher. Hausner's previous credits include 2019 drama Little Joe which was backed by the BFI and BBC Film and screened in competition in Cannes 2019, with Emily Beecham winning best actress.
The new films fromo Cristian Mungiu, Abderrahmane Sissako, Bertrand Bonello and Nikolaj Arcel have also received funding.
Of the 37 European co-productions that will share the funding, five are documentaries and five are animation films.
This is in addition to the €10.8m ($12.2) given in June, and €5.8m ($6.5m) in March, taking the 2021 total up to €25.6m ($18.7).
Scroll down for the full list of recipients
The 164th Eurimages council meeting was held online. Of the projects supported, 48.65% were directed by women, with a total of €4m ($4.5m) awarded to these projects, representing 43.34% of the total amount awarded.
Since it was set up in 1988, Eurimages has supported 2,273 co-productions, for a total amount of approximately €649m ($782).
Eurimages December 2021 funding
Allah Is Not Obliged (Fr-Lux-Bel) – €470 000
Dir. Zaven Najjar
All For One (Fr-Bel) – €500 000
Dir. Houda Benyamina
Arcadia (Greece-Bul-Ser) - €180 000
Dir. Yorgos Zois
Blindness Of The Heart (Ger-Lux-Switz) - €150 000
Dir. Barbara Albert
Caravan (Czech- It- Slovak Republic) - €250 000
Dir. Zuzana Kirchnerová
Chiara (It-Bel) - €480 000
Dir. Susanna Nicchiarelli
Chicken for Linda (Fr-It) - €115 000
Dir. Sebastien Laudenbach
Club Zero (Austria-Ger-Fr-UK) - €450 000
Dir. Jessica Hausner
Day Begins In A Blue Room (Bel-Fr) - €100 000
Dir. Valentina Maurel
Emma And The Death's Head (Slovak Republic) - €330 000
Dir. Iveta Grofova
Fiume o Morte (Cro-It-Slovenia) - €140 000
Dir. Igor Bezinović
Five And A Half Love Stories In An Apartment In Vilnius (Lithuania-Latvia-Ire) - €230 000
Dir. Tomas Vengris
Fox And Hare Save The Forest (Neth-Bel-Lux) - €325 000
Dir. Mascha Halberstad
Hotel Sinestra (Neth-Switz) - €250 000
Dir. Michiel ten Horn
Jan Mancuska: You Will Never See It All (Czech-Slovak Republic) - €30 000
Dir. Štěpán Pech
Kretsul (Rus-Lithuania) - €48 000
Dir. Aleksandra Likhacheva
Légua (Port-Fr-It) - €143 000
Dir. João Miller Guerra
Man Of The House (Alb-It) - €110 000
Dir Andamion Murataj
Most Alive (Bel-Fr-Can) - €235 000
Dir. Delphine Girard
Mother Mara (Ser-Lux-Bos & Her-Slovenia-Mont)
Dir. Mirjana Karanović
New Dawn Fades (Turkey) - €70 000
Dir. Gürcan Keltek
Nowhere (It-Switz) - €290 000
Dir. Simone Massi
Of Unwanted Things And People (Czech-Fr-Slovak Republic-Slovenia) - €380 000
Dir. Patrik Pašš Jr.
Pirates (Fr-Greece) - €85 000
Dir. Myriam Gharbi
R.M.N (Rom-Fr-Bel) - €420 000
Dir. Cristian Mungiu
Sailing Off The Edge (Can-Fr) - €140 000
Dir. Virginia Tangvald
Suddenly (Turkey-Ger-Ser) - €85 000
Dir. Melisa Fatma Önel Tecimen
The Beast (Fr-Can) - €350 000
Dir. Bertrand Bonello
The Fourth Wall (Fr-Lux-Belgium) - €360 000
Dir. David Oelhoffen
The Herd (Bul-Ger-Lux) - €240 000
Dir. Milko Lazarov
The King's Land (Den-Ger-Swe) - €470 000
Dir. Nikolaj Arcel
The Land You Belong (It-Rom) - €65 000
Dir. Elena Rebeca Carini
The Open Body (Sp-Port) - €270 000
Dir. Angeles Huerta
The Perfumed Hill (Fr-Lux) - €470 000
Dir. Abderrahmane Sissako
The Total Trust (Ger-Neth) - €150 000
Dir. Jialing Zhang
Totem (Neth-Lux-Ger) - €290 000
Dir. Sander Burger
When We Lost to the Germans (Neth-Bel) - €300 000
Dir. Guido Van Driel