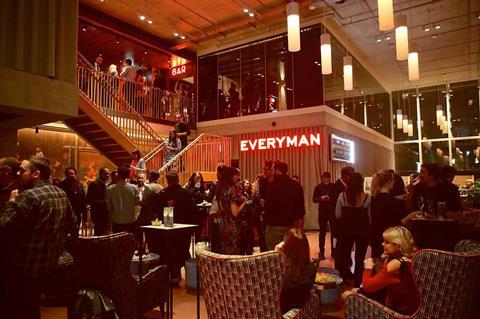 UK boutique cinema operator Everyman Media Group is to close its venues for two weeks following advice from the government over the coronavirus pandemic.
A statement from Everyman, which operates 33 venues, said: "We are sorry to let you know that following the government's advice in the wake of coronavirus our cinemas will be closed for 2 weeks. We want everyone to be safe and healthy so we act as soon as we think that temporary closure is necessary."
Everyman is the latest in a series of UK cinema chains to announce temporary closure to combat the spread of COVID-19, which has today included Odeon, Cineworld and Picturehouse as well as the BFI Southbank. London's ICA was the first to close its doors.
It comes the day after UK prime minister Boris Johnson advised people to avoid theatres and pubs, while stopping short of forcing venues to close.
The UK box office has already felt the impact of COVID-19 and advice over "social distancing". The takings for the top five titles over the weekend was £3.31m – down from £6.47m the previous weekend.
UK Cinema Association CEO Phil Clapp said his focus was now on helping people who work in the exhibition sector. "Mindful of the latest scientific advice from the government, the coming days will see the closure of most UK cinema sites," said Clapp.
"The priority now is to ensure that the thousands who work in the sector, many of them young people, are helped during what will be an exceptionally challenging period for them, and that cinema venues across the country are supported to overcome what for many will represent an unprecedented challenge to their existence."
He reiterated his organisation's priority will be "ensuring that that support is put in place".