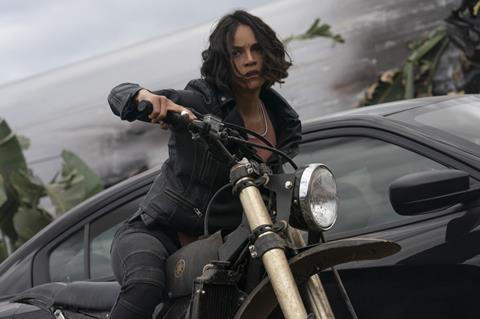 UPDATED: F9 has scored a franchise-high estimated $3.4m (KRW 3.9m) opening day in South Korea as the film prepares to launch in China and a handful of markets in what sources anticipate could be a $150m-plus opening weekend.
The opening day beat previous franchise record holder Hobbs & Shaw on KRW 2.9m, and also set the biggest opening day of the pandemic, ahead of Peninsula's KRW 2.9m.
According to Universal sources F9 is dominating advanced ticket sales with $2m over five days – the biggest advanced ticket sales since the start of the pandemic – and has secured 2,200 screens in a record Universal footprint.
F9 opens on Thursday in Russia and the Middle East, and in China on Friday.
ORIGINAL REPORT: F9, the latest instalment in the $5bn Fast & Furious global franchise, could deliver more than $150m in its opening weekend as it heads into a handful of markets led by China on Friday (May 21), according to sources.
The action tentpole is expected to deliver the biggest international debut by a Hollywood film since the pandemic began, which would see it overtake the $123m international opening weekend set by Warner Bros/Legendary's Godzilla vs. Kong from 38 markets.
F9, which stars Vin Diesel, Michelle Rodriguez, Tyrese Gibson, Charlize Theron, Jordana Brewster, Ludacris, and series newcomer John Cena, arrives in China after launches in South Korea and Hong Kong on Wednesday, followed by Russia and the Middle East on Thursday.
It opens an unprecedented five weeks later in North America; unusual circumstances dictated by unprecedented times. Universal Pictures International top brass have scheduled the international release based on recent international box office results, vaccine rollouts, and audience comfort levels. China, South Korea, and Russia in particular have delivered robust box office in recent months.
Everything has been delayed considerably – the film was initially meant to open last summer before the pandemic put paid to theatrical release plans at that time and for much of last year.
F9 will continue to roll out in 62 international markets after this week's initial wave: Australia on June 17, North America and Latin America on June 25, and the UK, Spain, France, and Germany throughout July.
Internationally the film series ranks as the fifth biggest on more than $4bn, and Furious 7 and The Fate Of The Furious place fifth and ninth on the all-time international pantheon.
The Fast & Furious films have built the sixth largest global film series of all time and Universal sources said ticket sales in China have accounted for nearly 30% of the franchise's global box office.
Fast & Furious 8 ranks as the second highest grossing Hollywood film of all time in China on 2.7bn RMB, while Fast & Furious 7 places third on 2.4bn RMB. Both equate to roughly $380m.
Universal sources say anticipation has been high in the market, where the current "Want to See" index on Maoyan has exceeded one million in a pre-release high water mark for the studio. The biggest debut by a Hollywood film in China during the pandemic has been Godzilla vs. Kong on $70.5m. To date the film stands at roughly $185.5m in the market.
When Universal dropped the F9 trailer on April 14 it drew more than eight million global views. A heavyweight promotional campaign delivered custom content and activations in the Chinese cities of Wenzhou, Wuhan, and Chongqing, a presence at the Strawberry Festival music event, and custom greetings by Diesel and daily social posts by Mandarin speaker Cena.
Universal also staged an out-of-home takeover at the upmarket Gangnam Street shopping precinct in Seoul, South Korea.
Justin Lin directed F9 after earlier outings on the third, fourth, fifth and sixth instalments. The cast includes Helen Mirren.