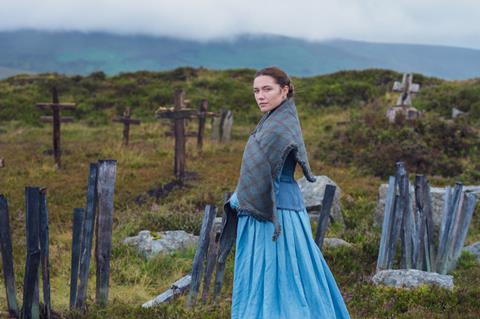 Tom Burke and Niamh Algar are among the new cast members joining Florence Pugh on Sebastian Lelio's The Wonder, as production gets underway in Ireland on the Netflix title.
A first look at Pugh in the film has been released, above.
Alongside Pugh, Burke and Algar, further new cast includes Elaine Cassidy and her daughter Kíla Lord Cassidy, Toby Jones, Ciaran Hinds, Dermot Crowley, Brian F. O'Byrne and David Wilmot.
The Wonder is the first production commissioned by Fiona Lamptey, who was appointed director of UK features for Netflix in October last year. Tessa Ross and Juliette Howell are producing for the UK's House Productions, with Ed Guiney and Andrew Lowe for Ireland's Element Pictures.
Emma Donoghue, Lelio and Lady Macbeth writer Alice Birch have written the script.
Based on the 19th-century phenomenon of 'fasting girls', the story centres on an English nurse brought to a tiny Irish village in 1862, to observe a young girl who is said to have survived without food for months. It is based on the 2016 novel of the same name by Donoghue, whose previous novel Room was turned into an Oscar-winning film, adapted by Donoghue herself, directed by Lenny Abrahamson and produced by Element.
The executive producers on The Wonder are Donoghue, Len Blavatnik and former director of BBC Television Danny Cohen.
"The Wonder has everything we're looking for at Netflix for our UK & Ireland film slate - a rich, authentic story that comes from these shores along with creative excellence across source material, script, director and actors," said Lamptey. "Creating opportunities for UK & Irish talent like Florence in ambitious, distinctive stories of scale - embedded in our landscape - is a key commitment for the film slate we are building here."
"Bringing The Wonder to the screen not only offers me the chance to portray the collision between reason and faith, individual and community, obedience and rebellion, but also to explore my own interpretation of what a "period" film can be," added Lelio.
The Wonder will be Chilean director Lelio's eighth feature; his 2017 film A Fantastic Woman won the Oscar for best international fefature.
Pugh, Algar and Lamptey have all previously been named Screen Stars of Tomorrow.