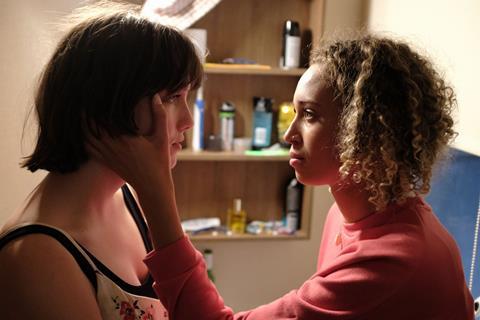 The Glasgow Film Festival (GFF) has revealed the programme for its 2021 edition (Feb 24-March 7), which includes several award-winning festival favourites and a focus on South Korea.
The 17th edition of GFF, which recently announced it would shift online-only due to the ongoing virus crisis, includes six world premieres, two European premieres and 49 UK premieres – around a third of the event's usual programme of 180 titles.
However, GFF co-directors Allison Gardner and Allan Hunter said the reduced number of slots had forced them to raise the bar for selection and produce a stronger programme as a result.
See below for full list of titles
The festival has secured world premieres of Marley Morrison's debut feature Sweetheart, which follows the relationship between two young women during a summer holiday; star-crossed romance A Brixton Tale, from debut filmmakers Darragh Carey and Bertrand Desrochers; and Philippe McKie's Dreams On Fire, which explores Tokyo's underground dance community.
World premieres of documentaries in GFF's line-up include Anthony Baxter's Eye of the Storm, which uses animation to tell the story of Scottish painter James Morrison in his final years; Poly Styrene: I Am A Cliché, which explores the eponymous punk musician, co-directed by her daughter Celeste Bell and Paul Sng; and Luke White's Handsome, in which a man and his brother journey to meet other siblings with Down's Syndrome.
The festival also has the European premieres of Sonia Bennebeck's hacker documentary Enemies Of The State, which debuted at Toronto, and Kirk Caouette's action thriller American Badger, part of GFF's partnership with genre festival Frightfest.
A country focus on South Korea will comprise the UK premieres of Jung-eun Lim's Our Midnight; Eui-jeong Hong's crime caper Voices Of Silence; Jae-Hoon Choi's The Swordsman; Chan-yang Shim's musician drama Da Capo; and Min-ho Woo's conspiracy thriller The Man Standing Next, which is South Korea's submission for the Oscar.
Selected festival favourites include Cannes label titles Gagarine, by Fanny Liatard, Jérémy Trouilh, Suzanne Lindon's Spring Blossom (which will close GFF), and Ben Sharrock's critically-acclaimed Limbo, which more recently won the top prizes at Cairo and Macao film festivals.
Berlinale award-winners in GFF's line-up include Mohammad Rasoulof's There Is No Evil, which won the Golden Bear, and Srdan Golubovic's Father, which picked up the Panorama audience award.
As previously announced, the festival will open with Lee Isaac Chung's Minari, which won the grand jury prize and audience award when it premiered at Sundance.
There had been uncertainty over the opening and closing films as both Minari and Spring Blossom was originally secured as "cinema-only screenings". But GFF has secured rights to screen nearly all its original selection online as part of its first virtual festival.
"We probably lost one or two films, due to their contractual obligations around theatrical screenings, but we've managed to secure nearly everything that was going to be in the cinema and online so it's pretty close to our original programme," said Gardner.
Announcing the line-up, Gardner said her personal highlights included dystopian drama Apples, from Greek director Christos Nikou; Anders Thomas Jensen's Riders Of Justice, starring Mads Mikkelsen; and Big vs Small, the debut feature of Minna Dufton, which profiles Portugal's first female big wave surfer.
This year's GFF was set to physically screen titles in Glasgow as well as 23 partner cinemas around the UK, but with theatres across much of the UK remaining closed due to lockdown restrictions, festival organisers took the decision to move all activity to its new online platform, Glasgow Film At Home. Many of the virtual screenings will also include filmmaker Q&As, with plans to schedule live-streamed conversations as well as pre-recorded discussions.
Glasgow Film Festival 2021
American Badger, dir. Kirk Caouette
Apples, dir. Christos Nikou
Back To The Wharf, dir. Xiaofeng Li
Big vs Small, dir. Minna Dufton
Black Bear, dir. Lawrence Michael Levine
A Brixton Tale, dirs. Darragh Carey, Bertrand Desrochers (World premiere)
Castro's Spies, dirs. Ollie Aslin, Gary Lennon
City Hall, dir. Fred Wiseman
Cowboys, dir. Anna Kerrigan
Creation Stories, dir. Nick Moran
Da Capo, dir. Chan-yang Shim
Dreams On Fire, dir. Philippe McKie (World premiere)
Enemies Of The State, dir. Sonia Kennebeck
Eye Of The Storm, dir. Anthony Baxter (World premiere)
Father, dir. Srdan Golubovic
Gagarine, dirs. Fanny Liatard, Jérémy Trouilh
Handsome, dir. Luke White (World premiere)
In The Shadows, dir. Erdem Tepegöz
Iorram (Boat Song), dir. Alastair Cole
Jumbo, dir. Zoé Wittock
Killing Escobar, dir. David Whitney
The Last Ones, dir. Veiko Õunpuu
Limbo, dir. Ben Sharrock
The Man Standing Next, dir. Min-ho Woo
The Mauritanian, dir. Kevin Macdonald
Mekong 2030, dir. Anysay Keola, Sai Naw Kham, Pham Ngoc Lan, Kulikar Sotho, Anocha Suwichakornpong
Minari, dir. Lee Isaac Chung (Opening film)
Murmur, dir. Heather Young
My Favourite War, dir. Ilze Burkovska Jacobsen
My Wonderful Wanda, dir. Bettina Oberli
The Old Ways, dir. Christopher Alender
Our Midnight, dir. Jung-eun Lim
Out Of This World, dir. Marc Fouchard
Poly Styrene: I Am A Cliché, dirs. Celeste Bell, Paul Sng (World premiere)
Poppy Field, dir. Eugen Jebeleanu
Preparations To Be Together For An Unknown Period Of Time, dir. Lili Horvát
Redemptions Of A Rogue, dir. Philip Doherty
Riders Of Justice, dir. Anders Thomas Jensen
Rosa's Wedding, dir. Icíar Bollaín
Run Hide Fight, dir. Kyle Rankin
Shorta, dirs. Anders Ølholm, Frederik Louis Hviid
Spring Blossom, dir. Suzanne Lindon (closing film)
Spring Tide, dir. Yang Lina
Steelers: The World's First Gay Rugby Club, dir. Eammon Ashton-Atkinson
Surge, dir. Aneil Karia
Sweetheart, dir. Marley Morrison (World premiere)
The Swordsman, dir. Jae-Hoon Choi
There Is No Evil, dir. Mohammad Rasoulof
The Toll, dir. Ryan Andrew Hooper
Truman & Tennessee: An Intimate Conversation, dir. Lisa Immordino Vreeland
Underdogs, dir. Chino Moya
Underplayed, dir. Stacey Lee
Vicious Fun, dir. Cody Calahan
Victim(s), dir. Layla Zhuqing
Voices Of Silence, dir. Eui-jeong Hong
Wildland, dir. Jeanette Nordahl
The Woman With Leopard Shoes, dir. Alexis Bruchon
Yer Old Faither, dir. Heather Croall