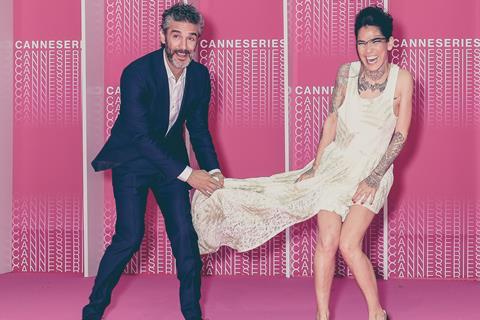 High-end drama was in the spotlight at Cannes' Palais des Festivals on Sunday (April 8), with 10 new series playing throughout the day in the Lumière and Debussy theatres, traditionally associated with film premieres.
The morning saw the kick-off of the competition screenings of fledgling TV drama-focused festival Canneseries, while sister event MIPTV also showcased six work-in-progress series in a pre-market event aimed at buyers in the afternoon.
Spanish director Cesc Gay opened the Canneseries contest with his genre-mixing, tragi-comic thriller Félix, set against the backdrop of the tiny mountain principality of Andorra on the border between Spain and France.
Argentine actor Leonardo Sbaraglia stars in the show as odd-ball writer Félix who falls passionately in love with a Chinese woman, played by Mi Hoa Lee, after a fleeting encounter. (The actors are pictured.)
When she disappears without a trace, Felix intuitively senses something is wrong and turns amateur detective to track her down, in an investigation that will reveal the dark side of the picturesque frontier fiscal paradise.
Gay and his co-stars attended the packed public screening in the Palais's Lumière auditorium and received a warm reception from the youthful, local audience.
'When you make a series, it's completely different.'
The director, whose feature credits include the award-winning comedy-drama Truman starring Ricardo Darin, admitted the transition from cinema to TV was a challenge.
"When you make a film, the audience sits down in a comfortable chair in a cinema theatre, generally watches it the whole way through and then forms an opinion pretty rapidly on whether they liked what they saw," Gay told journalists after the screening.
"When you make a series, it's completely different. The spectator is sitting there with the TV control in their hand and can switch channel at any moment. It's a different relationship with the audience. It's much more fragile, you really have to hook them from the beginning."
Movistar+, the digital platform of Spanish telecom giant Telefonica, backed Félix as part of a high-end original drama production drive. ITV Global Studios Entertainment handles international sales.
The platform released the series in Spain last week where it earned solid reviews, with particular praise for its unusual setting and quirky off-beat protagonist.
Félix is among ten new high-end dramas competing in the inaugural Canneseries – a joint venture between the city of Cannes, MIPTV organisers Reed Midem and French pay-TV giant Canal Plus. Best-selling writer and creator Harlan Coben is presiding over the jury.
Gay was quizzed by journalists about whether he thought it was possible to judge drama series side-by-side and on the basis of just one episode.
"It's a celebration, a party to which we have been invited and we're enjoying it for what it is," he replied. "Clearly a series often develops across a number of episodes so it's hard to be confined to showing just one pilot episode, but that's the dynamic of a festival. It's the first year so let's see how it develops."
The competition came mid-way through the inaugural Canneseries, which launched on Wednesday with the world premiere of the third season of Versailles.
Sunday's competition screenings were preceded by an opening ceremony on Saturday night featuring a preview of Jean-Jacques Annaud's murder-mystery tale The Truth About The Harry Quebert Affair starring Patrick Dempsey and Ben Schnetzer.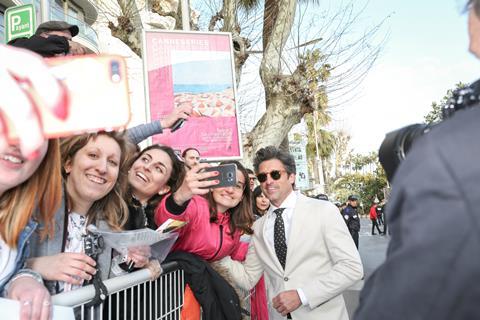 Rather than show one or two episodes, Annaud opted to show an exclusive 40-minute version, offering a panorama of the whole series. He told the 2,000 spectators at the opening evening that he had spent two months preparing the cut, which would then be destroyed.
Other competition highlights include UK director Phoebe Waller-Bridge's buzzed-about Killing Eve starring Sandra Oh as an MI5 agent on the trail of a female killer, which screened on Sunday evening and coincided with its US premiere on BBC America.
The competition line-up also includes the world premieres of Israeli drama When Heros Fly, about a group of ex-Special Forces comrades who reunite to find a missing friend, and German thriller The Typist, about the mother of a missing child who gets a job as a typist in a police homicide department in Berlin.
MIPdrama Buyer Summit
Running alongside the Canneseries programme, aimed at the public and industry, MIPTV ran its third MIPdrama summit on the eve of market's official opening. The increasingly popular event saw some 450 buyers register this year.
Avril Blondelot, head of content insight at Paris-based research company Eurodata TV Worldwide, gave a brief overview of global drama viewing and production trends ahead of the preview screenings.
"We've detected 3,200 upcoming series and the vast majority of them are scripted series," she said.
She highlighted key trends including more compact series out of the US in the 13-episode range; increased exports and ratings for UK shows; growing interest in Scandinavian series out of the US; a move into high-end drama in France by A-list talent previously associated with cinema, the embrace of binge-watching in Russia, and the sustained and growing popularity of costume drama worldwide.
There was not, however, a hoop skirt in sight in the MIPdrama line-up. Instead, Nordic thrillers, strong female protagonists, and terror plot dramas the dominated selection.
Highlights included six-part, UK comedy-drama Cleaning Up starring Bafta-winning actress Sheridan Smith as Sam, an office cleaner working in London's financial district who enters the high-risk world of insider trading.
It is the latest production from hit creator Jane Featherstone's Sister Pictures and was written by Mark Marlow and directed by Lewis Arnold, who also co-developed the storyline.
Buyers at the preview event seemed to warm to the fast-paced drama tapping into the rich and poor sides of London life as well as Sheridan's performance as the sassy, fast-talking Sam.
Many of the other shows were altogether more sombre.
Beta Film previewed Pagan Peak, a thriller set in the Alps between Germany and Austria and loosely inspired by The Bridge. Julia Jentsch plays German detective Ellie who teams up with Austrian counterpart Gedeon, played by Nicholas Ofczarek, to investigate a spate of deadly attacks by a killer with a passion for pagan rituals.
The line-up also included Spanish Goya-winning director Enrique Urbizu's gritty TV debut, Gigantes, billed as a The Godfather-style tale set against the backdrop of the gipsy criminal underworld, and Russian drama Trigger, starring Max Matveev as a maverick psychologist who treats his patients through shock tactics.
The Nordics were also out in force with Helsinki-set thriller Bullets, starring rising Icelandic star Krista Kosonen as an ambitious undercover agent on the trail of a deadly female terrorist, and Finnish, Lapland-set Arctic Circle, about a German virologist and local policewoman battling to take a deadly virus out of criminal hands.
The MIPTV market officially kicks off Monday (April 9) and runs through April 12.