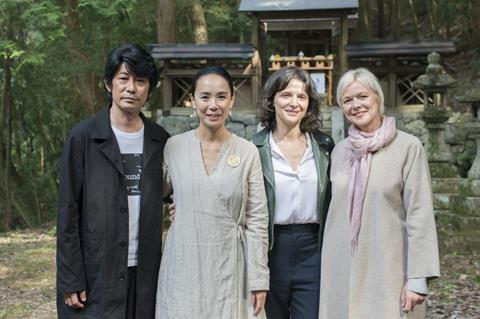 Japanese filmmaker Naomi Kawase has kicked off the shoot of her new feature Vision, starring Juliette Binoche as a journalist on the trail of a rare herb in rural Japan.
Paris-based production company Slot Machine, which is producing the film alongside Kawase's production house Kumie Inc, announced the start of shoot and fresh details on the eve of TIFF.
Wild Bunch is handling international sales and Haut et Court pre-bought French rights.
Like many of Kawase's works, the feature is set in the director's native Nara Prefecture, with the local Yoshino Mountains and forests figuring prominently in the film.
The production will shoot for two and a half weeks in September and then resume in November.
Binoche stars in the film as Jeanne, a journalist tracking a mysterious rare herb that appears only once every 997 years. Further plot details remain under wraps although the producers revealed that Kawase's trademark themes of "nature and the cycle of life" will feature prominently in the work.
The cast also includes Japanese actor Masatoshi Nagase, whose credits include Jim Jarmusch's Mystery Train, Fridrik Thor Fridriksson's Cold Fever and The Hidden Blade.
The project's genesis
Kawase and Binoche first met at an official dinner at the Cannes Film Festival this year, which they were attending for the premieres of Competition contender Radiance and Directors' Fortnight opener Let The Sunshine In respectively.
"The moment I met her, I knew I wanted to work with her," said Kawase. "To me, the character being a foreigner actually doesn't affect the story so much. Nara is my place. I live here and it's where I weave my stories.
"I wanted to work with Juliette, and from that decision all of the pieces fit together into a perfect puzzle. It was only three months from the day I met Juliette to the start of the shoot today."
Speaking from the film set in Nara, Binoche added: "I always loved the sense of space in Naomi's films and the inner search of her characters. Naomi loves filming nature as a deep expression of emotions.
"I've also always wanted to shoot a film in Japan and know more about the country. What I'm living now in Yoshino is a dream come true; I wanted to see small villages, mountains and a sense of traditions which is quite different from the conventions we live under."
Slot Machine founder Marianne Slot – the long-term French co-producer of Lars Von Trier's films including the upcoming The House That Jack Built – has also been instrumental in pulling the project together.
"I met Naomi Kawase several times in Cannes over the last few years and at Cannes 2017 we started talking about future projects together. I appreciate Naomi's work very much, she's a fine artist and a very interesting human being," said Slot.
Slot first worked with Binoche when she produced Malgorzata Szumowska's 2011 film Elles. The pair are also involved in the non-profit film company We Do It Together aimed at TV and film productions which empower women.
"Naomi and Juliette immediately clicked, and there was a sincere commitment from both of them from the start. It's been very special for me witnessing and being part of that process," said Slot.