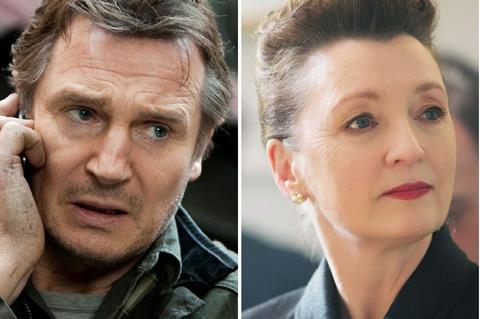 Liam Neeson (Schindler's List) and Lesley Manville (Phantom Thread) are to star in Normal People, a Northern Ireland-set love story based on a script from Irish playwright Owen McCafferty.
Principal photography on the film will start on location in Belfast in early July.
Normal People will be directed by Lisa Barros D'Sa and Glenn Leyburn, who helmed another recent Northern Ireland pic, the punk rock record store feature Good Vibrations.
Produced by Canderblinks Films and Out Of Orbit, CAA arranged financing for the project and is representing domestic distribution rights, with Bankside Films handling worldwide sales.
Brian J. Falconer is producing for Out of Orbit, with David Holmes for Canderblinks Films and Piers Tempest for Tempo Productions.
The film depicts Joan (Manville) and Tom (Neeson), a couple whose long marriage has brought an easy rhythm to their relationship. That balance is disrupted when Joan is diagnosed with breast cancer, and the pair face new challenges as her treatment gets underway.
Holmes commented, "It took me one year to talk Owen McCafferty into writing Normal People and it took him two months two deliver his stunning first draft."
Natascha Wharton for the BFI, Phil Hunt and Compton Ross for Head Gear Films and Stephen Kelliher for Bankside Films will serve as executive producers. Head Gear Films, Northern Ireland Screen and the BFI, which is supporting the film with National Lottery funding, are financing the film. Additional finance is provided by Christopher Reynold's Newcastle upon Tyne based investment vehicle CR67 Limited.