Cash prizes handed out at the Taipei Golden Horse Film Festival NETPAC award and FPP awards.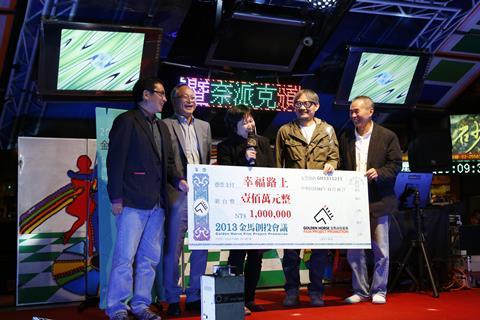 The 2013 Taipei Golden Horse Film Festival held its traditional Night Market Party awards ceremony with Nawapol Thamrongrattanarit's Thai film Mary Is Happy, Mary Is Happy taking the best Asian film prize awarded by the Network for the Promotion of Asian Cinema (NETPAC) last night (Nov 21).
Based on around 400 tweets from a high school girl in Thailand, Mary Is Happy, Mary Is Happy won the award "for its freshness, originality and clarity in molding a structural concept into a cinematic portrait of youth and transcending it with poetry and humor."
Project market awards
The Golden Horse Film Project Promotion (FPP) also handed out a raft of awards with Sung Hsin-Yin's debut animation project On Happiness Road taking the Grand Prize of $33,800 or NT$1m in cash (pictured).
Sung was also named the 2013 Taipei Film Festival's Best Animation award winner.
Centered on a glamorous 36-year-old who returns, with a hidden failure, from the US to her childhood home on Happiness Road in Taiwan, the animation will feature drama, fantasy, comedy and family elements in a portrayal of the Taiwanese dream of happiness in the 1980s.
Sung's was also one of the two projects, along with Liao Ming-Yi's Blue Neck Ring, picked for the Central Pictures Corporation Award which allocates winners up to $16,900 (NT$500,000) in usage of its facilities, shooting equipment and post-production.
Given the Grand Prize with an oversized mock-up of a check for NT$1m at the end of the ceremony, Sung was moved to tears as she went onstage, but recovered nicely as she thanked the fest and Golden Horse Film Festival executive committee chair Hou Hsiao Hsien.
France's Centre National du Cinéma (CNC) awarded the €10,000 CNC Award to Chuang Ching-Shen's Surviving Hai, which also picked up the Arrow and Moneff post-production support awards.
The awards ceremony was rounded off by copious amounts of Taiwanese night market cuisine and auteur director Hou singing two songs onstage as per Golden Horse tradition to start off a series of karaoke performances by prominent Chinese film industry figures.
Full FPP winners list
(title/country/director/producer with family names in caps)
Grand Prize
On Happiness Road (Taiwan) SUNG Hsin-Yin/YEH Ju-Feng & Sylvia FENG & Tien-haw PENG
CNC Cash Award
Surviving Hai (Taiwan) CHUANG Ching-Shen/MA Tien-Tsung & WANG Li-Wen
LAPCC Award
Touch Of Reality (Taiwan) KAO Pin-Chuan/Benjamin LIN
3H Sound Studio Award
Happily Ever After (Hong Kong) Heiward MAK/Heiward MAK
TMPC Award
Schizo (Taiwan) John HSU/ Maxx TSAI
Arrow Award
Surviving Hai
Moneff Award
Surviving Hai
The Post Bangkok Award
The Mind Reader (China) HO Wi-Ding/WU Sisi
Pixelfly Digital Award
Hermaphroditism (Taiwan) LIAO Shih-Han/Aileen LI
Modern Cinema Laboratory Award
The Mind Reader
Silence (Taiwan) CHENG Wen-Tang/CHENG Wen-Tang & James LIU
Central Pictures Corporation Award
On Happiness Road
Blue Neck Ring (Taiwan) LIAO Ming-Yi/Tony YANG