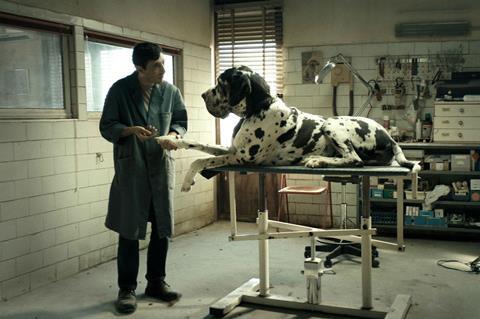 Matteo Garrone's Dogman won nine prizes from 15 nominations at Italy's David di Donatello awards in Rome last night (March 27).
The drama, which first premiered at Cannes, won best picture, best supporting actor, best cinematography and best original screenplay.
Despite winning the prize at Cannes, its star Marcello Fonte missed out in the best actor category to Alessandro Borghi for his performance in Netflix's drama On My Skin, which was eligible for the awards after it was briefly distributed in theatres. Alessio Cremonini's drama based on a notorious real-life police brutality case also won in two other key categories: best debut director and best producer.
Them, Capri Revolution and Call Me By Your Name won two awards each. Sorrentino's Silvio Berlusconi biopic Them (12 nominations) was awarded for its leading actress (Elena Sofia Ricci) and hairstyling. The Mario Martone period drama Capri Revolution (13 nominations) won for its costumes and score. Luca Guadagnino's Call Me By Your Name (12 nominations) picked up prizes for its adapted screenplay (written by Guadagnino with James Ivory and editor Walter Fasano) and for Sufjan Steven's song 'Mystery Of Love'.
Alice Rohrwacher's Cannes Competition title Happy As Lazzaro earned nine nominations but left empty handed, as did another Cannes title, Valeria Golino's Euforia (seven nominations).
There were also no wins for Boys Don't Cry (four nominations), the debut movie by the D'Innocenzo brothers selected by the Panorama section at the Berlinale, and for The Leisure Seeker (one nomination), Paolo Virzì's comedy starring Donald Sutherland and Helen Mirren that premiered in Venice.
Dogman is produced by Garrone's own Archimede and Le Pacte, together with Rai Cinema. It grossed $2.9m in Italy via 01 Distribution.
On My Skin is produced by Cinemaundici and Lucky Red and premiered in Venice amid moderate protests from exhibitors as it was bought by Netflix. Only a few Italian exihibitors bucked the trend to screen it making its total gross of $577,000 quite remarkable. All of the film's winners thanked Netflix from the stage last night, including leading Italian industry figure figure Andrea Occhipinti, the CEO of Lucky Red.
New management
This was the first edition of the Davids under the aegis of former Rome Film Festival president Piera Detassis, the first woman in the positiion. During the ceremony she gave a speech briefly explaining the major changes she has introduced to the 1,500-strong voting body, including inviting in many new members and creating a more balanced gender representation. She underlined this is the first time two women (Alice Rohrwacher and Valeria Golino) were nominated in both the best film and best director categories. However, neither won.
A new prize for the most popular film - awarded to the Italian picture with the highest number of admissions – went to Gabriele Muccino's There Is No Place Like Home, which garnered 1.4m admissions.
The lifetime achievement awards went to Dario Argento, who had never won a David before, Tim Burton and Uma Thurman. Alfonso Cuaron was also in attendance to collect the best foreign film award for ROMA.