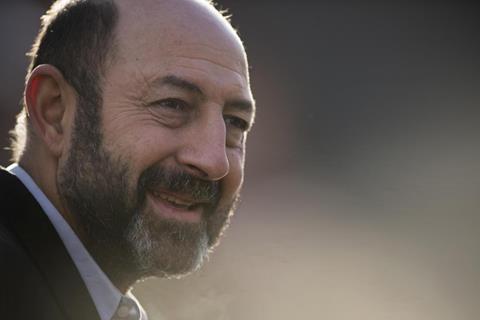 Paris-based mk2 films will kick off sales this AFM on Emmanuel Courcol's French comedy The Big Hit starring Kad Merad as a struggling actor, running theatre workshops in a local prison, who takes a rag-tag troupe of convicts on tour with a performance of Samuel Beckett's famous play Waiting for Godot.
Agat Films is lead producing with actor-director Dany Boon on board as a co-producer through his company Les Productions du Ch'timi. Memento Films has taken French rights.
Merad, who is best known internationally for his role in Boon's historic 2008 hit Welcome To The Sticks and the Amazon-acquired French political drama Baron Noir, is joined in the cast by Marina Hands as the prison warden and Laurent Stocker as a close friend.
Courcol also wrote the screenplay to the film which is now shooting and is aiming for a 2020 delivery. Thierry de Carbonnières and writer Khaled Amara (Biz In The Hood) take co-writing credits.
The story is inspired by true events in Sweden in 1985, when Swedish actor Jan Jönson tried to stage a public performance of Waiting For Godot with a group of inmates from a high security prison in the historic Gothenburg City Theatre.
The premiere had to be cancelled when the actors escaped. Samuel Beckett himself commented in the news: "That's the best thing that happened to this play since I wrote it!". Courcol has transposed the tale to contemporary France in a retelling approved by Jönson.
"The true events the script is based on are clearly quite extraordinary," said Juliette Schrameck, managing director of mk2 films.
Courcol is riding high on the French box office success of rural drama In The Name Of The Land, starring Guillaume Canet and Anthony Bajon, which he co-wrote with director Edouard Bergeon. It has garnered 1.6m admissions since its release on September 25, equivalent to a box-office gross of roughly $11.8m. His further notable co-writing credits include Philippe Loiret's Calais-set refugee drama Welcome.
The Big Hit will be his second feature in the director's chair after the 2016 drama Ceasefire, starring Romain Duris as a traumatised World War One veteran trying to rebuild his life It premiered on the Piazza Grande in Locarno.
Further titles on the mk2 films AFM slate include feature documentaries Helmut Newton: The Bad And The Beautiful and Birds Of America, for which there are new promos.
The company will also market screen US director Danielle Lessovitz's transgender romance Port Authority which premiered in Cannes Un Certain Regard.