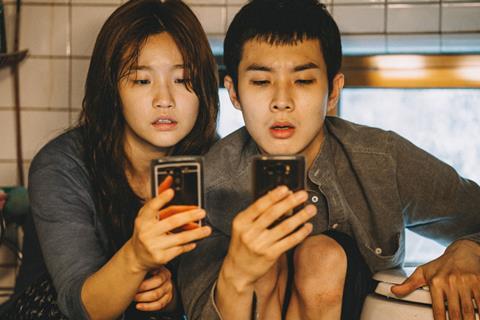 Bong Joon Ho's Parasite picked up four prizes including best film at the 13th annual EDA Awards, voted for by the Alliance of Women Film Journalists (AWFJ).
Scroll down for full list of winners
The South Korean drama also won best director, best original screenplay and best non-English language film.
Greta Gerwig's Little Women picked up five awards including best ensemble cast, which honoured casting directors Kathy Driscoll and Francine Maisler.
Gerwig was recognised for best adapted screenplay and best woman screenwriter, while star Florence Pugh won best supporting actress and best breakthrough performance, also citing her roles in Midsommar and Fighting With My Family.
Lupita Nyong'o won best actress for her dual roles in Us while Adam Driver picked up best actor for Marriage Story. Brad Pitt added to his recent Golden Globe win with an award for best supporting actor in Once Upon A Time… In Hollywood.
Ava DuVernay won outstanding achievement by a woman in the film industry for creating ARRAY – a non-profit collective founded in 2010 to distribute films by people of colour and women filmmakers – and championing women in film.
It is the second time the filmmaker has won the award after being honoured by the AWFJ in 2017. The organisation also named DuVernay as their female icon of the year in 2015.
In the EDA special mention categories, The Farewell's Zhao Shuzhen was named actress defying age and ageism while Aisling Franciosi won bravest performance for her role in Jennifer Kent's The Nightingale.
The EDAs are named in honour of AWFJ founder Jennifer Merin's mother, Eda Reiss Merin, a stage, film and television actress whose career spanned more than 60 years. The AWFJ also use it as an acronym for Excellent Dynamic Activism.
2019 EDA Award Winners
AWFJ Best of Awards
Best Film: Parasite
Best Director: Bong Joon-ho, Parasite
Best Screenplay, Original: Parasite, Bong Joon-ho
Best Screenplay, Adapted: Little Women, Greta Gerwig
Best Documentary: Apollo 11
Best Animated Film: I Lost My Body
Best Actress: Lupita Nyong'o, Us
Best Actress in a Supporting Role: Florence Pugh, Little Women
Best Actor: Adam Driver, Marriage Story
Best Actor in a Supporting Role: Brad Pitt, Once Upon A Time… In Hollywood
Best Ensemble Cast - Casting Director: Little Women, Kathy Driscoll and Francine Maisler
Best Cinematography: 1917, Roger Deakins
Best Editing: The Irishman, Thelma Schoonmaker
Best Non-English Language Film: Parasite
EDA Female Focus Awards
Best Woman Director: Celine Sciamma, Portrait Of A Lady On Fire
Best Woman Screenwriter: Greta Gerwig, Little Women
Best Animated Female: Bo Peep, Annie Potts in Toy Story 4
Best Breakthrough Performance: Florence Pugh, Midsommar, Little Women and Fighting With My Family
Outstanding Achievement by a Woman in the Film Industry: Ava DuVernay for creating ARRAY and championing women in film.
EDA Special Mention Awards
Actress Defying Age and Ageism: Zhao Shuzhen, The Farewell
Bravest Performance: Aisling Franciosi, The Nightingale
Actress Most in Need of a New Agent: Anne Hathaway, The Hustle and Serenity
Most Egregious Lovers' Age Difference Award: The Public - Emilio Estevez (57) and Taylor Schilling (35)
Remake or Sequel That Shouldn't Have Been Made: Charlie's Angels
AWFJ Hall of Shame Award: HFPA for excluding women nominees in major Golden Globes categories