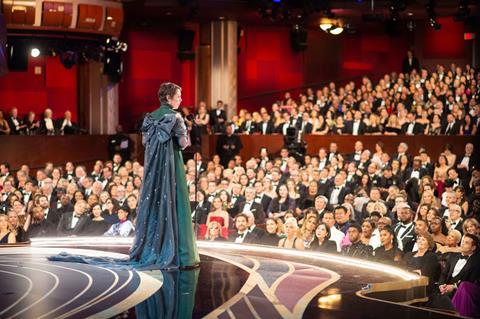 A typically eccentric display from raspberry-blowing best actress winner Olivia Colman was among the highlights of acceptance speeches at Sunday's (24) 91st Academy Awards in Hollywood.
The star of The Favourite delighted the audience at the Dolby Theatre with her flabbergasted gratitude, while ROMA creator Alfonso Cuaron paid elegant praise to his collaborators, and best song co-writer Lady Gaga and Black Panther production designer Hannah Beachler were overcome with emotion.
Below are some of the highlights from the acceptance speeches.
Olivia Colman, lead actress, The Favourite: "It's genuinely quite stressful. This is hilarious. Got an Oscar. I have to thank lots of people. If by the way I forget anybody, I'm going to find you later and I'm going to give you all a massive snog and I'm really sorry if I might forget now. Yorgos, my best director, in the best film and with Emma [Stone] and Rachel [Weisz], the two loveliest women in the world to fall in love with and to go to work with every day. I mean, you can imagine, it wasn't a hardship. And to be in this category with these extraordinary women. And Glenn Close, you've been my idol for so long and this is not how I wanted it to be." (Colman blew a raspberry when she was told to wrap up.)
Regina King, supporting actress, If Beale Street Could Talk: "James Baldwin birthed this baby and Barry [Jenkins], you nurtured her, you surrounded her with so much love and support, so it's appropriate for me to be standing here because I'm an example of what it looks like when support and love is poured into someone. Mom, I love you so much. Thank you for teaching me that God is always leaning, always has been leaning in my direction. G'moses, they'll ask me about this later."
Ruth E. Carter, costume design, Black Panther: "Marvel may have created the first black superhero but through costume design, we turned him into an African king. It's been my life's honour to create costumes. Thank you to the Academy. Thank you for honouring African royalty and the empowered way women can look and lead on screen." Carter also thanked "our genius director, Ryan Coogler."
Alfonso Cuaron, cinematography, ROMA: "If this film was created by my own memories, the film was crafted through the memories of what this great [medium] of cinematography has given to us. It is well-known that in Billy Wilder's office there was a sign that said, 'What would Lubitsch have done?' And for me, it was, 'What would Chivo [Emmanuel Lubezki] have done?' So this is for you, too, Chivo."
Hannah Beachler, production design, Black Panther: "I stand here stronger than I was yesterday. I stand here with agency and self-worth because of Ryan Coogler. You not only made me a better designer, a better storyteller, a better person, I stand here because of this man who offered me a different perspective of life, who offered me a safe space, who's patient and gave me air, humanity and brotherhood. Thank you, Ryan. I love you. I am stronger because [of] Marvel, who gave me the opportunity to do my best, who supported the vision of this film, and lifted us up every day. Victoria Alonso, Kevin Feige, Louis D'Esposito, and the man with the best laugh ever, Nate Moore."
Lady Gaga, best song, 'Shallow', from A Star Is Born: "And if you are at home and you're sitting on your couch and you are watching this right now, all I have to say is that this is hard work. I have worked hard for a long time and it's not about, you know, winning, but what it's about is not giving up. If you have a dream, fight for it. If there's a discipline for passion, and it's not about how many times you get rejected or you fall down or you're beaten up. It's about how many times you stand up and are brave and you keep on going."