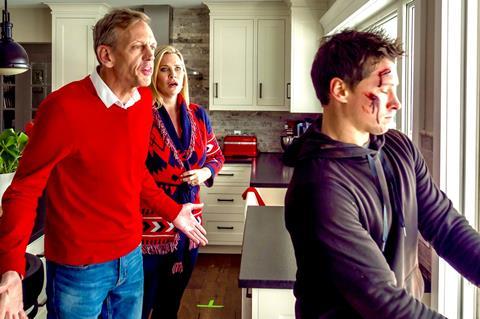 Toronto-based genre label Raven Banner has acquired worldwide sales rights to several titles as it rounds out its EFM sales slate and has picked up Argentinian dark fairy tale To Kill A Dragon, among others.
Jimena Monteoliva directed the film about Elena, a young woman who is reunited with her older brother 25 years after being kidnapped. She tries to adapt to her newfound freedom but remains shackled by the terrors of her past.
To Kill A Dragon premiered at the Morbido Film Festival in Mexico and Raven Banner has launched sales at EFM.
The company has also acquired Skull: The Mask Of Anhanga by Armando Fonseca and Kapel Furman. The action-packed horror film centres on a supernatural serial killer who stalks the streets of São Paulo on a grisly mission fuelled by an artefact of pre-Columbian mythology.
Peter Engert's Penance Lane follows a hardened criminal fresh out of jail who takes a job as a handyman in a dilapidated house. It seems too good to be true until the twisted horrors he finds inside make their presence known. Raven Banner will present the title in association with the US's Level 33 Entertainment.
The company recently boarded world sales excluding Benelux on Belgian zombie horror and SXSW selection Yummy.
Separately, principal photography has begun on bare-knuckle fighting drama The Fight Machine (pictured), which Raven Banner's Andrew Hunt directs based on Canadian author Craig Davidson's (Rust & Bone) novel The Fighter.
Greg Hovanessian and Dempsey Bryk star alongside Natasha Henstridge, Ted Atherton, Noah Danby, Michael Ironside, and Greg Bryk. Hangar 18 Media, the joint partnership between Raven Banner Entertainment and 9 Light Entertainment, produces.
9 Light's Pasha Patriki serves as lead producer, and Raven Banner's Michael Paszt and James Fler are executive producers.