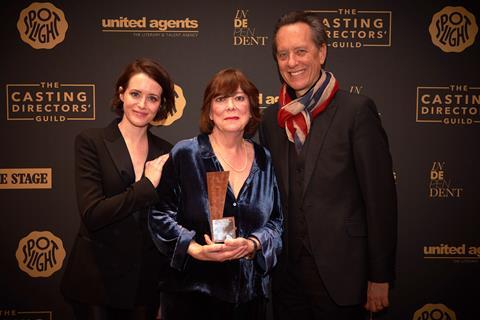 Oscar nominee Richard E. Grant has called on Bafta and the Oscars to introduce best casting categories, saying casting work has been "astonishingly un-celebrated" by the film industry.
"I've wondered whether it's because it's female-dominated that it hasn't been as to the forefront of other awards," Grant told Screen at the inaugural Casting Directors Guild (CDG) awards in London last night (February 12).
"There should be a category for them [at the Baftas and Oscars]. Casting director comes up in the list of credits so far ahead now compared to where it was 10 years ago," he continued. "I genuinely do not understand why there is no category for them in the big awards ceremonies."
Grant's daughter Olivia Grant works as a casting assistant for Lucy Bevan Casting.
He presented the best film casting prize to Debbie McWilliams for Film Stars Don't Die In Liverpool at the awards.
"To be not recognised by the rest of the film industry is soul-destroying," said McWilliams. "We just weren't going to wait any longer, we just decided to do this, and to get the first one is wonderful."
She called on the Baftas and Oscars to "take note", saying casting directors "provide the beating heart of any film."
Casting director Victor Jenkins, chair of the CDG board and awards committee, said "Casting is a crucial part of the creative process and we want to commend not just the alchemy of our craft, but also our unique position within the industry."
"We hope that this is the beginning of wider recognition for casting directors and will lead to the creation of a casting category within other industry ceremonies."
Attended by casting directors, actors, producers and directors from across the entertainment industry, the UK event was created to celebrate the casting achievements in film, TV, theatre and commercials.
McWilliams triumphed in a category against Lucy Bevan (Murder On The Orient Express); David Grindrod, Stephen Crockett and Will Burton (Mamma Mia! Here We Go Again); Julie Harkin (Beast); and Jina Jay (Darkest Hour).
Kate Rhodes James won best casting in a TV production for BBC1's Bodyguard, with further awards for best casting in a theatre production (Paul Wooller, Felicity French and Trevor Jackson for Hamilton) and best casting in a commercial (Michael Cox and Thom Hammond for Cadbury's 'Mum's Birthday').
Charlotte Bevan, director of the creative diversity project at the National Theatre, received the outstanding contribution to the casting profession prize.
Richard Cook received the outstanding contribution to international casting award. Cook is a talent agent and creator of Ireland's Subtitle Film Festival.
UK actor Russell Tovey hosted the event, with presenters including former Screen UK Stars of Tomorrow Claire Foy, Andrew Garfield, Gemma Arterton, Natalie Dormer and Jade Anouka, as well as Sanjeev Bhaskar and Bohemian Rhapsody's Lucy Boynton.