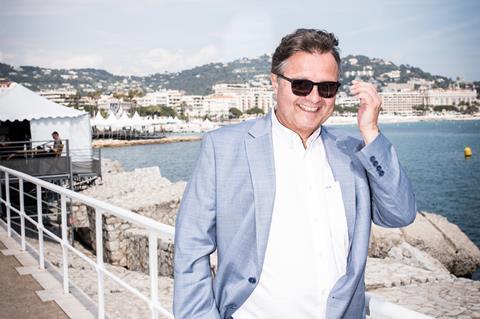 Update: This webinar has now taken place - the on-demand version will be available to watch on Screendaily.com shortly.
Cannes Marché du Film executive director Jérôme Paillard will be in conversation with Screen International editor Matt Mueller in a one-to-one edition of Screen Talks on Wednesday, May 20, at 15.00 BST.
Following the postponement (and eventual cancellation) of the Cannes Film Festival from its original May 12-23 dates, Paillard announced details in mid-April for an online version of Marché du Film to run this year from June 22-26.
Intended to emulate the Cannes market experience for industry professionals, the online market will feature virtual booths and pavilions for sales agents and national film institutions; video meetings for delegates; online screenings across 15 virtual cinemas; and programmes and conferences including Cannes Docs, Cannes XR, Frontieres and Meet The Streamers which will feature industry panels and keynotes.
Paillard and his Marché team have been working feverishly to build the platform for this standalone online market, and he will discuss his vision for this year's event and its usefulness for different industry sectors and participants.
A 30-minute conversation with Paillard will be followed by 30 minutes of live questions from attendees. Questions can also be submitted in advance here.
Paillard has been executive director of the Marché du Film since November 1995. He is also co-director of Ventana Sur, the Buenos Aires-based market specialising in Latin American films, and the founder of industry platform Cinando.
The Screen Talks live Q&A series launched in early April in response to the Covid-19 pandemic as a way to serve the international industry in these challenging times and to explore a full range of urgent conversations across all sectors including production, sales, distribution, exhibition, festivals, talent and more.
All Screen Talks are available to watch on screendaily.com the day after they take place.