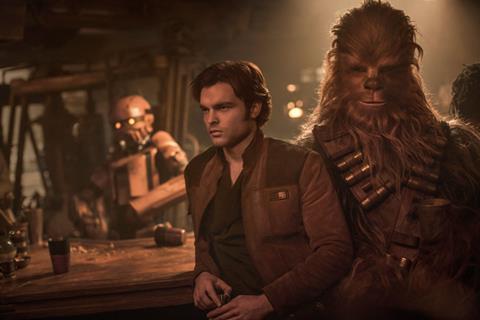 | Rank | Film / Distributor | Weekend Gross (Fri-Sun) | Running Total | Week |
| --- | --- | --- | --- | --- |
| 1 | Solo: A Star Wars Story (Disney) | £4.85m | £7.6m | 1 |
| 2 | Deadpool 2 (20th Century Fox) | £3.8m | £21.8m | 2 |
| 3 | Avengers: Infinity War (Disney) | £1.2m | £66.2m | 5 |
| 4 | Sherlock Gnomes (Paramount) | £687,000 | £4.6m | 3 |
| 5 | Show Dogs (eOne) | £546,406 | £546,406 | 1 |
Today's GBP to USD conversion rate - 1.32
Disney
Solo: A Star Wars Story – Disney's second Star Wars franchise spin-off since its acquired the brand following Rogue One: A Star Wars Story – failed to light up the UK box office this weekend, posting a Fri-Sun total of £4.85m from 684 sites.
That number added to £1.2m from its opening day on Thursday (May 24), with a further £1.55m on the bank holiday Monday (May 28) taking it to a running total of £7.6m.
While the numbers weren't expected to measure up to main franchise entries The Force Awakens and The Last Jedi, which set multiple box office records in their respective runs, the comparison between Solo and Rogue One will make disappointing reading for Disney.
Released in December 2016, Rogue One defied its spin-off status with a four-day opening of £17.3m, while Solo managed just £6.4m – the opening days were £4.09m and £1.55m respectively. Rogue One finished up at £66m in the UK, a figure that Solo isn't likely to get near.
Considering the enduring popularity of the character Han Solo from the original Star Wars films, and the success of Rogue One and the other recent Star Wars titles in the UK, the numbers for Solo will call for the studio to reflect on its approach to the franchise in general.
International figures for Solo were also underwhelming – its $148m global bow puts it way off the franchise pace, and its US and China figures are also poor.
The release date has been questioned, with Solo appearing less than six months after previous Star Wars entry The Last Jedi, leading to many cite possible franchise fatigue. The film's troubled production, which saw original directors Phil Lord and Christopher Miller fired mid-shoot due to "creative differences", and Ron Howard hired to steer the project to fruition, also left a cloud over its release.
Avengers: Infinity War is now on a superb £66.2m after adding £1.2m from the three-day weekend, its fifth weekend on release, and a further £450,000 on the bank holiday.
20th Century Fox
In its second week, Deadpool 2 is now up to £21.8m after adding £4.9m over the four-day UK weekend. By comparison, Deadpool was up to £25.85m at the same point, meaning Fox's sequel is tracking marginally behind the original, which maxed out at £38.1m.
Paramount
In its third week, family animation Sherlock Gnomes is up to £4.6m after adding £687,000 over the weekend and a further £274,000 on the bank holiday.
eOne
Family comedy Show Dogs landed in fifth place in the UK on its opening weekend, posting a non-final £546,406 from 512 sites.
STXinternational
Amy Schumer comedy vehicle I Feel Pretty is now on £4.5m, posting a three-day £278,748 this weekend.
Lionsgate
In its second week, On Chesil Beach added £167,230 from 139 sites. Total is £332,538 including the bank holiday.
Warner Bros
US comedy Life Of The Party added £141,000 over the four-day period and is up to £1.4m to date.
Universal
Breaking In added £81,398 over the weekend and is up to £992,358 from its UK run, while Tully added £12,307 and is now on £543,558.
Arrow Films
Edie opened in 104 cinemas this weekend and took £68,447.
Studiocanal
Feature animation The Breadwinner opened to £79,329 including previews. After the bank holiday, the film is up to £95,361.
Altitude
Mary And The Witch's Flower is now up to £234,575 in the UK.
Vertigo
French thriller Revenge is up to £53,682 in the UK.
Sky Cinema
The second release in Sky Cinema's new day-and-date push, the Clive Owen-starring sci-fi Anon, has grossed £28,072 in the UK to date.