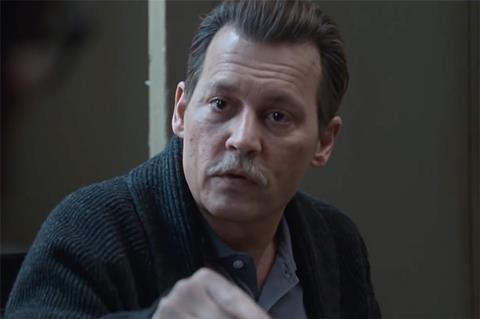 Less than one year after it launched Global Road Entertainment, Tang Media Partners (TMP) is reportedly struggling to raise funds to keep its film and TV venture alive beyond 2018.
Chatter about Global Road intensified after it pulled the release of Johnny Depp crime drama City Of Lies last week, in response to the star's deteriorating public profile, ongoing legal woes, and a tell-all interview with Rolling Stone magazine.
Perhaps of deeper concern will be a report in The Hollywood Reporter claiming that a $200m cash raise that TMP chief Donald Tang hired Moelis & Co. and Morgan Stanley to oversee has not gone as planned.
Screen understands there is sufficient operating capital to service Global Road's 2018 slate, which includes family adventure A.X.L. on August 24, and thriller The Silence on December 7.
"Global Road Entertainment is continuing to pursue fundraising efforts and also identifying additional ways to bring both capital and strategic partners into the fold in support of the studio's plan," said the company in a statement.
"We currently have a slate of films set for release for the second half of the year and expect to begin producing our own product in 2019. The film slate complements our active and robust television business of producing content for both domestic and international partners."
In Cannes, Global Road announced it had acquired North American rights from Studiocanal to Heyday Film's The Secret Garden starring Colin Firth and Julie Walters, which went into production in April in the UK.
The sales division has been quiet on new product, attending every major market since late 2017 without a marquee title. Buyers reacted with skepticism in Berlin when the hierarchy including chairman and CEO Rob Friedman, whom Tang brought on last August, said at a private presentation that they planned to raise $1bn in production funds over the next three years.
There was good news in June however when Blake Lively returned to work on spy thriller and sales title The Rhythm Section after suffering a hand injury on set last December. Paramount has set a February 22 2019 US theatrical release date.
There are a number of TV projects in the pipeline, among them Muscle Shoals at ABC. In January Global Road signed Adam Shankman's Offspring Entertainment to a first-look TV deal.