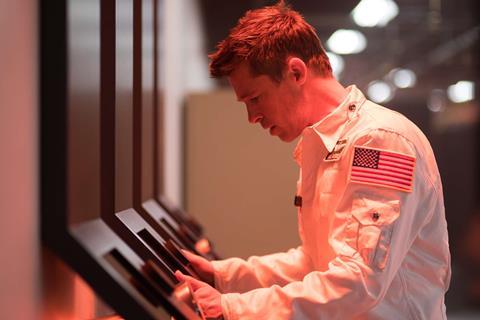 James Gray's astronaut drama Ad Astra starring Brad Pitt will look to hit new heights for the space genre on its first weekend in UK cinemas, released through 20th Century Fox.
The film, which premiered at the Venice Film Festival last month, launched on Wednesday in over 300 venues. It is one of a slew of recent space-themed stories, following on from Damien Chazelle's Neil Armstrong biopic First Man last year, and with Alice Winocour's Proxima starring Eva Green and Shelagh McLeod's Astronaut starring Richard Dreyfus to hit cinemas in the coming months.
Pitt leads the near-future-set Ad Astra as the son of a pioneering astronaut who is tasked with travelling to Mars to try and establish communication with his father, who was previously assumed dead.
First Man started with £2.4m in October 2018, ending on £8m, before going on to four nominations at the 2019 Oscars and one win for best visual effects.
In the same genre, Dogwoof scored a hit with documentary Apollo 11 earlier this year, which took £1.2m after a £325,342 start - a decent result for a documentary in the UK.
For director Gray, his biggest UK release to date is the £1.9m grossed by 2007 crime thriller We Own The Night starring Joaquin Phoenix and Mark Wahlberg. It opened on £441,416.
His most recent title, 2017's The Lost City Of Z, started with £270,916 and ended on £697,497.
Pitt is one of a small group of actors able to bring in an audience. His lengthy and varied career has included hits ranging from 1994's Interview With The Vampire (opened: £2.3m, closed: £10.7m) to the Ocean's series, with 2002 first title Ocean's Eleven scoring the highest gross with a £5.1m opening and £26.5m cume.
Recently, he co-starred with Leonardo DiCaprio in Quentin Tarantino's Once Upon A Time… In Hollywood, which has been a UK box office success, reaching £19.8m after five weeks as of last weekend, and still in the top five.
The good favour for Pitt generated by that film, plus an Ad Astra marketing campaign centred wholly around him, should guarantee a record box office for Gray and could challenge First Man's total.
Also opening this weekend through Lionsgate is Adrian Grunberg's Rambo: Last Blood, in which Sylvester Stallone resumes his role as the titular US Army veteran.
The previous films in the series, which dates all the way back to 1982's First Blood, have proved moderately successful. The highest gross was for 1985's Rambo: First Blood Part 2, which took £6.4m, while 2008's Rambo brought in £3.2m from a £1.2m start.
This is the first of the films to be released through Lionsgate, which pushed the John Wick series to new heights of £10.4m when joining that franchise earlier this year. It will hope Stallone's enduring star power and a lack of genre competition will allow for similar success.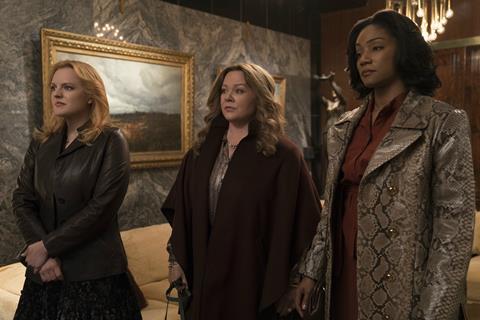 Warner Bros has Andrea Berloff's crime drama The Kitchen starring Melissa McCarthy, Tiffany Haddish and Elisabeth Moss, based on Ollie Masters and Ming Doyle's comic book series of the same name.
The film is Berloff's directorial debut after writing films including 2017 action pic Sleepless starring Jamie Foxx, and 2015 hit Straight Outta Compton.
Both McCarthy and Haddish have proven box-office draw through titles such as 2015's Spy (opened: £2.6m, closed: £10.1m) and 2017's Girls Trip (opened: £1.6m, closed: £9m) respectively, while Moss has mixed high-end TV projects from The Handmaid's Tale and Mad Men with indie performances including 2017's The Square (opened: £221,215, closed: £722,690) and 2015's High-Rise (opened: £542,788, closed: £2m).
Entertainment Film Distribution is hoping The Farewell will be as sucessful as the £2.5m (and growing) and £7.4m generated respectively by Midsommar and Fisherman's Friends this year. Both were released by Entertainment.
Lulu Wang's comedy drama stars Awkwafina as a lady who joins her family in uniting to spend time with the grandmother before she dies. It launched at Sundance in January, before picking up the audience award at the Sundance London offshoot in June.
Nascent UK distributor Anti-Worlds is releasing Best Before Death, Paul Duane's documentary about the world tour of renegade Scottish artist Bill Drummond.
Indian releases this weekend include romantic comedy The Zoya Factor through Twentieth Century Fox, and romance Pal Pal Dil Ke Pass through Zee Studios International.
Key holdovers alongside Once Upon A Time… In Hollywood include Downton Abbey, which started strongly with £5.1m last time out, It: Chapter Two and Hustlers.