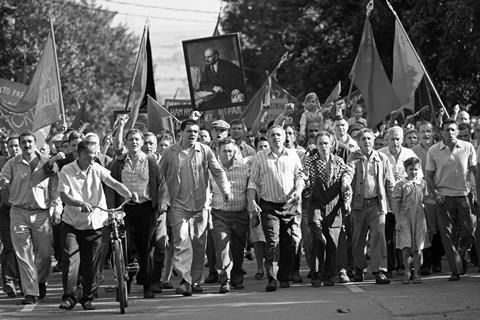 The UK's Curzon Artificial Eye and France's Potemkine Films have acquired Andrei Konchalovsky's Dear Comrades!, in a series of fresh deals by Films Boutique.
The historical drama, which is Russia's Oscar submission and earned a special jury prize at Venice, has also been picked up for Canada (Films We Like) and Japan (New Select).
It follows a recent deal with US distributor Neon, which previously handled the release of Bong Joon Ho's South Korean Oscar-winner Parasite.
Berlin-based international sales outfit Films Boutique previously sold Dear Comrades! to Benelux (Cherry Pickers), the Czech Republic and Slovakia (Film Europe), Greece (Weird Wave), Portugal (Legendmain Filmes), ex-Yugoslavia (MCF Megacom), the Baltics (A-One Films Baltic), Bulgaria (Beta Film Ltd), Scandinavia (Angel Films), Italy (Rai), Spain (Vercine) and Australia and New Zealand (Rialto Distribution).
Russian distributor Walt Disney Studios CIS released the film locally on November 12.
The historical drama centres on the Novocherkassk Massacre of June 1962 during Nikita Khrushchev's rule, when workers were slaughtered for going on strike over rising food prices.
Julia Vysotskaya, Vladislav Komarov, Andrei Gusev, Yulia Burova, and Sergei Erlish star. Konchalovsky co-wrote the screenplay with Elena Kiseleva, and Alisher Usmanov produced.
The veteran Russian auteur, now 83, has been making films in Russia and the west since the early 1960s. He co-wrote Ivan's Childhood (1962) and Andrei Rublev (1969) for legendary Russian director Andrei Tarkovsky, but also directed Hollywood action film Tango And Cash (1989), starring Sylvester Stallone and Kurt Russell, and action thriller Runaway Train (1985), starring Jon Voight, for Cannon.
He directed Sergei Bondarchuk in a version of Uncle Vanya (1970) made for Soviet state film body Mosfilm and worked with Julie Andrews on Duet For One (1986).
Konchalovsky's recent credits include Michelangelo biopic Sin; Venice Silver Bear winner Paradise; and The Postman's White Knights, for which he won the best director Silver Bear at Venice in 2014.