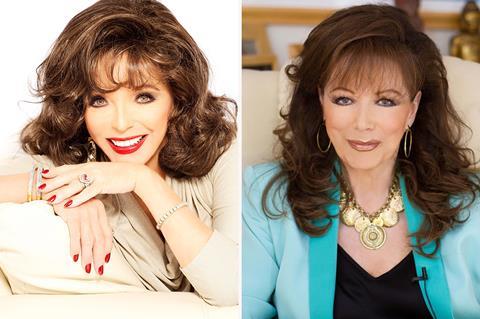 UK-based Stan & Ollie production company Fable Pictures has secured the TV rights to tell the story of actress Joan Collins and her late sister, the bestselling novelist Jackie Collins.
The six-hour series will be distributed globally by Sony Pictures Television which owns a minority stake in Fable.
It will be executive produced by Caroline Harvey, Faye Ward , Hannah Farrell, and Sally Greene. UK playwright Penelope Skinner, whose credits include The Village Bike and Linda, is writing the series. Casting director Nina is casting the producton.
Fable Pictures is spearheaded by Faye Ward and Hannah Farrell with backing from Sony Pictures Television. Their first feature, Tom Harper's Wild Rose, premiered in Toronto last year, with their second, Jon S Baird's Stan & Ollie, earning three Bata nominations.
Upcoming Fable projects include Sarah Gavron's untitled next film and mini-series Saint Mazie starring Helena Bonham Carter.
Fable Pictures was formed in 2016 by Ward, after several years working alongside Alison Owen at Ruby Films. Her credits there included Cary Fukunaga's Jane Eyre and Sarah Gavron's Suffragette. Ward also produced The Crown.
Executive producer Caroline Harvey was previously head of development at Anthony Minghella and Sydney Pollack's production company, Mirage Enterprises and was Bafta-nominated for producing Sam Taylor-Johnson's, Love You More, before going on to be a creative executive at Working Title.