Word of mouth is building around the titles close to securing a competition slot at the Venice Film Festival next month. The buzz is dominated by films by male directors, with films by female directors looking to be heading for the sidebars. But the announcement is not due until July 25 and there is still time for this to change.

The festival was criticised for only selecting one film by a female director in competition for 2018, Jennifer Kent's The Nightingale. Lucretia Martel has been appointed jury president this year, only the seventh woman to head the Venice jury in its history.
It was announced this week that The Truth, the new film by Japanese Palme d'Or winner Hirokazu Kore-eda starring Catherine Deneuve, Juliette Binoche and Ludivine Sagnier, will open the festival and play in competition.
At present, firm favourites to join it include James Gray's sci-fi Ad Astra, starring Brad Pitt, Roman Polanski's French-language An Officer And A Spy, based on the 1895 Dreyfus Affair, John Crowley's Donna Tartt adaptation The Goldfinch starring Nicole Kidman, and Noah Baumbach's untitled comedy drama about a divorcing couple starring Scarlett Johansson, Adam Driver and Laura Dern. Netflix has worldwide rights to the latter on which the word is it is one of Baumbach's best.
Warner Bros is releasing The Goldfinch in the US on September 13 and Disney has set a September 20 release date for Ad Astra, a Fox import, so autumn festival berths seems assured.
An Officer And A Spy stars Emmanuelle Seignier and Jean Dujardin and is based on the novel by Robert Harris who has also written the screenplay. Playtime is handling international rights to the Franco-Italian collaboration to which Rai Cinema has Italian rights.
US contenders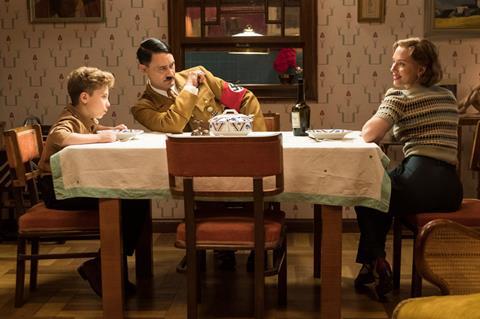 Baumbach's untitled film is one of a handful of prestige US films from Netflix that could be heading to Venice. Two in particular seem most likely: Steven Soderbergh's Panama Papers drama The Laundromat with Gary Oldman and Meryl Streep, and Fernando Meirelles' The Pope, which stars Jonathan Pryce as Pope Francis and Anthony Hopkins as Pope Benedict.
Sources say Netflix's The Irishman is highly unlikely to be ready for Venice. A New York Film Festival berth could be on the cards as that event kicks off on September 27. It also looks as if Dee Rees' The Last Thing He Wanted will not debut in Venice.
Taika Waititi's Adolf Hitler satire Jojo Rabbit is likely to premiere on the Lido and opens via Fox Searchlight in the US on October 18. Two other Searchlight titles could make it to Venice as speculation mounts over a possible appearance by Wendy, Benh Zeitlin's fantasy follow-up to his 2012 sensation Beasts of The Southern Wild, and Chloé Zhao's Nomadland with Frances McDormand.
A slot for Zhao would boost Venice's credentials as a champion of female filmmakers, however another US auteur is regarded as a longshot and Kelly Reichardt's First Cow may not be ready in time. Similarly, Little Women from Greta Gerwig, who it emerged this week will co-write Barbie with Baumbach and may direct the feature for Warner Bros with Margot Robbie set to star will almost certainly not be done in time for the trip to Italy. Columbia Pictures has set a December 25 release date. The Safdie brothers' Uncut Gems is also deemed unlikely to be ready for Venice.
The Italian contingent
Venice regular Mario Martone could return to the competition for the sixth time with The Mayor Of Rione Sanità (Il Sindaco Del Rione Sanità), a comedy based on a play from renowned Neapolitan playwright and actor Eduardo De Filippo. The film is produced by Indigo and Rai Cinema and sales are handled by True Colours.
Also in the running is Giorgio Diritti's Hidden Away, starring Elio Germano as the 20th century painter Antonio Ligabue.
A third Italian film in competition could be the much-anticipated Martin Eden by Pietro Marcello. The film is a loose adaptation of the Jack London novel of the same name about an uneducated man struggling to elevate himself and become a writer. Luca Marinelli stars and The Match Factory co-produced and is handing international sales.
Carlo Sironi's debut film Sole could find a berth in Horizons. It was developed at TorinoFilmLab and is a co-production between Poland's Lava Films and Rai Cinema and Italy's Kino Produzioni, and is being sold by LuxBox.
Venice Days could see the world premieres of gangster noir 5 Is The Perfect Number, the debut film by Italian comic writer Igort and starring Toni Servillo, to which Playtime has international rights, and Stefano Cipani's My Brother Chases Dinosaurs, a family drama starring Alessandro Gassman and Rossy De Palma.
Frontrunners from around the world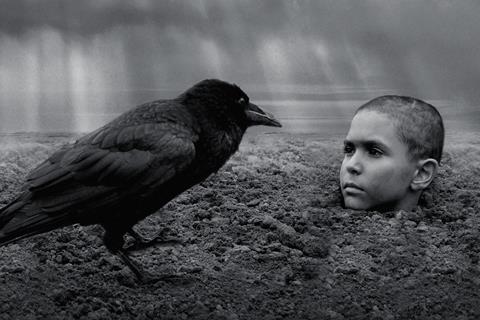 In addition to the Polanski, French titles being talked about include Venice habitue Philippe Garrel's Le Sel Des Larmes, about a young man making his way in the world starring newcomer Logann Antuofermo and sold by Wild Bunch, Emmanuel Carrere's Between Two Worlds, starring Juliette Binoche (handled by France Televisions) and Olivier Assayas' spy drama Wasp Network.
The latter is about a group of Cuban spies sent to the US in the 1990s to infiltrate anti-Castro terror groups based in Florida. Penelope Cruz and Wagner Moura star and Orange Studio is handling rights.
Paris-based Playtime is handling two further potential Venice premieres: Atom Egoyan's Guest Of Honour and The Breitner Commando, the directorial debut of A Prophet writer Abdel Raouf Dafri.
Alice Winocour's Proxima, starring Eva Green and Matt Dillon, is one of the few films by women directors firmly in the competition conversation. The English-language drama about an astronaut (played by Green) and her preparation for a year at the International Space Station, is being handled by Pathe.
Czech director Vaclav Marhoul's long-gestating Holocaust drama The Painted Bird, starring Stellan Skarsgard, Harvey Keitel, Barry Pepper, Julian Sands, may finally be ready for the Lido.
And fingers are being crossed Chilean auteur Pablo Larrain will have his new film Ema ready in time for a Venice launch. The adoption drama stars Gael Garcia Bernal with newcomer Mariana Di Girolamo and Netflix has international rights. Another feature from Chile that could be on its way is Sebastian Muńoz's homoerotic prison drama The Prince (El Principe).
Argentinian possibilities include Ana Garcia Blaya's highly regarded family drama The Good Intentions (Las Buenas Intenciones), which went through the Ventana Sur Primer Corte works in progress sidebar in 2018. A further potential selection from the territory is The Sleepwalkers (Los Sonámbulos) by Paula Hernandez.
From Colombia, Dog Eat Dog and All Your Dead Ones director Carlos Moreno's thriller Dogwashers (Lavaperros) from Diego Ramirez's 64-A Films, and documentarian Nicolas Rincon Guille's narrative feature debut Valley Of Souls (Tantas Almas), about a fisherman whose sons are murdered by guerrillas, are also understood to be in the mix.
Saturday Fiction by China's Lou Ye, starring Gong Li and Tom Wlaschiha could also make the cut.
UK tips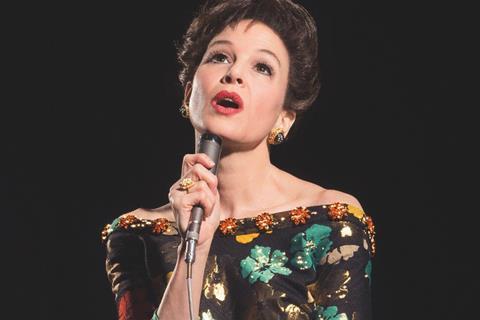 Of the UK titles in the running for a Venice competition slot, Justin Kurzel's UK-Australia crime drama The True History Of The Kelly Gang, is one of the strongest contenders, along with Francois Girard's The Song Of Names, starring Clive Owen and Tim Roth and Tom Harper's Aeronauts, with Felicity Jones, Eddie Redmayne and Himesh Patel.
Rupert Goold's Judy Garland biopic Judy, starring Renée Zellweger seems assured to make an appearance in the North American festivals but is also part of the Venice conversation.
Rare Beasts, the directing debut of actress Billie Piper with Lily James and David Thewlis and Peter Mackie Burns' second feature Rialto, featuring Tom Vaughan-Lawlor and Tom Glynn-Carney, could also both debut in Venice sidebars.
Out of competition
Insiders are expecting an out-of-competition appearance by Warner Bros' Joker. The studio dropped its first trailer at CinemaCon last April and the Joaquin Phoenix super-villain origins story looks left-field to say the least. Warner Bros has solid recent history at Venice after launching A Star Is Born on the Lido last year.
Rambo: Last Blood (Lionsgate holds US rights) is a long shot but could be another selection to give Alberto Barbera more Hollywood star power on the red carpet. Sylvester Stallone stars and gave a presentation to buyers in Cannes. Joker and Rambo: Last Blood are scheduled to open in the US on October 4 and September 20, respectively.
And finally it seems unlikely Barbera would let two-time Golden Lion-winner Ang Lee slip through his fingers, which would see Will Smith on the Lido for Lee's clone thriller Gemini Man.