Ryusuke Hamaguchi's tripartite feature Wheel Of Fortune And Fantasy took the joint lead of Screen's jury grid, recording a strong 3.3 average as the grid nears its conclusion.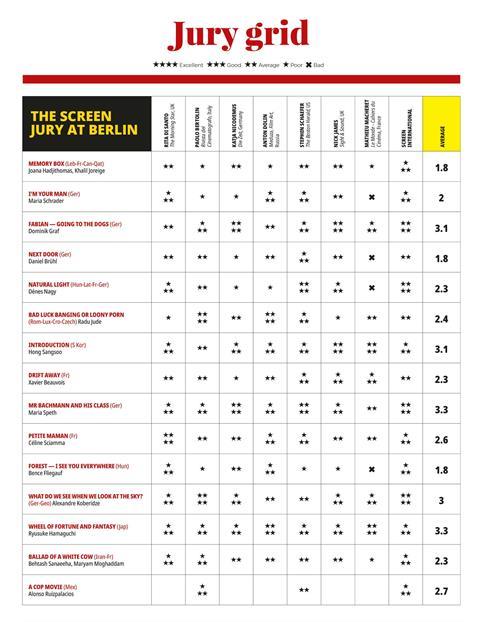 It shares the top spot with Mr Bachmann And His Class, with all films having received their scores bar Alonso Ruizpalacios' A Cop Movie, which has five still to come.
As well as being joint-highest scorer, Wheel… took the most consistent marks on the grid so far.
As well as six threes (good), it took fours (excellent) from Meduza/ Film Art's Anton Dolin and Le Monde/ Cahiers Du Cinéma's Mathieu Macheret.
With a common theme of coincidence and imagination, the film comprises three episodes, involving an unexpected love triangle, a failed seduction trap and an encounter that results from misunderstanding.
Behtash Saneeha and Maryam Moghaddam's Ballad Of A White Cow took mid-range scores for a 2.3 average.
It received three threes, from The Morning Star's Rita Di Santo, Rivista Del Cinematografo's Paolo Bertolin and Screen's own critic, with only a single one (poor) from Macheret.
Moghaddam also stars in the film, about a struggling single mother with a deaf daughter who, on learning that her husband did not commit the crime for which he was executed, battles for a public apology from the magistrates.
Several titles completed their grid scores today: Hong Sangsoo's Introduction ended on 3.1, in joint-second place; Mr Bachmann preserved its joint-first place; while Forest – I See You Everywhere fell to joint bottom of the grid with 1.8.
The grid will finish with Ruizpalacios' police system drama A Cop Movie.