EXCLUSIVE: Jean-Stéphane Sauvaire set to direct Addicted To Violence.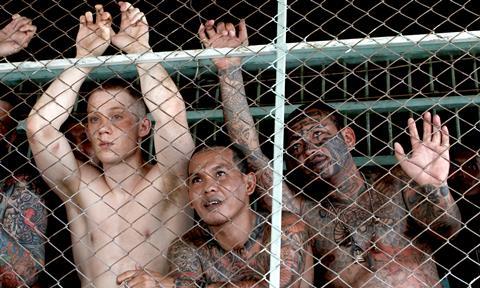 Wild Bunch is unleashing sales on French director Jean-Stéphane Sauvaire's Addicted To Violence, an English-language project about a young photojournalist who develops a deadly obsession with hardcore situations during an assignment in Central America.
It will be Sauvaire's third narrative feature after 2008 debut Johnny Mad Dog, which premiered in Un Certain Regard, and kick-boxing thriller A Prayer Before Dawn [pictured], which bows in Midnight Screenings tonight (May 19) after going down a storm in early Cannes screenings.
"He is the hot new director to sign," commented Wild Bunch head of sales Vincent Maraval.
Wild Bunch is producing and handling world sales in all territories apart from North America, where the project is represented by CAA, which is also financing and casting the film. No actors have been confirmed yet.
Further titles
Wild Bunch is also kicking off sales on Lorenzo Mattotti's The Bears' Famous Invasion Of Sicily, an adaptation of Italian writer Dino Buzzati's children's classic by Jacques Audiard collaborator Thomas Bidegain, Jean-Luc Fromental and Mattotti.
The two titles join previously-announced new additions to the Wild Bunch slate including 90s rave movie Beats, Chinese director Bi Gan's detective drama Long Day's Journey Into Night and Hirokazu Kore-eda's upcoming legal thriller The Third Murder.
The company's sales chief Eva Diederix is reporting strong business on Cannes titles.
Andrey Zvyagintsev's Palme d'Or contender Loveless has sold to Switzerland (Cineworx), Benelux (Lumiere), Spain (Golem), Greece (Seven), Italy (Academy Two), Denmark (Filmbazar), Finland (Atlantic Film), Sweden (TriArt Film), ex-Yugoslavia (MCF), Hungary (Mozinet), airlines (Encore Inflight), Czech Republic (Film Europe), Romania (Independenta), Baltics (Iriku), Poland (Against Gravity), Israel (Shani), Turkey (Bir), Australia (Palace) and Taiwan (Swallow Wings).
Previously announced deals include to Sony Pictures Classics for North and Latin America; Altitude for the UK; Pyramide Films for France; and Wild Bunch Germany. Sony will also release in Russia.
Opening film Ismael's Ghost has been acquired for Benelux (September Film), Switzerland (Xenix), Greece (Seven), Bulgaria (Film Vision), ex-Yugoslavia (MCF), Hungary (Vertigo), Czech Republic (Film Europe), Baltics (Kino Soprus), Poland (kino Swiat), Russia (Russian Report), Israel (Shani), Turkey (Bir) and Morocco (Retinia). Previously announced deals include Magnolia for US and Arrow for UK, as well as to Le Pacte for France where the release coincided with the premiere.