EXCLUSIVE: Team behind Triangle and Detour working on thriller; Dan Films slate includes $2-20m projects.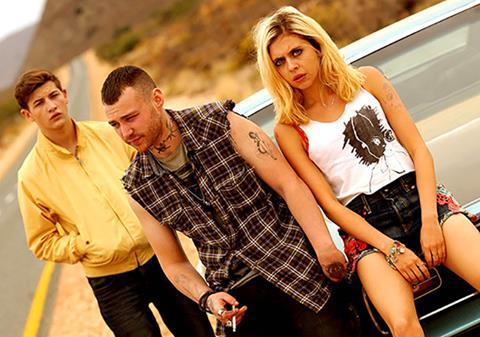 UK director Christopher Smith (Get Santa) is to write and direct thriller The Undertaker for regular collaborator Julie Baines of Dan Films.
Smith is currently writing The Undertaker, which is about a former IRA man living quietly in a remote part of Nova Scotia, Canada. While he is ashamed of his violent past but he is forced to take on one last job - killing a paedophile priest who works at the Vatican.
Backing for the project is set to come from London-based Catalyst Global Media, which will produce alongside Dan Films.
The $15m film is being put together as a co-production and is set to shoot in Canada, Northern Ireland and Italy.
Smith and Baines' latest feature Detour (sold by Bankside and picked up by Magnet for the US in Cannes), starring Tye Sheridan and Bel Powley, has been screening this week at the Neuchâtel International Fantastic Film Festival.
Smith made his name with horror films including Creep, Severance, Triangle and Black Death.
Dan Films slate
The Undertaker is one of a number of new projects in active development on the Dan Films slate.
The company is also producing $2m drama Small Houses, the debut feature as a director from UK actress Clare Holman (Lewis, Heartbeat), who has also scripted the film.
Set in Peckham, London, and Zimbabwe, the film's main character is a Northern Irish woman living in London with her husband. A devout Catholic, she turns to IVF in a bid to conceive a baby. At the IVF clinic, she meets a Zimbabwean refugee. A bond forms between them.
Baines describes it "as a story of displaced people coming together and helping each other to move on." Gbenga Akinnagbe (who co-stars in Detour) is to play the Zimbabwean.
Meanwhile, Baines is pushing ahead with horror picture Bloody London, a single feature length story which is being made by five different directors: Johnny Kevorkian, Tom Shankland, Steven Shiel, Cilla Ware and Paul Hyett. The London-set movie interweaves several twisted tales over a single night.
On the project, five teams of production newcomers will be working alongside seasoned professionals in a bid to foster new skilled crew in the UK. Partners on the film include visual effects and post production house Inky Mind and music studio Metropolis.
Bloody London is intended as first in a franchise. A second film, Tokyo Killstarter, to be set in Japan, is being scripted by writers Jeff Noon and Steve Beard.
Sports drama Over The Bar, about an American football coach hiding out in Ireland who takes over the coaching of a Gaelic football team, is being developed by Dan Films with Deadpan Pictures and the Irish Film Board. It is shortly to attach a director.
The company's $20 million Jacqueline Wilson adaptation Four Kids And It, which will be directed by Andy De Emmony (Love Bite) and will star Michael Caine, Bill Nighy and Matthew Goode, is due to shoot in the autumn.