With special effects credits including Harry Potter, X-Men and Assassin's Creed, the firm is now pushing into animation production.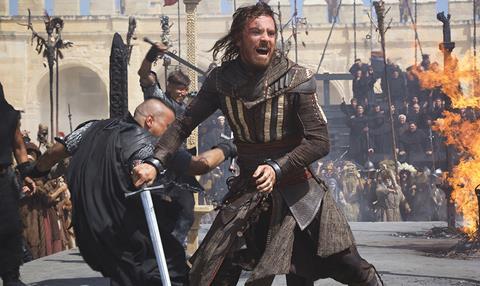 Speaking in Annecy this week, Cinesite's director of animation Eamonn Butler has revealed further details of the first batch of films being made at the VFX house's new animation studio in Montreal and has revealed why the company has taken the step into producing its own material.
Founded in 1991 as part of Kodak, Cinesite - based in London, Montreal and Vancouver - became a fully independent company in 2012.
In response to what Buttler has said is ferocious competition in the VFX field, the company is now diversifying into production of its own animated features.
In 2014, Cinesite was approached by 3QU Media with a proposal for making films together. Butler originally hoped to produce the movies in London but, for cost reasons, has set up the company's production hub in Canada instead.
Butler gave details of four new feature animations which will be made back to back by the same teams.
The company has already finished the main animation on its first feature, Charming, directed and written by Ross Venokur and featuring a voice cast including Avril Lavigne, John Cleese and Demi Lovato.
The film is based around a twist on fairy tale convention that involves all three princesses, Snow White, Cinderella and Sleeping Beauty, becoming engaged to the same man - Prince Charming.
The second film is Gnomes 3D, about a mother and daughter who join up with an army of gnomes to repel the Troggs while the third movie is called Trouble. A fourth film will be announced shortly.
On all four films, the directors are on the floor with the artists in the studio in Montreal - and they are not making the films "long distance."
Alongside the slate of four in-house animated features, Cinesite is also co-produding another new animated feature, Klaus, from writer-director Sergio Pablos. The film is a Christmas story about a lonely young postman in the frozen north of Scandinavia who ends up paving the way for Santa Claus.
Butler described Cinesite's "soup to nuts" approach to its feature animation, meaning it will oversee every aspect of the films from earliest development to editing.
In VFX, Butler argued, artists are not given the full creative credit for their work. "Also, in VFX, you don't really have a massive say on story, you're adding stuff to images that have already been shot, which they've commissioned you to do but you never really get close to the editor, the director, or those behind the story. In animation, you can."
Butler is promising innovative distribution strategies for the new films. "The word on the street with feature animation and development is stay away from North American distribution," he said. The Cinesite exec even floated the idea that the films might embrace a VOD release strategy. "There is a very old system in place for theatrical distribution that is completely and utterly one-sided," he said. "We are seriously looking at Video on Demand."