Four world premieres among line-up.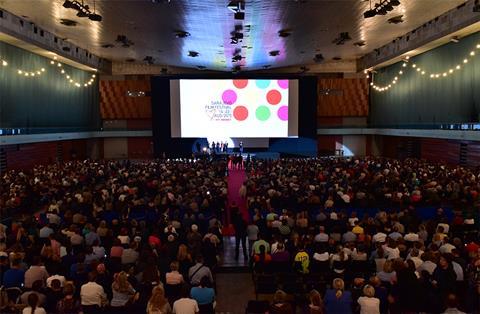 Sarajevo Film Festival (Aug 12-20) has revealed the documentary films that will play in competition at its 22nd edition.
The programme consists of 21 films that examine issues ranging from personal identity, national identity, emigration and social justice to family secrets, political mysteries and economical crises.
COMPETITION PROGRAMME – DOCUMENTARY FILM
WORLD PREMIERES
BORDERS
Slovenia, 2016, 10 min.
Director: Damjan Kozole
THE HEART OF WOOD / SRCE OD DRVETA
Bosnia and Herzegovina, 2016, 36 min.
Director: Namik Kabil
SCREAM FOR ME SARAJEVO
Bosnia and Herzegovina, 2016, 100 min.
Director: Tarik Hodžić
SVETLANA
Bosnia and Herzegovina, 2016, 25 min.
Director: Pero Pavlovic
INTERNATIONAL PREMIERES
BAGLAR
Turkey, 2016, 81 min.
Director: Berke Bas, Melis Birder
THE BEAST IS STILL ALIVE
Bulgaria, 2016, 91 min.
Director: Mina Mileva, Vesela Kazakova
DOWN THERE / UNTEN
Austria, 2016, 87 min.
Director: Đorđe Čenić, Hermann Peseckas
DRUMS OF RESISTANCE / DAULLET E REZISTENCËS
Kosovo, 2016, 65 min.
Director: Mathieu Jouffre
FOUR PASSPORTS / ČETIRI PASOŠA
Serbia, Croatia, Germany, 2016, 83 min.
Director: Mihajlo Jevtić
ISLANDS OF FORGOTTEN CINEMAS / KINO OTOK
Croatia, 2016, 35 min.
Director: Ivan Ramljak
A TWO WAY MIRROR / IZA LICA ZRCALA
Croatia, 2016, 42 min.
Director: Katarina Zrinka Matijević
WALL OF DEATH, AND ALL THAT / ZID SMRTI, I TAKO TO
Serbia, Croatia, 2016, 62 min.
Director: Mladen Kovačević
REGIONAL PREMIERES
THE DAZZLING LIGHT OF SUNSET
Georgia, Germany, 2016, 74 min.
Director: Salome Jashi
NEXT STOP: UTOPIA / EPOMENOS STATHMOS: OYTOPIA
Greece, 2016, 91 min.
Director: Apostolos Karakasis
MY OWN PRIVATE WAR
Bosnia and Herzegovina, Netherlands, 2016, 57 min.
Director: Lidija Zelović
KORIDA
Austria, 2016, 87 min.
Director: Siniša Vidović
CINEMA, MON AMOUR
Romania, Czech Republic, 2015, 70 min.
Director: Alexandru Belc
A MERE BREATH / DOAR O RASUFLARE
Romania, 2016, 67 min.
Director: Monica Lazurean-Gorgan
YOUNG WRESTLERS / GENÇ PEHLIVANLAR
Turkey, Netherlands, 2016, 90 min.
Director: Mete Gümürhan
BOSNIAN PREMIERES
DEPTH TWO / DUBINA DVA
Serbia, 2016, 80 min.
Director: Ognjen Glavonić
TRAIN TO ADULTHOOD / REMÉNYVASÚT
Hungary, 2015, 79 min.
Director: Klára Trencsényi