Udita Jhunjhunwala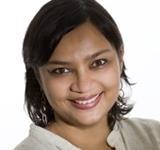 Udita covers India for screen.
Contact Info
Udita Jhunjhunwala
Correspondent (India)
Profiles of projects from the 14th Hong Kong - Asia Film Financing Forum (HAF).

London-based director Anu Menon talks about her second feature Waiting, which is receiving its world premiere in Dubai

Canada's Studio Film Group (SFG) International will co-produce Abhijeet Singh Parmar's debut feature Overcoat, which will be made under the recently signed India-Canada co-production treaty.