Udita Jhunjhunwala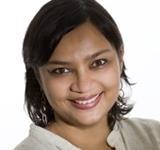 Udita covers India for screen.
Contact Info
Udita Jhunjhunwala
Reporter (India)
Ashim Ahluwalia's Miss Lovely is set for release in India through start-up theatrical distributor Easel Films and Eagle Movies in January 2014.

Guneet Monga's Sikhya Entertainment is producing Amit Kumar's Give Me Blood and Vasan Bala's Side Hero.

Bollywood actor-producer Abhay Deol's i.e. Films is joining forces with Colin Burrows UK-based Special Treats Productions to co-produce Bounty Hunter.