From Blade Runner to new films by George Clooney and Richard Linklater, these are the hottest projects from the US and Latin American to arrive in 2017.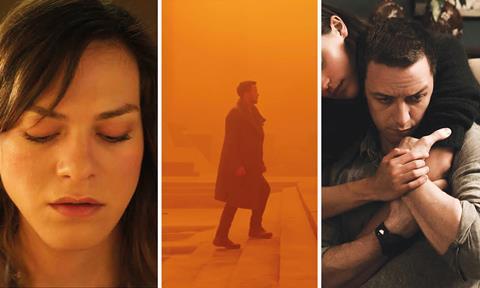 US
Blade Runner 2049
Dir: Denis Villeneuve
Villeneuve directs Alcon Entertainment's sequel to Ridley Scott's 1982 sci-fi classic. Ryan Gosling plays the enigmatic lead, LAPD officer K, while Harrison Ford dusts off his raincoat as replicant hunter Rick Deckard. Warner Bros will release in North America and Sony distributes internationally. The film is set to open on October 6 and a Toronto berth would appear to be in order for the Canadian auteur.
Contact: Sony Pictures International
Annihilation
Dir: Alex Garland
Natalie Portman stars in Garland's much-anticipated directorial follow-up to Ex Machina, about an expedition to a strange region where the laws of nature do not apply. Jennifer Jason Leigh, Oscar Isaac and Westworld's Tessa Thompson round out the key cast on the adaptation of Jeff VanderMeer's novel. Annihilation is produced by DNA Films' Andrew Macdonald and Allon Reich, with Scott Rudin. The executive producers are Eli Bush and Jo Burn.
Contact: Paramount Pictures
The Dinner
Dir: Oren Moverman
Moverman's latest film has already booked a Competition slot in Berlin and explores the lengths to which parents will go to protect their children. A stellar cast features Moverman's Time Out Of Mind star Richard Gere alongside Laura Linney, Rebecca Hall, Chloe Sevigny and Steve Coogan. Based on the bestselling Dutch-language novel by Herman Koch.
Contact: Protagonist Pictures - info@protagonistpictures.com
Downsizing
Dir: Alexander Payne
Payne is in post on this social satire starring Matt Damon, Kristen Wiig, Jason Sudeikis and Christoph Waltz. Paramount Pictures, which distributed Payne's 2013 awards contender Nebraska, holds worldwide rights to the Annapurna Pictures production about a man who opts for a better life by agreeing to shrink himself.
Contact: Paramount Pictures
Labyrinth
Dir: Brad Furman
This crime drama from Good Films stars Johnny Depp as a disgraced Los Angeles detective who teams up with a reporter to solve the murders of hip-hop legends Tupac Shakur and Biggie Smalls. Forest Whitaker co-stars. Furman, Good Films' collaborator on The Infiltrator, directs and shooting began late last year. Open Road will distribute in North America.
Contact: Good Universe - info@good-universe.com
Last Flag Flying
Dir: Richard Linklater
Linklater's latest is financed by Amazon Studios, stars Laurence Fishburne, Steve Carell and Bryan Cranston and is an update of sorts on Hal Ashby's 1973 comedy-drama The Last Detail. Linklater's contemporary narrative involves a soldier wounded in Iraq.
Contact: Detour Filmproduction +1 512 322 0031
Mother
Dir: Darren Aronofsky
Aronofsky's latest directorial outing is reportedly a home-invasion horror movie about a couple whose relationship is tested when uninvited guests come a-knocking. Jennifer Lawrence, Domhnall Gleeson, Ed Harris and Michelle Pfeiffer star in the film.
Contact: Paramount Pictures
Submergence
Dir: Wim Wenders
Alicia Vikander pairs with James McAvoy in a romantic thriller directed by Wenders and co-starring Charlotte Rampling. Submergence is about the memory of a fleeting romance that connects a deep-sea diver and a man held captive by jihadist fighters. UTA packaged the project and is handling US rights.
International contact: Embankment Films - info@embankmentfilms.com US contact: UTA - info@unitedtalent.com
Suburbicon
Dir George Clooney
Clooney directs Matt Damon, Julianne Moore, Josh Brolin and Oscar Isaac in this dark comedy about the horror of suburbia, based on a screenplay by Joel and Ethan Coen. Black Bear Pictures fully financed the film, which sparked the deal of Berlin 2016 when Paramount snapped up US rights for a reported $10m.
Contact: Bloom - info@bloom-media.com
Untitled Paul Thomas Anderson fashion project
Dir: Paul Thomas Anderson
As soon as word got out in Toronto that Anderson was reuniting with his There Will Be Blood star Daniel Day-Lewis, the 2017-18 awards season had its first heavyweight contender. Little is known about the project, save it is set against the backdrop of the 1950s London fashion scene. It is produced by Focus Features and Annapurna Pictures.
Contact: Universal Pictures International
Wonderstruck
Dir: Todd Haynes
Julianne Moore and Michelle Williams co-star in a drama weaving together parallel stories about a boy in the US midwest and a young New York girl 50 years earlier, who share a mysterious connection. Amazon Studios will distribute in the US.
Contact: FilmNation - info@wearefilmnation.com
Latin America
A Fantastic Woman (Chile)
Dir: Sebastian Lelio
Chilean auteur Lelio took part in the Berlinale's Competition in 2013 with Gloria. His follow-up A Fantastic Woman, for Participant Media, Fabula and Komplizen, stars newcomer Daniela Vega as a waitress who moonlights as a nightclub singer when her older boyfriend dies suddenly. Francisco Reyes and Neruda's Luis Gnecco also star.
Contact: Funny Balloons - contact@funny-balloons.com
I Dream In Another Language (Mex)
Dir: Ernesto Contreras
Contreras's Mexican drama is premiering in Sundance and tells of a young linguist who ventures into the jungle in an attempt to connect the last two speakers of an ancient language who have not communicated for half a century. Fernando Alvarez Rebeil, Eligio Melendez, Manuel Poncelis and Fatima Molina star.
Contact: Mundial - cristina_garza@mundialsales.com
Monos (Col)
Dir: Alejandro Landes
Landes directs this Colombian drama about a group of hedonistic and armed teenagers on a remote mountaintop who must do what-ever they can to keep a kidnapped American woman alive. The fun ends when a borrowed cow is accidentally killed. Julianne Nicholson stars.
Contact: Le Pacte - contact@le-pacte.com
A Movie Life (Braz)
Dir: Selton Mello
Vincent Cassel stars in Mello's Brazilian rites-of-passage drama based on Chilean author Antonio Skarmeta's novella A Distant Father. The film takes place in the mountainous Serra Gaucha region in the 1960s.
Contact: Mundial - cristina_garza@mundialsales.com
Zama (Arg)
Dir: Lucrecia Martel
Martel's much anticipated adaptation of the novel by Antonio di Benedetto takes place in the late 18th century. A South America-born officer of the Spanish crown awaits the arrival of a missive declaring the possibility of his returning to his wife and children. The multi-territory co-production was delayed last year when Martel had to leave the project due to personal circumstances.
Contact: The Match Factory - info@matchfactory.de
Profiles by Martin Blaney, Elisabet Cabeza, Melanie Goodfellow, Jeremy Kay, Wendy Mitchell, Gabriele Niola and Silvia Wong