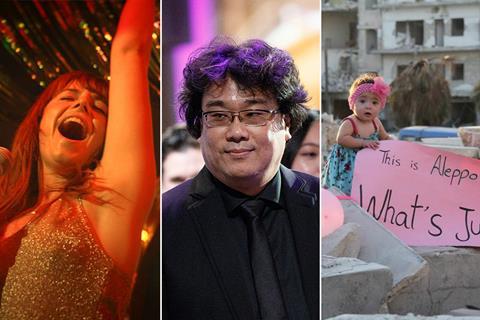 Little? More like invisible women
Not only are there are no female directors nominated in the best director category (or outstanding British film apart from Waad al-Kateab, co-director of documentary For Sama) but the best picture category is dominated by stories about white men. Very few women are on screen at any time in any of those films. Suffice to say, Joker, 1917, Once Upon A Time In…Hollywood, and The Irishman all laugh in the face of the Bechdel Test.
In Once Upon A Time.., Sharon Tate is effectively absent from her own story (curiously Margot Robbie has been nominated for her practically non-speaking role playing Tate, see below), while 1917 (co-written by Screen Star of Tomorrow Krsyty Wilson-Cairns), Joker and The Irishman are almost entirely women-free zones on screen. Only in Parasite are women as relevant to the story as their male counterparts.
Films featuring more than one woman on-screen – or people of colour - including Little Women, Booksmart, Judy, Bombshell and The Farewell do not feature in any of the major categories.
Pointedly, Bafta does not provide figures for the gender or ethnic split of its 6,700 voting film members.
#BAFTAsSoWhite
All four acting categories are solely populated by white actors - Margot Robbie and Scarlett Johansson are even both nominated twice. The hashtag #BAFTAsSoWhite is trending on social media while Blue Story director Rapman hit out at being "snubbed from all nominations".
The rising star shortlist – selected by a jury – did provide some element of diversity, with nominees including Blue Story star Micheal Ward, The Farewell's Awkwafina and Waves actor Kelvin Harrison Jr. When asked about the all-white acting nominations, Bafta CEO Amanda Berry admitted she was "very disappointed".
For Sama's historic haul
With four nominations, For Sama has become the most nominated documentary in Bafta history. The film, which follows a mother's experience raising her daughter in war-torn Aleppo, picked up nods for outstanding British film; outstanding debut by a British writer, director or producer; film not in the English language; and documentary.
It is an amazing achievement for Syrian journalist Waad al-Kateab, who is the mother at the centre of the story as well as being the co-director (with Edward Watts), producer and cinematographer. It also ranks the film alongside heavyweights Rocketman and Parasite, both of which also received four nominations.
The "British" categories
Yet again, the two categories to which the (independent) UK film industry turns first, are under the microscope again. Two separate independent juries choose the final nominees in both the categories for outstanding British film and outstanding debut by a British director, writer or producer. In the former, an opt-in chapter of Bafta members votes to create a 15-strong longlist from which the three with the most votes are automatically nominated. The three with the most votes are automatically nominated. We can speculate 1917, Rocketman and The Two Popes took those slots. The jury then decides on the next three from the top 15 – likely Bait, For Sama and Sorry We Missed You. This is to ensure the independent, smaller British films have some showing in the category nominally for them.
Assuming they were in the top 15, Joanna Hogg's The Souvenir, Rapman's Blue Story, Tom Harper's Wild Rose and Armando Iannucci's The Personal History Of David Copperfield, were all passed over by a jury which could only choose three films.
Eyebrows been also raised over the "British-ness" of The Two Popes. The film is directed by Brazil's Fernando Meirelles, backed by Netflix and produced by two US producers in Dan Lin and Jonathan Eirich with the UK's Tracey Seaward and New Zealand-born writer Anthony McCarten. It shot in Argentina and Italy. Bafta would have looked for significant British creative involvement in the film, both in front of and behind the camera. It clearly decided the presence of actors Anthony Hopkins and Jonathan Pryce (both nominated) with various heads of department including casting director Nina Gold (nominated for her work on the film in the inaugural casting category) and producer Seaward made it British enough.
In the outstanding debut category, a different anonymous independent jury decides the longlist, the nominees and the winner. While taking nothing away from the eight nominees (of which two of the nominated directors are women, For Sama's Waad al-Kateab and Only You's Harry Wootliff), an entirely jury-selected category is where different choices around female directors and directors of colour can arguably really be made. Rapman's Blue Story for one was on the longlist.
Which leads us to…who is Alvaro Delgado-Aparicio?
Writer-director Alvaro Delgado-Aparicio has been nominated in the outstanding British debut category by a British writer, director or producer, for his work on Retablo, which was Peru's entry to the best international film category at the Oscars. Delgado-Aparicio qualifies for this category by virtue of being British. The film does not have to be. He was born in London, attended a film school course in the UK and travelled to Peru to make Retablo which premiered at the Berlinale in 2018.
It is not the first time a British director has secured a nomination in this category for a non-British film: James Bobin did so in 2013 for directing The Muppets.
The jury selected Delgado-Aparicio over the longlisted Rapman for Blue Story, Karen Gillan for The Party's Just Beginning, Myf Hopkins for The Last Tree, Emma Unsworth for Animals and Steve Sullivan for Being Frank: The Chris Sievey Story.
Netflix supplants Fox Searchlight as top distributor
Netflix has secured the most nominations this year with 23, ahead of Sony's 16 and Entertainment One's 12. The streaming giant's nominations were spread out across several films, including The Irishman (with 10), Marriage Story and The Two Popes (both on five).
Last year's top distributor Fox Searchlight (with 25 nominations in 2019) received only six this time (all for Jojo Rabbit), although the joint Fox Searchlight/Disney tally is 16, level with second-place Sony. Netflix will be aiming to convert more of its Bafta nominations into wins after mostly missing out at the Golden Globes. The full list of nominations by distributor is here.
Parasite emulates ROMA in best film category
For the second year in a row (following ROMA), Bafta has nominated a foreign-language title for best film in the shape of the much-admired Palme d'Or winner Parasite. It earned four nods in all; film not in an English language, original screenplay and best director for Bong Jong Ho, who is also the joint most-nominated individual this year alongside the For Sama directors.
ROMA was the first foreign-language title picked for best film since Amelie in 2001, but will honouring international fare in the major categories become commonplace for Bafta voters? Time will tell, but Parasite definitely has a decent chance of emulating ROMA by winning the top category.
Most nominated films highlight open Oscar race
Indeed all five best film nominees are strong contenders, as shown by the large number of nominations for each; alongside Parasite are 1917 (nine), The Irishman (10), Once Upon A Time… In Hollywood (10) and Joker (11).
After winning at the Golden Globes, Sam Mendes' 1917 is possibly the favourite but there's no obvious front runner. It would also not be a surprise to see different winners at the Globes, Baftas and Oscars, with Marriage Story, overlooked by Bafta, also in with a decent chance at the Academy Awards.
Acting surprises
As previously mentioned, Margot Robbie's best supporting actress nomination for Once Upon A Time… In Hollywood (she's also nominated for Bombshell) is among the surprises in this year's acting categories. Quentin Tarantino faced criticism in Cannes last year for her character's lack of dialogue in the film.
Jessie Buckley will be delighted to appear on the best actress list for her lead role in Wild Rose, alongside much-fancied contenders Scarlett Johansson, Saoirse Ronan, Charlize Theron and Renée Zellweger. Another Brit who made the cut against heavyweight opposition is Taron Egerton for Rocketman, who secured a best actor nomination ahead of Antonio Banderas, Christian Bale, Robert De Niro and Eddie Murphy.