Larry Yang, director of Busan closing film Mountain Cry, explains how he adapted a rural Chinese story set in the 1980s for contemporary audiences in China and overseas.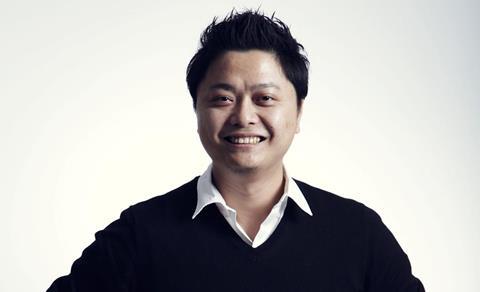 Set in a remote village in China's Shanxi province, Larry Yang's Mountain Cry tells the story of a young, mute widow and the slowly evolving relationship she finds herself in with a fellow villager when her abusive husband dies.
Considered an outsider in the village, the young woman's inability to speak prevents her from sharing her story. When the young man who accidentally killed her husband begins to look after her and her two children, he provides the only respite she has ever had from her geographical and emotional isolation.
Lang Yueting, who portrays the widow, and Wang Ziyi, who plays the male lead, have previously appeared together in Johnnie To's Office and Blind Detective. The cast also includes Cheng Taishen, Yu Ailei and Guo Jin.
Chinese director Larry Yang lived in New York as a teenager and studied at Beijing Film Academy and the University of Edinburgh. He directed five mainstream pictures in China before his script for Mountain Cry, based on Ge Shuiping's short novel, was picked up by Village Roadshow Pictures Asia (VRPA) at the Beijing International Film Festival in 2014.
VRPA is producing with Hairun Pictures, which backed some of Yang's previous films. Fortissimo Films is handling international sales.
Why did you decide to adapt Ge Shuiping's novel?
When I first read the story in 2008 – two years after graduating from Beijing Film Academy – I was having a hard time finding my own voice as an independent filmmaker. I almost joked that I should make a film about a mute character. That's when a friend introduced me to this story.
It's about a mute girl who is independent in her thinking but completely trapped, not just in language, but in this remote mountain village where she is treated as a foreigner. Then suddenly this young boy breaks through like a beam of sunlight and gives her a small space to breathe in. The story touched me and echoed my own situation. I was also feeling like an outsider when I moved back to China in 2004 and was struggling to find my voice.
Did you stay true to the novel?
Longer novels are harder to adapt, as you have to throw away a lot of things, whereas with short novels you can add a lot of things. But I stayed true to the spontaneous feelings I had when I first read the story. The storyline is more or less the same, but I added some modern elements to the love story and relationship-building, making it much more romantic. The novel was edgier and didn't have so much sunshine in it, but I cut out some of the darkness that you see in other Chinese films set in the same period. I wanted to do something different. I kept this idea of being trapped, and then rescued, and the concept of this mutual understanding that is beyond language.
China has a long tradition of rural films (known as 'nongcun pian' in Chinese) but contemporary audiences seem to have moved on. Were you concerned that the film would be perceived as old-fashioned?
I had a lot of concerns and knew I had to deliver something completely different from what everyone would expect – something that had never been done before. So I spent a month backpacking around Shanxi and during the trip I realised that this film should be made by fresh eyes. I assembled a team that had never done a film like this before. With help from my producers we found a DoP from Mexico [Patrick Murguia], a production designer from Malaysia [Jeffrey Kong] and a composer from France [Nicolas Errera].
Although it's a story set in the 1980s, I want it to be relevant to the young audiences' lives today. Young people nowadays carry a heavy burden – their voices are not heard and they are forced to satisfy a lot of expectations, without even understanding the real purpose behind those actions. Gradually they begin to forget their own voice and also their true selves. I think when they watch this movie, young audiences will relate to the main characters' struggles as young people - beginning to understand love and responsibilities, beginning to find the courage to face up to unreasonable prejudice - and should be able to connect to the strength in the characters and feel the power they're searching for.
Would you say this is an issue-based film?
Although it's not a film straight-on dealing with social issues, such as child abduction and human trafficking, which are tragedies that not only happened in the 1980s but are still occurring in contemporary society, the film shows the deep psychological damage and consequence of one girl who is the victim of trafficking.
How did you go about casting for the mute character?
I've known Lang Yueting for some time. She was an extremely talented piano player from an early age, who began her acting career in theatre working with a leading stage director, and then worked on two films with Johnnie To. There's something in her work that comes from years of practising classical music. She has a rhythm and inner elegance that was perfect for this role. Normally actors will try to live in the moment but she told me that she's always thinking ahead, like when you're reading and playing music, which is a rare technique.
You've lived in China, the US and Scotland. Do you think there are more new Chinese filmmakers like yourself who are bicultural and have an international outlook?
It feels a bit like a new wave – recent successful films in China have been remakes of Korean films, co-productions or have used directors imported from overseas like [Raman Hui's] Monster Hunt. Also more Chinese directors are returning from overseas. All these films bring something new that the Chinese audience has never seen before. More people are bilingual and travelling and watch a lot of Hollywood and European films. They've been trained differently so the way they tell stories is changing.
What are you doing next?
I'm working with Village Roadshow and Hairun on something much more commercial – a remake of a Hollywood film that Village Roadshow owns the rights to. I can't share much at this point but it's something that looks really good for the Chinese market.