The Selfish Giant director discusses influences, finding her young leads and Thatcherite ideology.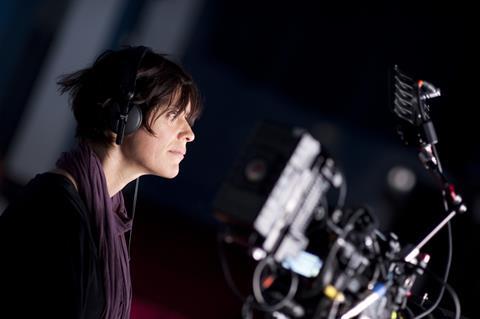 Clio Barnard's powerful second feature The Selfish Giant follows two young boys from an estate in northern England who turn to collecting scrap metal to make money for their struggling families.
Set against a similar Bradford backdrop to her acclaimed first film The Arbor, the well-received Cannes Directors' Fortnight entry - picked up by Artificial Eye for the UK and Sundance selects for the US - marks impressive debuts for leads Conner Chapman (who plays Arbor) and Shaun Thomas (Swifty), who were aged 12 and 15 respectively when they shot the film.
Barnard, a former teacher and shorts director, discusses her latest feature with ScreenDaily.
How does your film relate to Oscar Wilde's fable of the same name?
I had wanted to make a contemporary adaptation of the fable for a long time. I see it as a story about the dangers of excluding children.
While making The Arbor on the Buttershaw estate in Bradford I met a boy called Matty. He had real attitude. Matty and his friends were on the margins of the margins. He would often be around set, fixing something or riding his horse. I interviewed him and his family and he is the inspiration for this film.
I quickly knew who the children of the fable were, but I had more difficulty finding the giant and the garden. Then I found the scrapman [brilliantly played by Sean Gilder]. The first draft of the screenplay was written from his point of view so it was closer to the original story. I realised soon after that I was more interested in the children.
How did you find the two boys?
My casting agent Amy Hubbard, who I worked with on The Arbor, spent time at the local school at Buttershaw. She saw Conner on the first day. Both the producer and I immediately thought Conner was great. It was something to do with his voice that made me want to see him again. But we initially cast him as Swifty.
We cast Shaun after Amy went to a local estate in Bradford called Holme Wood. I think the local teenage craze for horse and carts and scrapping comes from there.
In keeping with Arbor, Conner said he could ride but he couldn't. Shaun could, however, and he had also been scrapping. We quickly realised that Shaun had a real affinity with horses.
Conner's character is wild and unruly. Was he co-operative as an actor?
There were some points when it was tricky and he could be stroppy. At the first rehearsal he was bored after an hour and said he wanted to go home. It was difficult to get him to focus. I was worried at that point. In fact, we asked him to re-audition just before the shoot. It was touch and go. But I think he understood at that point how close he was to not doing it and he absolutely came through. He was brilliant.
I think he thought I was like a teacher at times. But I had to tell him 'I give all the actors notes, not only you'. The funny thing is that in real life Conner is quite reserved. He isn't shy, but he is not like Arbor - he wasn't playing himself. Neither did Shaun, who is actually quite extrovert.
Do you think they will continue to act?
Shaun is considering training as a farrier. But they do also both want to act. They have the same agent. Conner is currently in The Mill [Channel 4] and has been cast in a few things.
To what extent does the film have a political message? To me it was clear, but how much was it in your thinking?
I'm really glad to hear that you think it does. I wanted it to have one, but I didn't want to hit people over the head with it. In the edit, a lot of my coversations were about that: about pulling it back. I think it should be implicit, not explicit. Otherwise it doesn't work emotionally as a fiction. That's why I kept the title. It is a fable.
When Margaret Thatcher died, Glenda Jackson gave a speech that - under the Conservative leader - selfishness and greed became virtues rather than vices. That crystalised things for me. To some extent, the selfish giant of the title is an ideology that has been all-pervasive. It's a fable about what is lost when that ideology is adopted. Arbor emulates the scrapman Kitten, and Kitten emulates that ideology. What gets lost is Swifty and his friendship with Arbor.
Part of what I want people to understand is the circumstances some people are in that can lead them to take the risks the boys do.
Were you concerned that the film might invite criticism for portraying that part of England as overly bleak?
There was a concern about that. But I think that's for the critics or film historians to think about. Maybe I'll need to make another film. The steps were so connected to what I had made before. One thing grew out of the other. I'm sure it will be asked and I'm aware of it but I don't think that's my role, in a way.
Some people said the same about The Arbor. I did think about setting The Selfish Giant in Dartmouth, Devon. But the elements of this story and my knowledge of it are very specific to Bradford.
Do you feel part of a movement?
In a way, The Arbor critiqued social realism. The Selfish Giant embraces that tradition. Kes was an influence, as were The Bicycle Thieves, The Apple, Les Quatre Cents Coups and The Boy with a Bicycle. I watched all of those with my kids.
The tradition of social realism in this country is so strong. It is embraced by the rest of the world. But for some reason, we don't want to be known for it. I think we should be proud of it. I love Alan Clarke's work. I love Lynne Ramsay, Andrea Arnold and Penny Woolcock. I think The Selfish Giant celebrates that type of filmmaking.
Was funding the film difficult?
After The Arbor I went to Film4 and the BFI and they were both fantastically supportive. There was no pressure on me to push it in one direction or the other.
I'm writing an adaptation of Rose Tremain's novel Trespass at the moment. I'm also working with playwright Polly Stenham on her adaptation of Tusk Tusk, which I would direct. Once I've finished the first draft of Trespass I'll have a better idea of what is next.
The Selfish Giant is playing in the Kinoscope section of the Sarajevo Film Festival