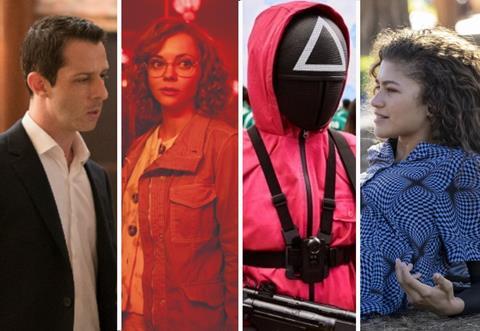 HBO's Succession leads the nominations at this year's Primetime Emmy Awards, which are set to take place on September 12.
Screen assesses the main drama and limited or anthology series categories, picking out the frontrunners and outside bets.
Drama series
Nominations:
Better Call Saul (AMC)
Euphoria (HBO)
Ozark (Netflix)
Severance (Apple TV+)
Squid Game (Netflix)
Stranger Things 4 (Netflix)
Succession (HBO)
Yellowjackets (Showtime)
With three new series and no repeat nominees from last year, the Emmys' most prestigious category looks fresher than usual this year. But there is still a firm favourite in Succession, HBO's comedy-drama from UK creator Jesse Armstrong, which won the Emmy when it was last in the running in 2020 and has racked up a total of 25 nominations, the most of any show this year, for its intense third season.
If there is an upset it could come from one of the two series whose debut seasons have each snagged an impressive 14 nominations overall: Netflix phenomenon Squid Game, the first non-English language show ever nominated in the category, and Severance, whose groundswell of critical and industry support has made it Apple's first best drama nominee. The field's other new series, Showtime's Yellowjackets, also has its supporters but is a longer shot.
Completing the category's large field of eight series are HBO's Euphoria, the year's second most honoured drama series with 16 nominations, Netflix's Stranger Things, with a total of 13 nominations, and two frequent best drama nominees that have never managed to win the big award. Netflix's Ozark, which wrapped up its final season this spring, has been nominated twice before, and AMC's Better Call Saul, in contention with the first half of its final season (the second half will be eligible next year), has been up for the Emmy in five previous years.
Limited or anthology series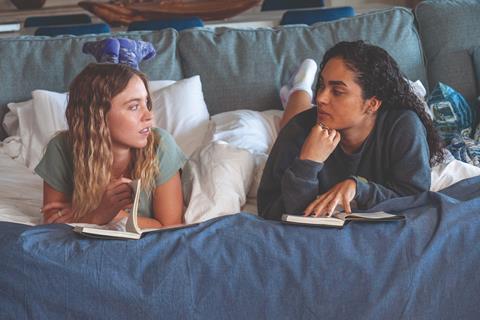 Nominations:
Dopesick (Hulu)
The Dropout (Hulu)
Inventing Anna (Netflix)
Pam & Tommy (Hulu)
The White Lotus (HBO)
The industry's output of limited series has exploded in recent years, so competition in this category – which has only five nominees, compared to the eight each in the best drama and best comedy categories – has been fierce.
The Emmy looks likely to go to one of two very different, but equally admired, contenders. Hulu's Dopesick, based on real events and characters involved in America's opioid addiction crisis, has a total of 14 nominations this year, suggesting that it has stuck in voters' minds since screening late in 2021. HBO's holiday resort comedy-drama The White Lotus, the year's most honoured limited series with 20 nods, screened more than a year ago but could be helped by advance publicity for the start of its second run in October as The White Lotus: Hawaii (likely to be eligible in this category next year as an anthology series).
If votes are split between the two favourites, any one of the other three real-life-based nominees – Hulu's The Dropout, Netflix's Inventing Anna and Hulu's Pam & Tommy – could benefit.
Lead actor in drama series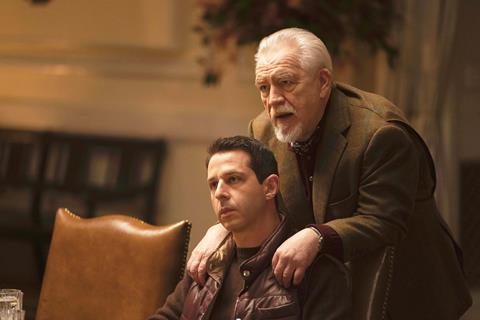 Nominations:
Jason Bateman, Ozark
Brian Cox, Succession
Lee Jung-jae, Squid Game
Bob Odenkirk, Better Call Saul
Adam Scott, Severance
Jeremy Strong, Succession
The two male leads from Succession go head to head for the second time here, just as their characters clash on screen. In 2020, the last time the series was eligible, Jeremy Strong took the Emmy, and he could repeat for his character's epic rise-and-fall in the series' third season. Brian Cox, who won a miniseries supporting actor Emmy in 2001 for Nuremberg, missed out on the award in 2020 but contends this year with his own powerful season three performance.
The Succession leads face competition from Lee Jung-jae, the Squid Game star who is the first Asian nominated in the category. Earlier this year, Lee won the Screen Actors Guild award over nominees including Strong and Cox and Emmy voters could go for Lee as a way to recognise the Netflix series.
They could also, however, choose to finally give the award to Bob Odenkirk, whose 18 Emmy nominations to date include three previous nods as lead actor in Better Call Saul, or Jason Bateman, with three earlier lead actor nods for Ozark among his 13 nominations to date (he won an Emmy for directing Ozark in 2019 and is also up as a producer and director of the show this year).
Lead actress in drama series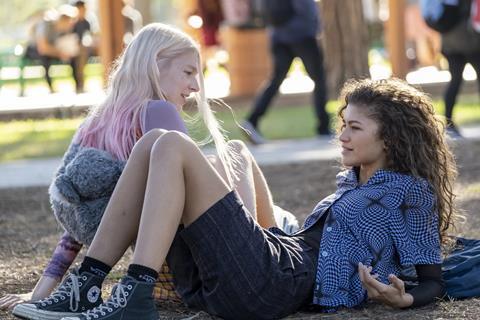 Nominations:
Jodie Comer, Killing Eve
Laura Linney, Ozark
Melania Lynskey, Yellowjackets
Sandra Oh, Killing Eve
Reese Witherspoon, The Morning Show
Zendaya, Euphoria
There are no obvious favourites in this group, where frequent past Emmy nominees line up alongside popular newcomers.
Zendaya was a surprise winner in the category in 2020 and this year is nominated three times for Euphoria, once for acting and twice for music and lyrics from the series, which earned 16 nominations overall.
Melanie Lynskey, the hard-working New Zealander known for numerous film and TV appearances, could attract a lot of voter support as a first-time Emmy nominee for Yellowjackets.
Laura Linney, winner of Emmys for four different past projects, has been nominated twice before in this category for Ozark and could get third-time-lucky for her work on the series' final season.
Sandra Oh and the UK's Jodie Comer are both getting their third acting nominations for Killing Eve, with Comer having won in this category in 2019. Their chances, though, could be hampered by the lukewarm critical reception given to the series' fourth and final season.
Lead actor in limited or anthology series or movie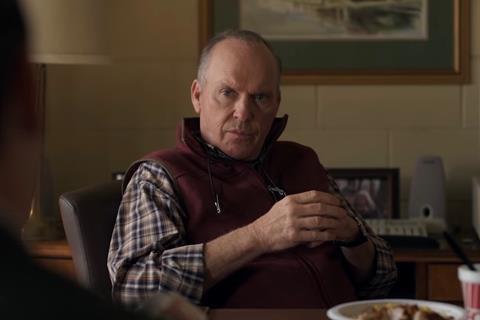 Nominations:
Colin Firth, The Staircase
Andrew Garfield, Under The Banner Of Heaven
Oscar Isaac, Scenes From A Marriage
Michael Keaton, Dopesick
Himesh Patel, Station Eleven
Sebastian Stan, Pam & Tommy
Four of the six limited series leads in this group are first-time Emmy nominees (it might have been more if the cast of The White Lotus had not opted en masse to be submitted in supporting actor categories).
Clear favourite in the category, however, is Michael Keaton, nominated here and as a producer of Dopesick, the much-admired opioid crisis drama that has already earned Keaton this year's Golden Globe, Critics' Choice and Screen Actors Guild acting prizes.
UK stalwart Colin Firth is in the running for The Staircase, though that project (which also earned an acting nomination for Toni Collette) may not have had the viewership necessary to get on Emmy voters' radar.
Two of the group's Emmy newbies – Andrew Garfield for Under The Banner Of Heaven and Oscar Isaac for Scenes From A Marriage – represent the sole nominations for their projects. The nod for the UK's Himesh Patel is one of seven earned by Station Eleven and the nomination of Sebastian Stan is one of ten for his project, Pam & Tommy.
Lead actress in limited or anthology series or movie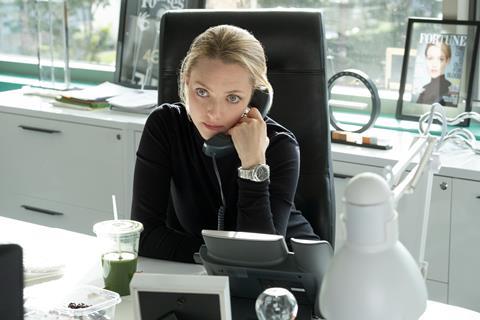 Nominations:
Toni Collette, The Staircase
Julia Garner, Inventing Anna
Lily James, Pam & Tommy
Sarah Paulson, Impeachment: American Crime Story
Margaret Qualley, Maid
Amanda Seyfried, The Dropout
Voters may find it hard to choose between the six performances – five of them based on real people – nominated here from the wealth of recent limited series.
First-time Emmy nominee Amanda Seyfried drew plaudits for her work in The Dropout, and voters might reward the work as a way to recognise the series, which drew six nominations overall this year.
Sarah Paulson, an eight-time nominee who won in this category in 2016 for The People v OJ Simpson, could repeat for her portrayal of Linda Tripp in Impeachment, another installment in Ryan Murphy's American Crime Story franchise.
British talent Lily James, also a first-time nominee, could be a surprise winner for her depiction of TV icon Pamela Anderson in Pam & Tommy, which has ten nominations overall.
Australia's Toni Collette, a past Emmy winner for United States Of Tara, and Julia Garner, a two-time Emmy winner also nominated this year as a supporting actress in Ozark, will both attract votes for their work in, respectively, The Staircase and Inventing Anna. Margaret Qualley will also draw some support for her title performance in John Wells' critically lauded Maid.