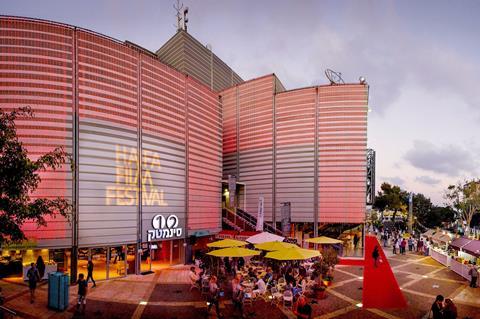 The bustling port city of Haifa in northern Israel is often held up as a beacon of co-existence and tolerance in an otherwise divided land. And Haifa International Film Festival has staked its reputation on the promotion of these values, fostering both Israeli and Arab filmmakers, with a special focus on new talents.
This year, artistic director Pnina Blayer is also celebrating a small international coup. The 33rd edition, running October 5-14, kicks off with Blade Runner 2049, making Haifa one of only two festivals to have secured permission to showcase the picture as its opening film, alongside Zurich.
Blayer declares herself a fan of Ridley Scott's 1982 original, dubbing it a "masterpiece of the 1980s". She adds: "I still haven't finished exploring all the layers. The moment I knew Sony was going to release the film in October, I contacted the Israeli distributor. It was hard to get approval from Sony to open the festival with this film. For me it was particularly challenging, because it was the first time I've approved an opening film without having had the opportunity to see it first."
Local talent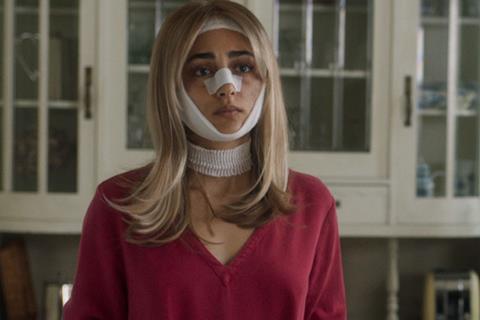 Beyond the blockbuster opening, the festival remains faithful to local cinema and new talent. Eran Riklis will world premiere Shelter — a tense drama revolving around a female Mossad agent and a Lebanese collaborator she is sent to protect in a Hamburg safehouse — as the closing film.
In the Israeli Feature Film Competition, six of the eight contending titles are first features. "To our great joy, the crop of new Israeli features allowed us to realise our commitment to debut Israeli filmmakers this year," says Blayer. They include Ram Nehari's drama Don't Forget Me, which follows two oddball youngsters who meet in an eating-disorder clinic, and Asaf Saban's Outdoors, which is about a couple whose relationship crumbles as they attempt to build their dream home in Galilee. One of the most intriguing debut entries is Guilhad Emilio Schenker's Madam Yankelova's Fine Literature Club, about a women-only society that lures men to their deaths and then turns them into sausage meat.
Three of the contenders have already premiered on the A-list festival circuit. Daniel Mann's personal odyssey tale Low Tide debuted in the Berlinale's Forum, Amichai Greenberg's Holocaust legacy mystery The Testament was in the Horizons strand at Venice and Limor Shmila's homecoming drama Montana debuted in Toronto.
Actor-director Tzahi Grad also competes with his third feature, comedy-drama The Cousin, about a filmmaker who stands up for a Palestinian labourer accused of attacking a young woman. Haim Tabakman — whose Eyes Wide Open played in Un Certain Regard at Cannes in 2009 — rounds out the selection with Ewa, a drama about a man in a decades-long marriage who discovers a secret about his wife.
Out of competition
Out of competition, Israeli-US actor Mike Burstyn will premiere his debut Azimuth, about a standoff between an Israeli and Egyptian soldier in the Sinai Desert during the Six-Day War in 1967.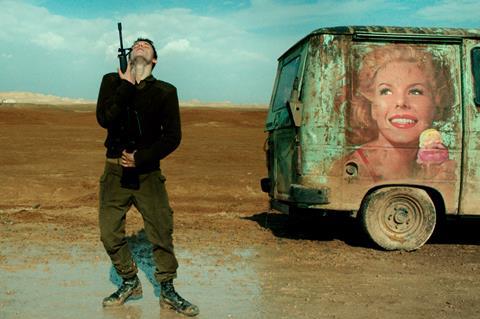 Samuel Maoz's Foxtrot will also screen. Israeli culture minister Miri Regev, who slammed the film's depiction of Israeli soldiers, has called for funding to be pulled from bodies supporting artistic works critical of the country, and in particular its army. Blayer is not expecting any trouble: "As we choose our films only due to their cinematic quality, I don't see any reason to pull funds."
Other Israeli titles playing out of competition include feature-length animation The Legend Of King Solomon and Lev Prudkin's historical drama No-One, set against the backdrop of the failed 1991 Soviet coup.
Unusually, there are no features by Palestinian filmmakers screening this year. In 2016, Maha Haj's Personal Affairs and Maysaloun Hamoud's In Between were in competition and clinched the top prizes. Blayer dismisses any suggestion this could be due to the influence of the anti-occupation BDS movement.
"It's coincidental. There is no boycott of the festival by Palestinian directors. For the Israeli Feature Competition, only one film was submitted by a Palestinian director, but wasn't accepted by the selection committee," she says, adding that the Short Israeli Cinema programme this year boasts several films by Palestinian directors, including Ten Bell Tolls, The Day My Father Dies and Freedom Train, while Palestinian filmmakers are also participating in industry events.
International competitions
Outside the Israeli sections, the Golden Anchor competition, aimed at films from the Mediterranean basin, will showcase 11 titles, including Cannes hit A Ciambra and Xavier Legrand's Custody, which debuted at Venice.
Another 60 international titles will screen in the Carmel competition, Between Israeli and Jewish Identity competition and non-competitive Panorama, Gala, Masters, East of the West, Haifa Classics and Midnight Madness sections. International festival guests include actor Brian Cox, in attendance with Churchill, and Maryana Spivak, star of Russian drama Loveless, as well as directors Sam Pollard (Sammy Davis, Jr: I Gotta Be Me), Alessandro Rak (Cinderella The Cat), Jonas Carpignano (A Ciambra), Emmanuel Finkiel (Memoir Of Pain) and Silvio Soldini (Emma).
The festival has also launched the new Eco-Cinema section devoted to films about the environment, including A River Below and An Inconvenient Sequel: Truth To Power. The creation of the sidebar was sparked by global concerns as well as the local issue of a controversial ammonia storage tank in Haifa Bay. "We believe this global issue is of utmost importance to examine and discuss," says Blayer.
VR programme
Haifa is running an expanded virtual reality (VR) and augmented reality (AR) programme this year, showcasing 60 short local and international works in the Port Campus district, the city's formerly rundown portside downtown area that has been revamped in recent years.
"We've created an urban exhibition incorporating a café, bus stops, a park, shops and rooftops," says Tal Haring, who is overseeing the event. "The idea is that the settings will help transport the viewer deeper into the works and stories through the space itself. For Turning Forest by the BBC, for example, we've created a park. Another film, Pearl, by Google, about a father and daughter on a road trip across the US, will be viewed sitting in a car."
Israeli titles in the selection include Tzina: Symphony Of Longing, Friday Noon At Ibrahim's and Virtual Date, created by students at the Bezalel art school. Haring notes, however, that while Israel is at the forefront of developing VR technology, it lags behind when it comes to creating VR content.
In a bid to change this, the VR focus includes a conference hosted by Sammy Ofer School of Communications — IDC Herzliya and Tiltan College of Visual Design and Communication examining subjects such as hyper-realism and how VR is being used to shape and express identity.
Haifa will also hold its first competitive pitching session devoted to VR — Virtual Story — which will feature a jury including The Guardian's VR deputy editor Nicole Jackson, Eren Aksu from the Emblematic Group and Israeli filmmaker Tom Shoval.