Representatives from the French city visited London to explore opportunities and innovative partnerships in the UK.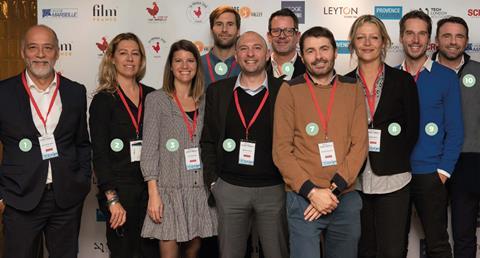 Marseille is the French cultural metropolis that marries the vitality of Europe with the dynamism of Africa, creating a unique appeal for international filmmakers and producers. The city boasts 300 days of sunshine a year, a heady mix of cultures and a film and multi­media talent pool of more than 5,000 professionals.
The cost of shooting in Marseille can be between 20% and 50% cheaper than Paris or London. Through Film France, the city also offers the opportunity to co-finance up to 30% of a project's budget and up to $223,000 (€200,000) in grants — from 50% to 80% of a budget — through local and regional support for multimedia.
Marseille supports more than 500 filming projects, cinema and multimedia productions per year, and offers access to Marseille Media Park facilities in Belle de Mai and Provence Studios in Martigues. With easy transport links, solid financing and support partners already in place, Marseille awaits.
The 2016 TV series Marseille, starring Gérard Depardieu, was produced by France's Federation Entertainment for Netflix and filmed on location for two seasons in the French city. Netflix chief content officer Ted Sarandos describes Marseille as "one of the world's most vibrant and fascinating cities".
The Marseille delegation
1. Jean Michel Albert, CEO, Darklight
Darklight describes itself as a 'creative boutique', producing features and drama series. It is on the lookout for UK production partnerships.
2. Delphine Landes, Partner, HVH Productions
HVH is an advertising, music video and stills production company with bases in Paris, Marseille and Miami.
3. Claire Bernard, Partner, HVH Productions
4. Rodolphe Hessmann, co-founder, HVH Productions
5. Stephane Rizzo, Deputy director of economy, City of Marseille
6. Laurent Dumeau, CEO UK, Trace TV
Trace TV specialises in urban and Afro-urban celebrity news, along with music and lifestyle segments. It is launching a talent academy in Marseille.
7. Gregory Roumezin, Co-founder, Pooloop
Startup Pooloop creates glass LED video floors, with high-definition projection, used in swimming pools.
8. Sandra Niellini, COO, MCES E-Sport
MCES E-Sport, whose e-sports teams are the current vice world champions of Fortnite, has secured seed investment of $2m (€1.8m) to set up e-sports academies in Europe and the US.
9. Mathieu Rozieres, CEO, Black Euphoria, VP Creative Industries, French Tech Aix Marseille
Black Euphoria is a digital studio based in Marseille exploring the links between art, innovation and communication.
10. Romain Sombret, CEO, MCES E-Sport
Not pictured
Didier Parakian, Deputy mayor, City of Marseille
The City of Marseille plans to invest $55.7bn (€50bn) by 2025, including in major entertainment projects.
Alexandre Cornu, Founder, Les Films du Tambour de Soie
Les Films du Tambour de Soie produces up to 10 hours of content for major French and international broadcasters a year.
Vincent Berge, CEO, Crocos-Go-Digital and VP International, French Tech Aix Marseille
Mixes neuroscience, gaming and deep tech to detect and help treat cognitive disorders in children.
Geoffroy Lebon, member of France E Sport, and professor at AMOS Sport Business School

Promoting the City of Marseille