The UK's studio infrastructure faces unprecedented demand from Hollywood tentpoles and high-end television.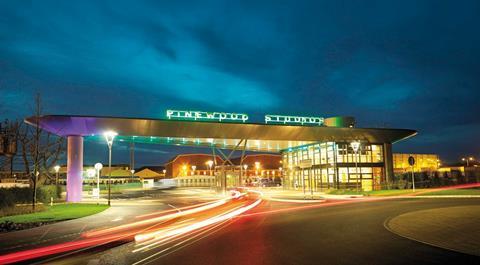 Pending the outcome of a feasibility study due next spring, a major new UK studio complex — second only in size to Pinewood — could open by 2020. The proposed 17-acre brownfield site in Dagenham, east London, was previously used as a location for Marvel's Avengers: Age Of Ultron and Doctor Strange as well as BBC crime series New Blood. Barking and Dagenham local borough councils, the Mayor of London's office and Film London are optimistic that a business case can be made for a public and private-financed, purpose-built production facility spanning up to 300,000 sq ft.
"Demand on the UK's facilities and infrastructure is constant and increasing, as it has been since the modification of the TV tax credit [to match film's 25% rebate on expenditure]," says Film London chief executive Adrian Wootton. "We have done extremely well to respond by building new space and liberating [warehouse] space in Bristol, Wales, Yorkshire and Scotland, but we are getting repeat requests from productions wanting to be within the M25. Property in London is at a premium and this site is one of the last big development opportunities for media in the capital."
Valuable studio space has been lost with the 2014 closure of Teddington Studios, the redevelopment on a smaller footprint of BBC Television Centre (reopening next summer) and the demolition at the end of this year of Fountain Studios in Wembley — all for property development. Hammersmith's Riverside Studios is also closed for refurbishment until 2018. While it largely catered for TV, the pressure on space has squeezed work elsewhere. Elstree, for example, has taken on a large volume of long-running BBC work including popular reality show Strictly Come Dancing.
"The shortage of stages in the southeast is forcing lower-budget indie features into warehouse buildings that are little more than sheds," says Andrew Boswell, commercial director of Twickenham Studios. At the same time, high-end TV drama is soaking up capacity on existing soundstages. E!'s The Royals just wrapped season three at 3 Mills Studios; Sony Pictures' The Halcyon is based at West London Film Studios; ITV's Victoria is booked into Church Fenton Yorkshire Studios; Bristol's The Bottle Yard hosts Poldark, having housed Starz's The White Princess earlier this year; The Collection, Amazon's period drama about a Paris fashion house, was one of the first shows to land at Pinewood Wales (Pinewood also invested in the show); and Netflix's The Crown is being shot at Elstree.
"The Crown is shot as a feature, has similar budgets and uses the 15,000 sq ft George Lucas Stage, backlot and other smaller stages," says Roger Morris, Elstree managing director. "We couldn't fit in Paddington 2 [Elstree was home to Heyday Films' 2013 original; the sequel has relocated to Pinewood and Leavesden], and we also couldn't fit in two other big Hollywood films recently."
London in demand
While studios such as Elstree are enjoying the boom, Morris admits there is still a shortage of suitable stages in the M25 London area, "where most clients want to work and where the majority of crew, cast and skills are".
"Capacity is under pressure and the biggest growth has come from high-end TV drama, which especially benefits the UK's nations and regions," says Iain Smith, British Film Commission chair and producer of Mad Max: Fury Road. "Movies need a higher maintenance level [than TV]. They tend to need more specialist crew as well as hotels and other amenities for talent, hence the urge to create a new London studio."
"We know platforms like Netflix and Amazon would love to place an even more significant percentage of their production in the UK and we know US studios want to shoot more here too," adds Wootton, who says Film London is being "very proactive and aggressive" about marketing UK infrastructure.
Boswell reports that with "Pinewood and Leavesden being full, combined with the pound to dollar exchange rate, we're fielding enquiries from large-budget US films when we normally accommodate high-end indies and TV. People are desperate for space."
Films that may have shot in the UK this year but for lack of space include 20th Century Fox's Alien: Covenant and Disney's Thor: Ragnarok. Both rerouted to Australia. Soundstages are absorbed as soon as they come on stream. In Scotland, capacity is more than doubling at Wardpark Studios to accommodate further series of Sony's Outlander. A similar dynamic is happening in Belfast, where Game Of Thrones has been ensconced since 2010. HBO's series occupies the 64,000 sq ft Paint Hall and two newer 21,000 sq ft sound stages, as well as the Linen Mill to the south of the city.
Demand has been accentuated by a fall in the pound, making the UK a "bargain bonanza" for US productions, according to Smith. "We had multiple studio feature enquiries for next year following the pound's drop but we're too busy to accommodate them," reports Tom Avison, who runs east London's 3 Mills Studios, over which there hangs a question mark. Operator London Legacy Development Corporation is mulling over plans to reallocate the 80,000 sq ft site as storage for museums that are due to open up in the Olympic Park. The nearby Dagenham proposal could be a pre-emptive move by Film London to offset such a loss. "The film industry has historically been based in west London yet the natural evolution of London is to the east," says Avison. "We welcome a new studio since it will entice more crew to base near here."
Even if all goes to plan, Dagenham will not be up and running for four years. Fortunately, it is not the only development in the works across the UK. Pinewood's new owner Venus Grafton, which purchased the iconic studio over the summer for $423m (£323m), is pressing ahead with the second phase of a $245m (£200m) expansion. After opening five soundstages totalling 170,000 sq ft this summer, the next stage of development will double its capacity. "We have a masterplan for Shepperton that will optimise the 80-year-old land and facility," adds Pinewood director of strategy Andrew Smith. "The biggest challenge the UK faces is ensuring that skills — such as set decoration — maintain pace with demand."
Counter-intuitively, the requirement for physical space is rising as more budget and screen time is invested in VFX for tentpole titles. "We're seeing the ratio of stage-to-workshop space increasing dramatically," reports Smith. "Sets are getting bigger and require more build space."
A 100-foot waterfall was a central feature of the jungle set at Leavesden for Warner Bros' The Legend Of Tarzan. Seeking to capitalise on the Game Of Thrones halo, Northern Ireland Screen is beginning to market the new 66,000 sq ft North Foreshore Studios developed by the Belfast Harbour Commission for $24.5m (£20m). High-speed internet pipe Project Kelvin provides access to the US east coast for studios wanting to screen dailies. "The UK reached a tipping point a few years ago where there just wasn't enough bespoke stage space to keep pace with the rise in TV drama," says Andrew Reid, head of production, Northern Ireland Screen. "The Harbour Commission has had the foresight and confidence to address that demand."
Scotland booms
Scotland attracted a record $56m (£45.8m) shooting spend in 2014 [the latest year for which figures are available]. Outlander alone contributed to growth of around 40% in the annual production spend in the country. "The need for more dedicated studio space is pressing," says Smith. "The Scottish government and Creative Scotland have been very cautious despite attempts by many of us to persuade them of the opportunity they're in danger of missing. Ten years ago, Scotland had the biggest amount of media activity outside the southeast. Now it's lost market share to Cardiff, Bristol, Northern Ireland and Manchester/Leeds at the time of greatest opportunity."
Planning permission for a $171m (£140m) Pentland Studios development outside Edinburgh is still with the Scottish government. Approval for the 86-acre site could mean construction of five stages totalling 130,000 sq ft, plus an exterior water tank and a film academy, begins early next year.
Hemmed in by residential property and rail tracks, Twickenham Studios is unable to expand beyond its 15,000 sq ft, three-stage capacity. However, Twickenham's management is investing in picture post to match the site's established audio facilities (Alien: Covenant will be sound-mixed there) and investigating opportunities of managing external studios either in the UK or abroad under the Twickenham brand. "We do need more stages and we're in advanced discussion with an option in the UK," reveals Boswell.
He does not exclude Liverpool, where developer Capital & Centric is spending $36.7m (£30m) on a 110,000 sq ft complex. The first phase of the project, including the soundstage, is likely to begin early 2017 according to Liverpool Film Office, which also says Capital & Centric will invite bids to run it.
Current or upcoming UK productions:
Warner Bros Studios Leavesden:
Ready Player One (dir. Steven Spielberg), Justice League (Zack Snyder), Paddington 2 (Paul King), Fantastic Beasts And Where To Find Them 2 (David Yates)
Pinewood:
Star Wars: Episode IX (Colin Trevorrow), Paddington 2
Longcross Film Studios:
Kingsman: The Golden Circle (Matthew Vaughn)
3 Mills Studios:
Possum (Matthew Holness), untitled Wes Anderson project
Twickenham:
Victoria And Abdul (Stephen Frears), untitled AA Milne project (Simon Curtis), Finding Your Feet (Richard Loncraine)