Films from Anup Singh, Serge Bozon and Hlynur Palmason to play at Swiss festival.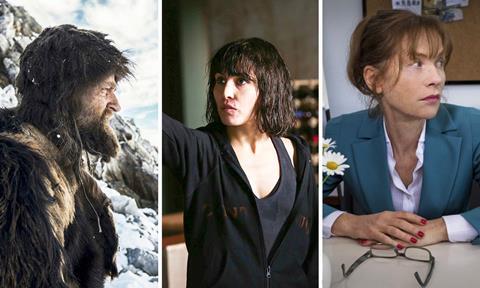 Celebrating 70 years, Locarno Festival has reason to be proud, not just for being able to thrive across seven decades but for establishing a strong identity built on principles of bold programming, high artistic standards and forward thinking.
And all this in one of the most picturesque lakeside towns Switzerland has to offer. Who could ask for more? Screen staff picked 10 of the most interesting films to play at this year's festival.
Read more:
Locarno Festival 2017 line-up revealed
PIAZZA GRANDE
Sparring
Dir. Samuel Jouy
In French actor Samuel Jouy's feature directorial debut, Mathieu Kassovitz stars as ageing boxer Steve Landry, who is desperately seeking one last shot at glory.
Contact: EuropaCorp
contact@europacorp.com
What Happened To Monday?
Dir. Tommy Wirkola
This dystopian sci-fi thriller, also known as Seven Sisters, boasts a cast including Noomi Rapace, Willem Dafoe and Glenn Close. It follows seven siblings struggling to survive in a society that allows only one child per family. Close also starred in Locarno's 2016 opener The Girl With All The Gifts.
Contact: SND – Groupe M6
sales1@snd-films.fr
Iceman
Dir. Felix Randau
For his third feature, German director Felix Randau imagines the life and final days of Otzi, a man who lived in the 31st century BC and whose perfectly preserved mummified body was discovered in the Otztal Alps in 1991.
Contact: Beta Cinema
beta@betacinema.com
The Song Of Scorpions
Dir. Anup Singh
After winning, among others, the Network for the Promotion of Asian Cinema prize at Toronto in 2013 for Qissa: The Tale Of A Lonely Ghost, director Anup Singh reunites with that film's star, Irrfan Khan, for a tale of love and revenge set in the Thar desert of Rajasthan.
Contact: Feather Light Films
info@featherlightfilms.com
Three Peaks
Dir. Jan Zabeil
Starring French actress Bérénice Bejo (The Artist), cinematographer-turned-director Jan Zabeil's latest sees a man, his new girlfriend and her young son struggle to enjoy a holiday together in the Italian Dolomites. Zabeil won the best new director prize at San Sebastian in 2011 for his debut The River Used To Be A Man.
Contact: The Match Factory
info@matchfactory.de
Lola Pater
Dir. Nadir Mokneche
French actress Fanny Ardant takes the central role as a male-to-female transgender parent who must face her estranged son after 25 years. Writer-director Nadir Mokneche's Délice Paloma won the best French-language film prize at the 2008 Lumiere Awards.
Contact: Doc & Film International
sales@docandfilm.com
CONCORSO INTERNAZIONALE
Wajib
Dir. Annemarie Jacir
Palestinian director Annemarie Jacir's 2008 debut Salt Of This Sea played in Un Certain Regard at Cannes. Her latest work, Duty (Wajib), is a dark comedy about an estranged father and son trying to reconnect. The film received a Tribeca All Access alumni grant in 2015.
Contact: Pyramide International
sales@pyramidefilms.com
Dragonfly Eyes
Dir. Xu Bing
For his directorial debut, filmmaker Xu Bing weaves together real-life Chinese CCTV footage to create a fictional drama about a man searching for his lost love.
Contact: Xu Bing Studio
info@xubing.com
Madame Hyde
Dir. Serge Bozon
Isabelle Huppert follows her Oscar-nominated and Golden Globe-winning turn in Elle with this role as a physics teacher who undergoes a major personality shift. Romain Duris also stars.
Contact: mk2 Films
intlsales@mk2.com
Winter Brothers
Dir. Hlynur Palmason
The feature debut of Icelandic shorts filmmaker Hlynur Palmason, Winter Brothers is the story of a violent feud that erupts between two brothers, and stars Lars Mikkelsen, who has boosted his international profile playing Russian president Viktor Petrov in Net­flix's House Of Cards.
Contact: New Europe Film Sales
jan@neweuropefilmsales.com