UniFrance's annual Rendez-vous with French Cinema (January 12-16) is the first industry stop of the year for many European buyers.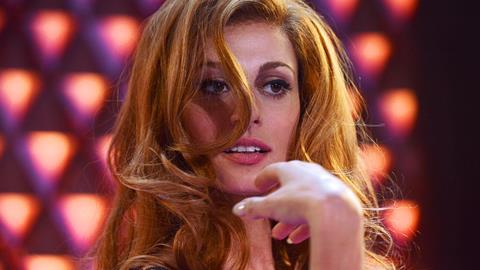 The festival gets a tuneful opening this year with Lisa Azuelos's tribute biopic Dalida, (pictured), which recreates the tragic life of Cairo-born, Franco-Italian popular music diva Yolanda Gigliotti.
Rising Italian actress Sveva Alviti plays Dalida opposite an ensemble of top European actors including compatriot Riccardo Scamarcio as her brother-manager Orlando Gigliotti, Vincent Perez as legendary music producer Eddie Barclay and Jean-Paul Rouve as her radio executive husband Lucien Morisse.
Azuelos, whose credits include LOL (Laughing Out Loud) and Quantum Love, portrays Dalida's public success and endless private setbacks against a soundtrack featuring some of her best-known songs.
The film is among around 80 French-language titles due to screen at the 2017 Rendez-vous - 60% of them market premieres - from 40 sales companies.
Comedies in demand
But it's comedies rather than dramas that dominate the wider selection of French films at the Rendez-vous. This is not surprising given the genre's widespread success for French cinema both at home and abroad in recent years.
A UniFrance report published during last year's Rendez-vous revealed comedies were the territory's most successful cinema export between 1994 and 2014, generating 35% of the total international box office of French films.
"Some of the [new] comedies have already achieved sales at the AFM but for many of the sales companies, the Rendez-vous is also becoming a key moment in the year when they sell their comedies," notes UniFrance general director Isabelle Giordano.
Comedies screening in Paris include actress-filmmaker Valérie Lemercier's 50 Is The New 30 (Marie-Francine), in which she stars as a woman who returns to her parents' home after breaking up with her partner and losing her job. Gaumont is handling sales.
EuropaCorp will unveil Dominique Farrugia's comedy-drama Room(H)ates, starring Gilles Lellouche and Louise Bourgoin as a divorcing couple forced to remain under the same roof because they cannot afford two separate residences.
TF1 will screen Alibi.com, about a start-up specialised in creating alibis for its clients. It's the latest feature from Philippe Lacheau, one of the co-creators of the highly successful Babysitting franchise.
Elle Driver is showcasing actress-director Audrey Dana's high-concept comedy If I Were A Boy (pictured), in which she plays a woman who wakes up with a penis. The film will be released by Wild Bunch Distribution in France in February.
Popular French actor-director Dany Boon is presenting his latest comedy Raid Special Unit (Raid Dingue) (below), in which he stars as a macho police officer who is paired up with a hopeless female recruit. Pathe International is handling sales.
Actor Romain Duris will also put in an appearance at the market screening of Emmanuel Courcol's debut feature Ceasefire (Cessez-le-feu), in which he plays a traumatised First World War hero who returns to France after living a nomadic life to escape his demons. Indie Sales is handling international rights.
"It's quite unusual for the talent to put in an appearance at the market screenings but this year there are one or two stars attending their screenings," confirms UniFrance deputy director Gilles Renouard.
In a special event, double-hatted Cannes chief and Institut Lumiere head Thierry Frémaux will live narrate Lumière!, his tribute to French cinema pioneers Auguste and Louis Lumière.
Further non-comedy titles set to screen include David Moreau's fantasy adventure Alone (Seuls), about five teenagers who wake up one morning to discover they are the only remaining inhabitants of their hometown. Studiocanal has international rights.
Le Pacte is unveiling Lucas Belvaux's drama This Is Our Land, about a small-town nurse put forward as a candidate for a rising nationalist party, while Indie Sales will show Nicolas Silhol's social drama Corporate, about an ambitious young human-resources manager faced with a moral dilemma.
Cannes tease
In line with previous years, the Rendez-vous will welcome some 400 buyers, most of them hailing from Europe. UniFrance prefers to target Asian and North and Latin American buyers at different events during the year.
"We're fully booked," says Renouard. "The focus is on distributors who have released French films in the past. We're not looking to grow the event but rather invite the right people and the right companies."
Alongside the official screenings, the other key draw for many attendees is the chance to sniff out what is coming up for Cannes and the second part of the year. Talks that begin at the Rendez-vous are often sealed at Berlin and later on the Croisette.
Wild Bunch, for example, will be screening promo reels of a number of upcoming titles including K.O., the latest feature from Fabrice Gobert, creator and director of the cult French series The Returned (Les Revenants); Christian Carion's drama My Son, starring Guillaume Canet; Michel Hazanavicius's Jean-Luc Godard tribute Redoubtable; Arnaud Desplechin's Ismael's Ghosts; Jacques Doillon's Rodin; and Michael R Roskam's Racer And The Jailbird.
It will also commence sales on Godard's Image Et Parole, exploring the Arab world; Pierre Godeau's Raoul Taburin, starring Benoit Poelvoorde as a famous bicycle salesman incapable of riding a bike himself; Philippe Godeau's Senegal-set, feel-good drama YAO, starring Omar Sy; and Raymond Depardon's latest exploration of contemporary France, 12 Days.
French honoree
For the third year running, UniFrance is presenting its French Cinema award, celebrating a figure who has contributed to raising the profile of French cinema around the world.
This year's recipient will be Isabelle Huppert, who has been nominated for a Golden Globe and is in the running for an Oscar for her lead performance in Paul Verhoeven's Elle.
She follows in the footsteps of last year's honorees Aton Soumache and Dimitri Rassam, producers of the hit animation The Little Prince, and Italian distributor Andrea Occhipinti.
"This is Isabelle's year," says Giordano. "We've travelled with her this year with at least four films, including Things To Come and Elle. She's always been very engaged in supporting French cinema. Whether she makes it or not to the Oscars, we're happy to be honouring her in this way."
Running alongside the market will be the annual press junket, attended by around 100 international journalists for a number of upcoming international releases.
Directors and acting talent expected to attend include Emmanuelle Bercot, Bertrand Bonello, Bérénice Bejo, Francois Ozon, Jérome Salle, Nathalie Baye, Francois Cluzet and Louis Garrel.
Box office picture
As per Rendez-vous tradition, UniFrance will also unveil preliminary international box office figures for 2016.
For the past two years, international admissions for French films have outpaced those back home. In 2015, for example, according to UniFrance's statistics, French productions drew 106 million spectators internationally against 72.5 million at home.
This year is not expected to be quite so stellar due to the absence of a large EuropaCorp production or French-produced animation hit such as Taken 3 or The Little Prince. But Giordano stresses the international market remains an increasingly important objective for French cinema.
"In the medium and long term, the international markets are where the growth is for French cinema," she comments.
With this in mind, she notes the CNC's new $12.5m (€12m) 'export plan', which was announced last November, aimed at supporting the distribution of French features and high-end TV series internationally.
A key axis of the plan is a new automatic support, with an $8.8m (€8.5m) treasure trove, awarding exporters up to $260,000 (€250,000) per title on the basis of international box office performance. There will also be additional funding for producers who make films that travel.
Further industry-focused events during the Rendez-vous will include round-tables on France's independent production scene.