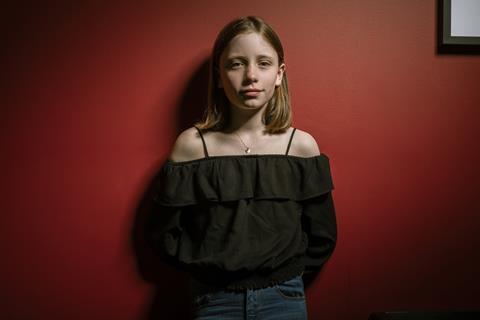 Dixie Egerickx was only eight years old when Kate Bone of Nina Gold Casting visited her west London school, looking for the breakout talent to play the lead role in Steven Spielberg's The BFG. Egerickx was not cast in that role but was asked by Gold's team if she would be interested in reading for other parts in the future.
Five years later, the actress has an impressive range of credits to her name, from the London West End transfer of Robert Icke's acclaimed version of Oresteia ("It was pretty daunting," she recalls) to upcoming Second World War big-screen drama Summerland, with Gemma Arterton. But it is her casting as Mary Lennox in Heyday Films' The Secret Garden — directed by Marc Munden, and adapted by Jack Thorne from the Frances Hodgson Burnett children's classic — that will dramatically widen her opportunities.
"Having met her as quite a young kid, I was struck by how at ease she was with connecting with her emotions and being truthful in her acting," says Nina Gold, who cast her in Lenny Abrahamson's The Little Stranger (2018). "She was and still is a very interesting mixture of childlike and adult."
Munden was impressed by the mature manner in which Egerickx took direction and understood the arc of her character, but was able to access a childish essence in the delivery of her performance. "She really is a total delight," says the director.
Still only aged 13, Egerickx will be kept busy this year shooting HBO's pilot for the untitled Game Of Thrones prequel — which remains veiled in secrecy. "All I can say is, it's exciting," she says.
Contact: Jo McLintock, A&J Management, Honor Colt, A&J Management