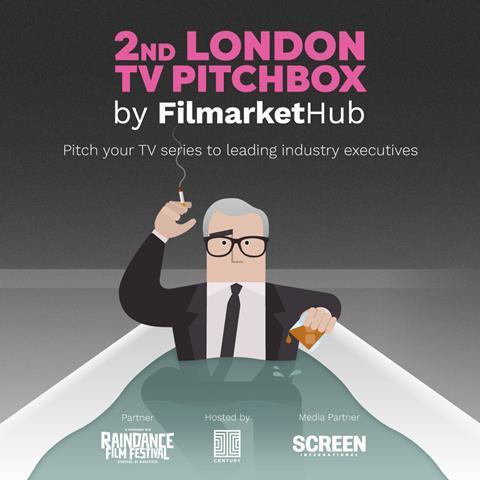 Online platform Filmarket Hub opens its call for projects for the 2nd London TV Pitchbox - a live pitch event dedicated to UK series in development.
The event will be hosted by the Century Club, in partnership with the Raindance Film Festival on September 20. Seven projects will be selected to pitch in front of leading TV executives from the UK industry.
The 1st London TV Pitchbox included a case study on Peaky Blinders by executive producer Jamie Glazebrook. In attendance were executives from Entertainment One, Ingenious, Lionsgate, Salon Pictures, Sky, The Fyzz, UKTV and Virgin Media.
Executives from AMP International, Euston Films, NBCUniversal, Working Title Television and World Productions have confirmed their attendance for this year.
One of the success stories from last year's London TV Pitchbox was Harry Smyth, whose project Coldline was in the final selection. Annabel Wigoder (Head of Development at Salon Pictures) attended the event, heard Harry's pitch and Coldline is now in development at the production company.
Applicants for the 2nd London TV Pitchbox should submit their projects to Filmarket Hub's online marketplace by August 14. The seven selected projects will be announced on August 28 and project representatives will be offered coaching by pitch expert Bonnie Williams (TEDx, IFFR and IDFA), ahead of the event. Following the same format as other Filmarket Hub Pitchbox events, representatives for the selected projects will have seven minutes each to pitch to the attending executives. After the pitching session there will be a networking lunch.
Filmarket Hub is the first online marketplace for Film and TV projects in development. With 15,000+ users from all over Europe and Latin America, they match international projects with producers, TV broadcasters, OTT platforms, sales agents and distributors.
Filmarket Hub also organises TV Pitchbox events for Spanish language series in both Spain and Mexico (in partnership with The Guadalajara Film Festival). These events have been attended by Spanish and Latin American TV executives from companies including Amazon Prime Video, Atresmedia Studios, HBO, Fox, Movistar+, Mediaset, The Mediapro Studio, RTVE, Televisa and Turner. In addition, it organises a yearly Pitchbox event for genre feature films in partnership with the Sitges Film Festival. Previous speakers at this event have included Guillermo del Toro and Ron Perlman.
All the information about the event and the submission process is available here.